26 July, 2013
Creamy Style Lasagna with home made Lasgna sheets and Ricotta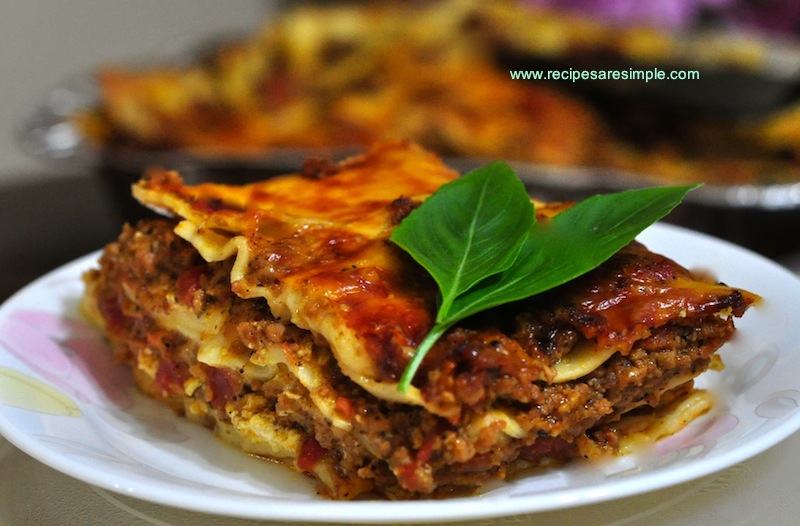 Creamy Style Lasagna
A labour of love: but well worth the effort. Feeds a hungry Family. This Meaty, Rich Satisfying meal can be made at home easily if you follow the steps for Creamy Style Lasagna and Home made Pasta sheets.
Note: this lasagne is not a tomato rich one, It is a variation on bolognese style meat sauce with a hint of  cream. Creamy Style Lasagna

Creamy Style Lasagna (Lasagne)



Ingredients:
For Home Made Lasagna Sheets (Lasagne):
4 large eggs
3 egg whites
300 gm/ abt 2 ½ cups 00Flour Or Bread Flour + extra for dusting
¼ tsp salt
For Home made Ricotta Cheese Sauce:
1 litre full cream milk/ goats/sheep milk produces best ricotta but you can use cows milk
½ tsp sea salt
3 Tbsp Vinegar Or Lemon Juice

(lemon juice ricotta will be tangier
2 eggs, lightly beaten  & ½ cup grated Parmesan or omit if you dont like parmesan
 For Creamy Style Meat Sauce:
Extra-virgin olive oil
1 kg/ 2 lb ground beef
1 large yellow onion, chopped
1 bulb cloves garlic, sliced
1 carrot chopped
2 stalks celery, chopped
2 Tbsp chopped fresh basil OR 1 Tbsp Dried
¼ cup finely chopped fresh parsley(flat  leaf) OR 2 Tbsp Dried
1 tablespoon chopped fresh oregano leaves OR 1 tbsp Dried
2 tablespoons all-purpose flour
1 cup Apple Juice Or Wine
2 (28-ounce) cans tomatoes like Hunts: can be flavoured
3 tablespoons heavy cream Or Mascarpone
¼ tsp ground nutmeg
Kosher salt and freshly ground black pepper
500 gms mozzarella cheese, shredded
Grated Parmesan and mozzarella, for topping




Method:
Tip:Prepare the dough for pasta first. While it chills start the bolognese sauce as well as the ricotta simultaneously.

Preheat oven to 350ºF / 176º C.
1. For Home Made Lasagna Sheets:
Whisk the eggs and egg yolks and olive oil together in a bowl.
Sift the flour onto a large work surface.
Sprinkle salt.
Create a well in center of flour.
Add the whisked egg mixture, a little at a time .
Draw in with fingers, the flour till mixed well
Knead for 10 minutes, you can use your processor if t has a suitable  dough hook.
Its houd be very smooth and elastic.
Cover in cling film/ saran wrap and chill in refrigerator for 30 minutes.

Meanwhile start ricotta cheese, then bolognese meat sauce.

Divide into 3 equal parts.
While rolling one piece keep others covered with damp towel.
Roll each piece on floured surface as thinly as possible into a  2 mm  thick square sheet.
The length should be the same as your baking pan.
Cut into sheets for lasagne.
Bring salted water to simmer and add the sheets, 4 at a time. Seperate with a wooden spoon so they dont stick.
When they look cooked evenly . Remove and drain.
Make the Ricotta Sauce:
In a heavy bottomed sauce pan, bring the milk  and sea salt to a simmer: it should foam all around but not come to boil.
Add the vinegar or lemon juice and stir 3 times : No more.
The milk should curdle rather quickly. Do not disturb this curd by stirring again.
Allow to sit for 5 minutes.
Strain through a cheese cloth or fine muslin.The longer it is left to strain, the drier and thicker it will be.

For this recipe we dont want it to rest.

In a mixing bowl, combine this prepared ricotta and the parmesan. Stir in the eggs and season with salt and pepper.→ Set Aside
 For Creamy Meat Sauce:
To a large skillet add olive oil and brown the beef about 10 minutes till no longer pink and most of the water runs dry.
Season with salt and pepper.1 tsp or more each.(Taste Test)
In a food processor, combine the onion, carrots, celery, garlic, basil, parsley, and oregano Process finely.
Add to the cooked mince and stir to combine. Stir in the flour. Add the apple juice and cook until it has reduced by half. Stir in the tomatoes and bring to simmer.

(Reserve a little of the canned tomatoes to spread on bottom of baking pan)

Stir in the cream and nutmeg. Set aside.
 Creamy Style Lasagna (Lasagne)
To assemble :
Coat the bottom your lasagna pan with A little of the reserved tomaotoes  and olive oil Arrange 4 prepared pasta sheets lengthwise in a slightly overlapping layer on the sauce. Then, line each end of the pan with a sheet each .
Dollop 1/2 of the ricotta mixture over the pasta, spread to the edges with a spatula.
Spread 1/2 of the meat mixture over the ricotta.
Sprinkle 1/2 of the mozzarella on top of the meat
Top with a ladle full of meat sauce, spread evenly.
Repeat with the next layer of pasta sheet, ricotta, meat sauce, and cheese.
Top last layer with pasta sheet, meat sauce, shredded mozzarella and Parmesan.

(Do not top with pasta sheet the last layer should be cheese)

Tap the pan to force out air bubbles. Bake for  a total of 1 hour ;

45 minutes covered with foil, then 15 minutes oncovered

.
Remove from oven.

IMPORTANT: 

Let lasagne rest for 30 minutes

 

this is important so the pasta will settle and cut easily.

Cut into 2-inch squares and serve.
Did you enjoy our Creamy Style Lasagna ? Let us know 🙂
You May Also Like: