13 January, 2015
Creamy Pandan Chicken with Fresh Green Peppercorns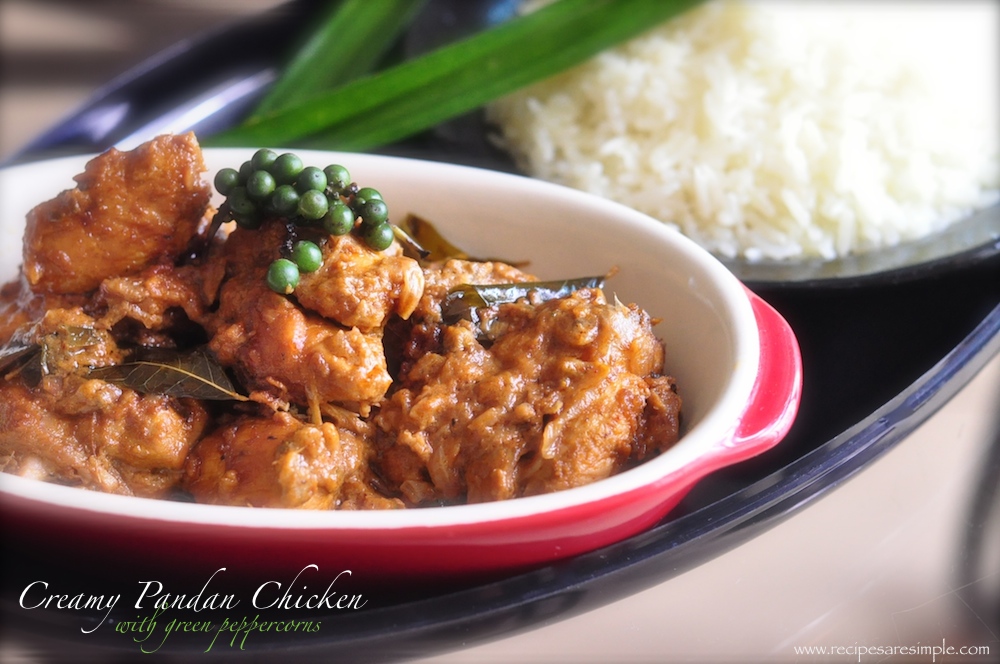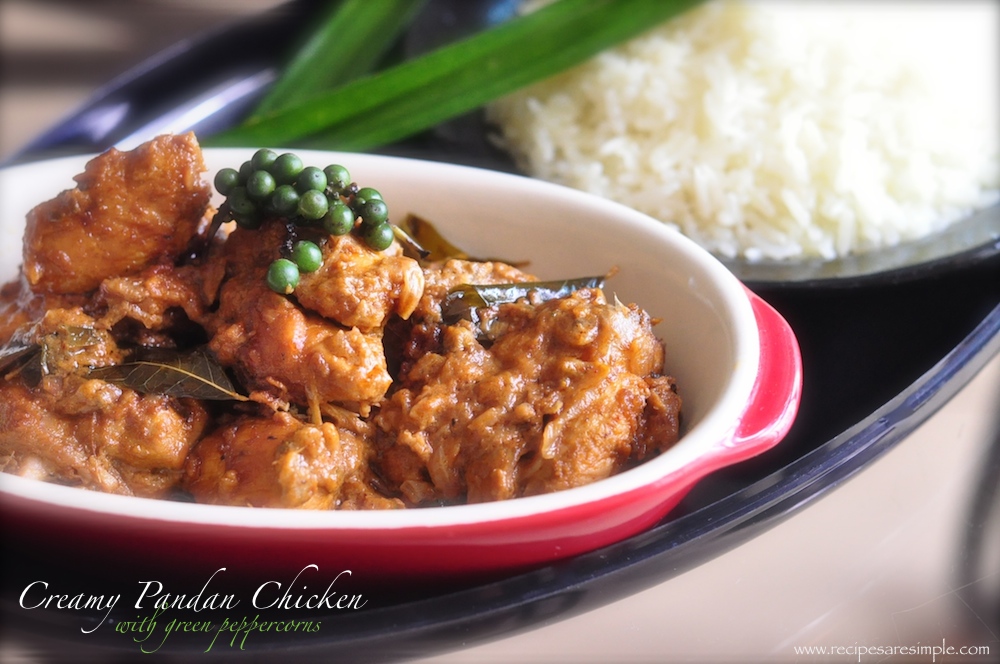 Creamy Pandan Chicken with Fresh Green Peppercorns
Rich and Creamy Chicken flavored with Screwpine (Pandan) Leaves and Fresh Green Peppercorns.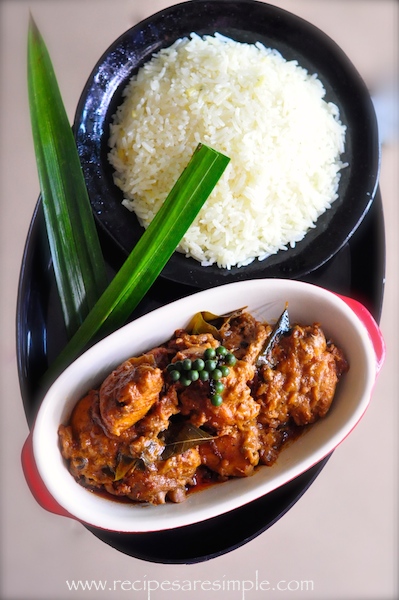 Creamy Pandan Chicken with Fresh Green Peppercorns
You are here: Home > Chicken > Creamy Pandan & Green PepperCorn Chicken
Recipe Type: Chicken

Author: Recipes 'R' Simple

Prep time: 

Cook time: 20

Total time: 50

Serves: 6
Ingredients:
1 kg chicken – skinned whole chicken  with bone – cut into small pieces
5 Tbsp fresh Green Peppercorns, rinsed
1 large Tbsp ginger, crushed
Juice of two small limes  (About 4 Tbsp)
2 large onions, diced
3 Pandan leaves, rinsed and knotted
2 Tbsp curry leaves
2 tsp meat curry powder or garam masala
1 tsp mild chilli powder
1 tsp turmeric powder
2 cups coconut milk – not too thick
1 Tbsp veg / sunflower oil plus enough for shallow frying
2 tsp salt
Method:
Crush the peppercorns. Add half to the rinsed chicken along with lime juice, ginger and turmeric. Rub well and leave to marinate for at least  ½ and hour.
Heat a frying pan with oil for shallow frying.
Transfer the marinated chicken in batches and shallow fry just till the crust is golden but not cooked through. Drain.
In a pot, heat 1 Tbsp oil (no more).
Add curry leaves and pandan leaves and allow to pop.
Add the diced onion and sauté well till light golden.
Add all the spice powders and stir till they no longer smell raw. Careful not to burn.
Return the half fried chicken as well as the remaining crushed fresh green peppercorns and stir well to coat with the masala.
On medium heat, pour over the coconut milk and give it a good stir with a wooden ladle.
Cover and cook on very low heat for 15 minutes or till chicken is tender (Open to stir occasionally). The coconut milk will be reduced and create a creamy coating.
Serve with steamed rice or flatbread.
Creamy Pandan Chicken with Fresh Green Peppercorns
Key Ingredients: Chicken, Pandan Leaf, Fresh Green Peppercorns, Ginger, Onion, Spices, Curry Leaves, Oil, Salt
Let us know if you tried it – Creamy Pandan Chicken with Fresh Green Peppercorns . Comments from you provide motivation to keep up the driving force behind this blog and keep getting you sought after and perfected recipes. Please do leave a comment. We love to hear from you.