11 March, 2014
Cream of Asparagus Soup with Toasted Almond Garnish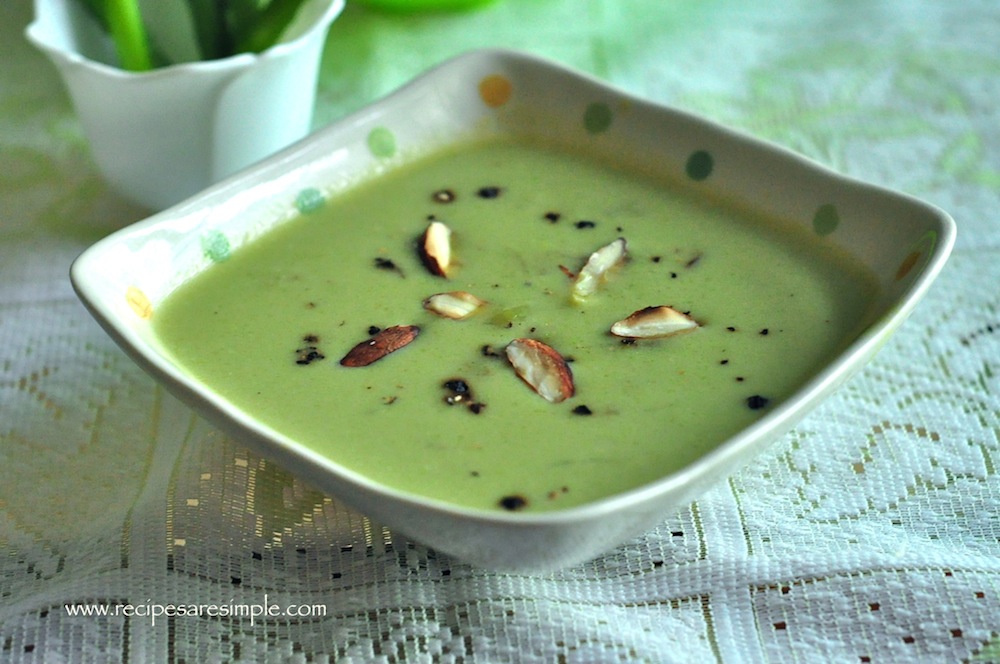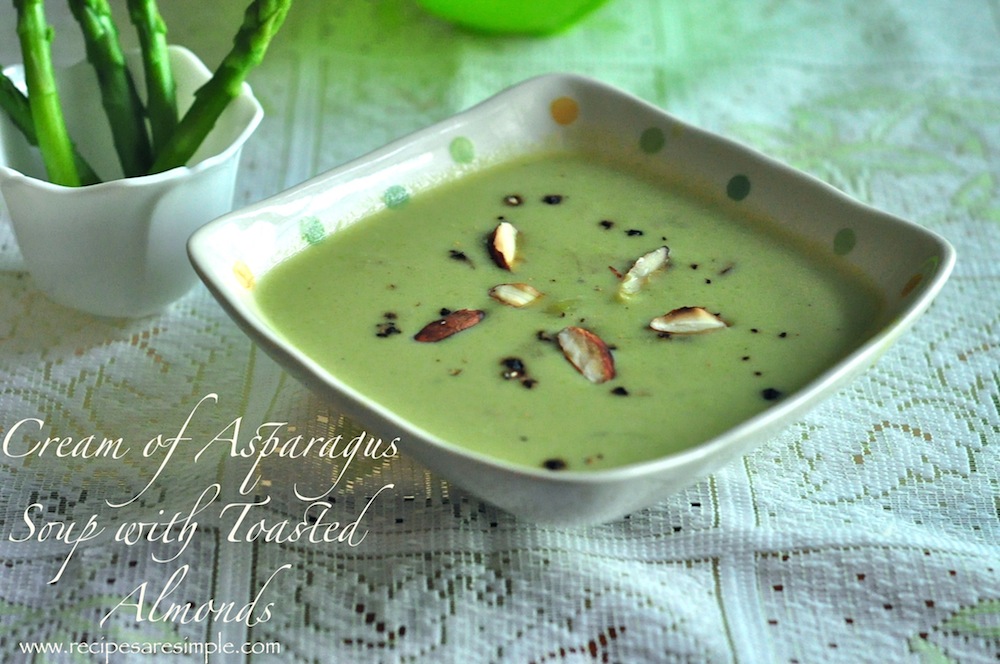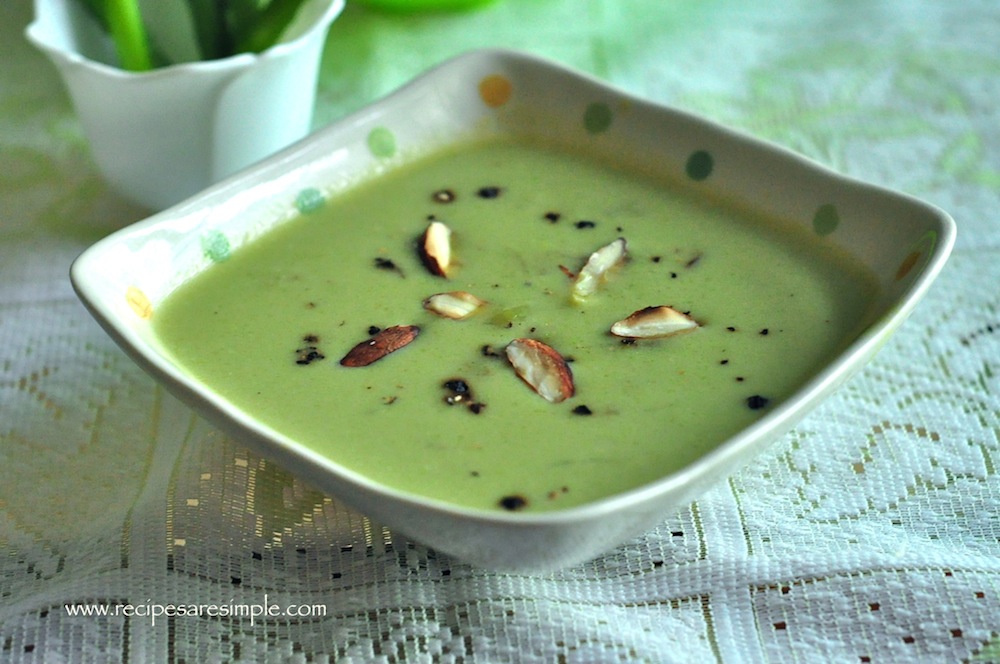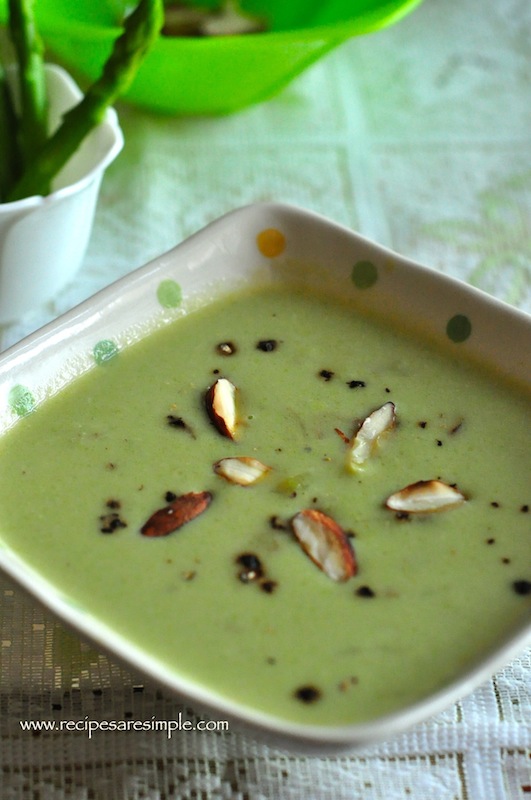 Cream of Asparagus Soup with Toasted Almond Garnish
My favorite way to serve Asparagus! This Cream of Asparagus Soup is smooth, creamy and flavorful. It can be made pretty quickly. I work all my stove top burners simultaneously  to get it done super quick. Even my 6 year old gave this 'GREEN stuff' her thumbs up!

Cream of Asparagus Soup with Toasted Almond Garnish
Recipe Type: Soup

Author: Recipes 'R' Simple

Prep time: 

Cook time: 

Total time: 

Serves: 4
Ingredients:
300 g Fresh asparagus (thin shoots)
12 raw almonds
2 Tbsp butter
1 medium red onion(I like to use 1 small red onion + 1 Vidalia Onion) – chopped up
2 Tbsp plain flour
4-5 black pepper corns – crushed
2 cups light/ low fat milk
salt to taste
For the vegetable stock:
1 large carrot
1 onion
1 rib of celery
2-4 cloves of garlic
8 black pepper corns
3 cloves (spice)
5 cups of water
Method:
First on one burner – get the vegetable stock going. Add all the vegetables, roughly chopped/sliced, and the water and spices to a saucepan and bring to a boil.
Simmer for 15 minutes till reduced. Strain the clear stock and set aside.
While the stock is simmering, rinse the asparagus shoots. Cut of some of the tips for a garnish and set aside.
Chop up the remaining asparagus into small pieces.
Bring another saucepan on a second burner with water to boil.
Add the tips for garnish and blanch in the boiling water for 1-2 minutes. Drain from the boiling water (do not throw out the boiled water).
Add to cold water to refresh. When completely cool drain and set aside.
In the same boiling water add the remaining chopped asparagus for 2-3 minutes (or till soft/tender).
Drain again. Refresh again in cold water.
Remove the refreshed pieces  from the water and blend to a smooth puree  (no added water). Set aside.
On the third burer place a small pan, and dry roast the almonds on medium heat, tossing occasionally till the skin is slightly darker. Chop up the toasted almonds into slivers for garnish and set aside.
Now the stove top is free and we get our soup ready.
Add the butter  to a pot and melt. Add the onions and saute till nicely softened and slightly golden.
Add the flour and stir continuously for about a minute, till the 'roux' is nicely cooked.
No add the reserved stock, gradually stirring as you do so. Stir continuously till the stock boils, to prevent the formation of lumps. Simmer for 2 – 3 minutes.
When thickened, add the puree of asparagus and the crushed black pepper corns.
Lastly add the milk and bring to a simmer again for about 2 – 3 minutes more.
Serve hot with the toasted almond slivers and the tips as garnish.
Cream of Asparagus Soup with Toasted Almond Garnish
Try it and let us know – Cream of Asparagus Soup with Toasted Almond Garnish.
Crush the black pepper into small grains, not too powdery  and not large pieces,  to prevent  a dry cough spell.
For some sweet bite, you can add thawed frozen corn to the soup along with the milk