1 December, 2013
Makai Palak – Curried Corn with Spinach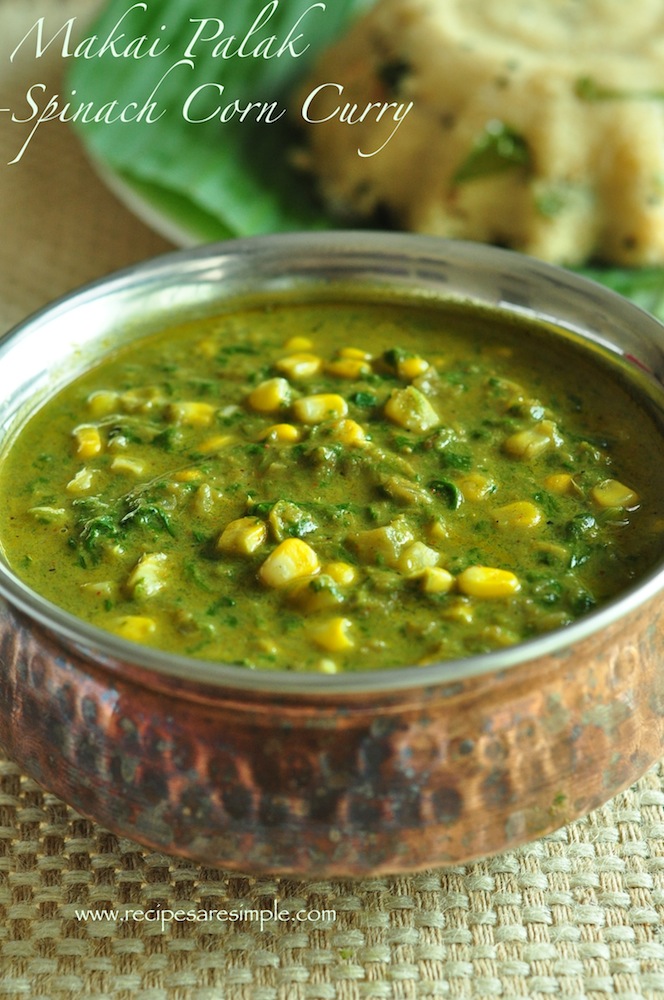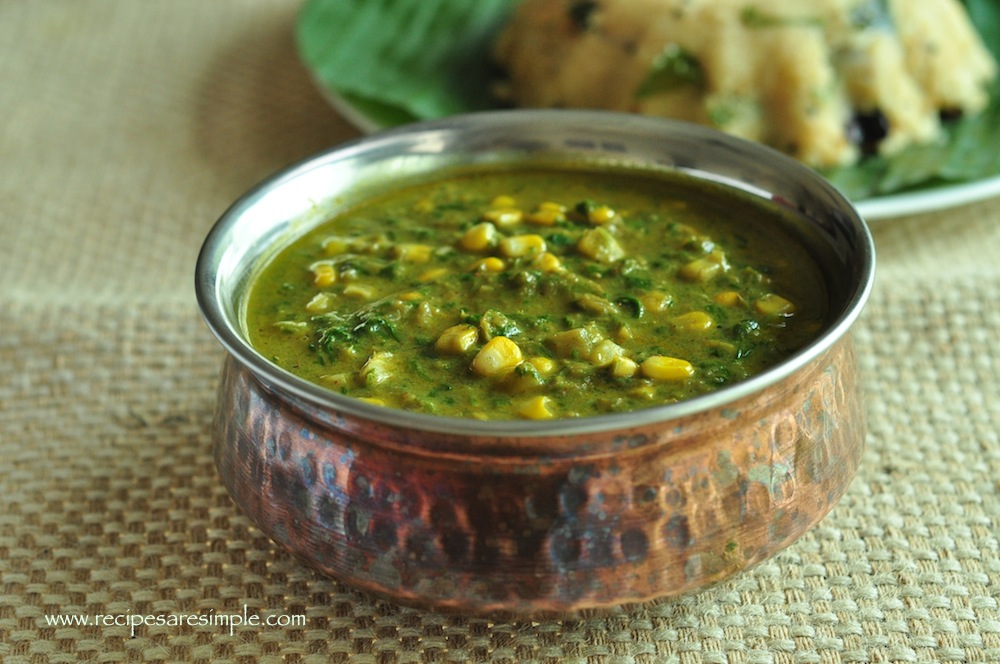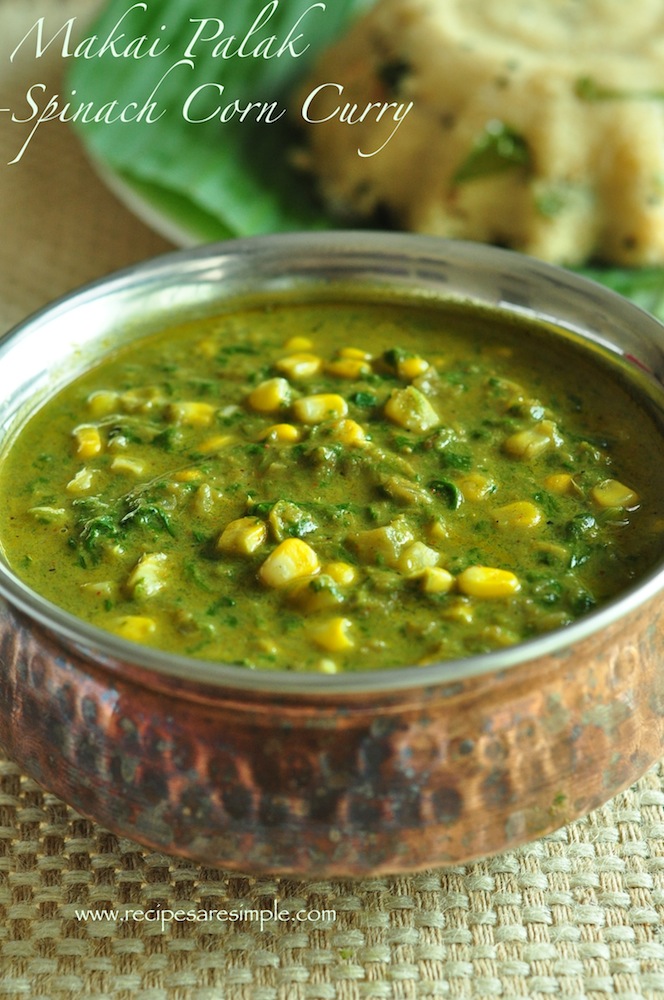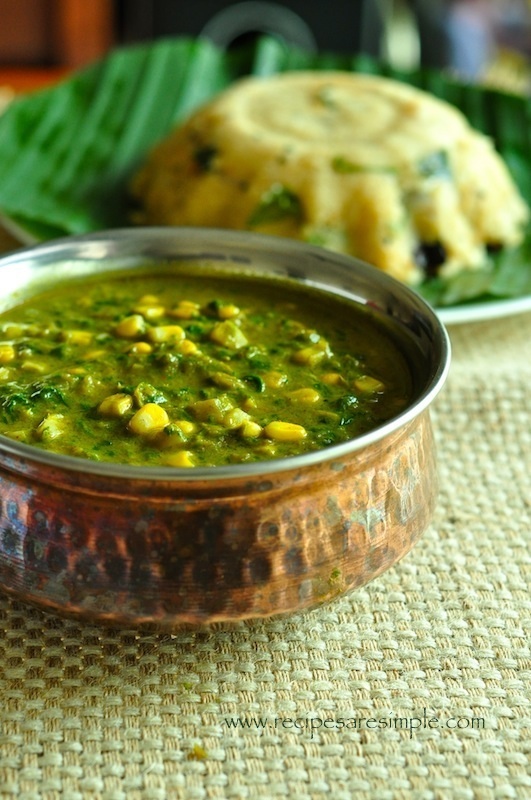 Makai Palak – Curried Corn with Spinach
My brother had this Corn and Spinach Dish on a Flight once and described it to be a very tasty dish that seemed simple to make. I knew I had to find out what it was. I tried some variations on recipes that I found but ultimately found this one to be the best. The fresh green spinach is pleasantly complimented by the sweetness and bite of the sweet corn. It's a healthy and Tasty…. dish! We like this for breakfast with Upma. It's great served with Pulao as well. Here's my  version. It can also be made extremely quickly, which is why I love it for breakfast.
Makai Palak – Curried Corn with Spinach
Ingredients:
1 package – 300 gms spinach – Palak or Baby Spinach – washed throughly and drained.
2 cups /250 grams frozen sweet corn kernels
2 medium onions, diced
2 small tomatoes, diced
1 Large Tbsp Ginger Garlic Past ( equal amounts of ginger and garlic, ground to a smooth paste)
3 tsp coriander powder
1 tsp mild chili powder
½ tsp and ¹⁄8 tsp Garam Masala –

See my recipe

3 Tbsp Cream
salt to taste – (about ¾ tsp)
3 Tbsp Oil
Method:
In a saucepan, add the tomato and a splash of water and cook down the tomatoes till deep red in color.
Remove from heat. Cool slightly and  blend to a puree.
Place a pot of water to boil.   Add the drained and roughly chopped spinach to the boiling water.
Cook 1 minute. Drain. Rinse in cool water and keep drained.
In same blender jar used to puree tomato, add the spinach in two batches. I like to leave some texture to the spinach puree and not blend it till completely smooth.
In the same washed sauce pan bring heat some water. Add the frozen corn to this water to just warm up. Do not cook. Drain the corn.
Set the tomato and spinach puree as well as the drained corn aside.
Heat  the oil in a non stick wok/ pan.
Add the chopped onions and saute till the onions are soft and light golden.
Add the ginger garlic paste and stir constantly  for 1-2 minutes till the raw smell of garlic is completely gone.
Allow to cool slightly and add to the same blender jar that we pureed the spinach and tomato. Grind to a paste.
Return the paste to the pan with ¼ cup water and bring back to heat. Stir till the liquid runs dry.
Add all the spices (except the ¹⁄8 tsp Garam Masala) and cook briefly, splashing a little water so that the masala does not burn.
Now add the tomato puree, salt  and about 1 cup water. Bring to boil
Add the Spinach and stir to combine. Add the corn as well and mix in gently.
Simmer briefly. Add in the cream and blend in.
Lastly sprinkle the remaining ¹⁄8 tsp Garam Masala.
Serve warm with Upma or Rice.
Makai Palak – Curried Corn with Spinach
Try and let us know – Makai Palak – Curried Corn with Spinach.