10 September, 2014
Colocasia Root and Stem Curry with Jackfruit Seeds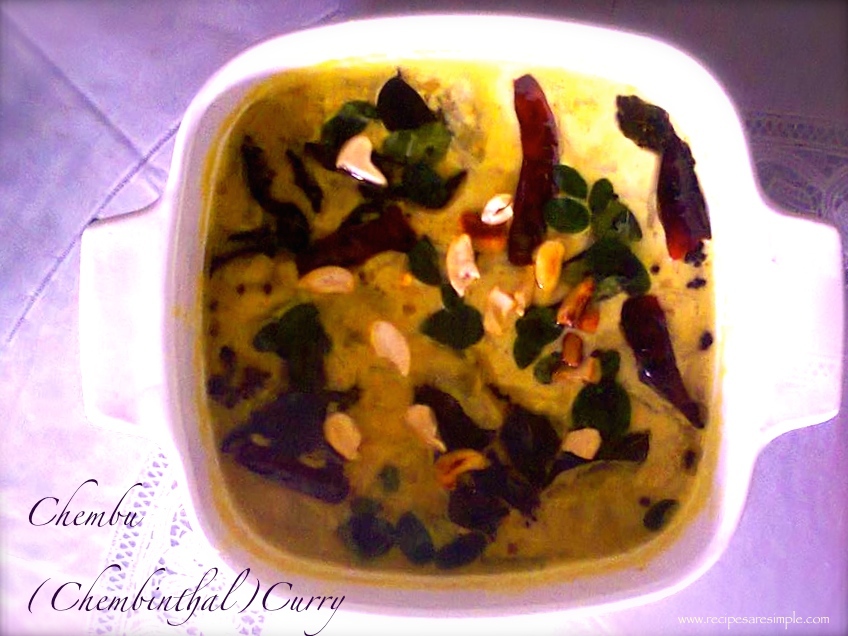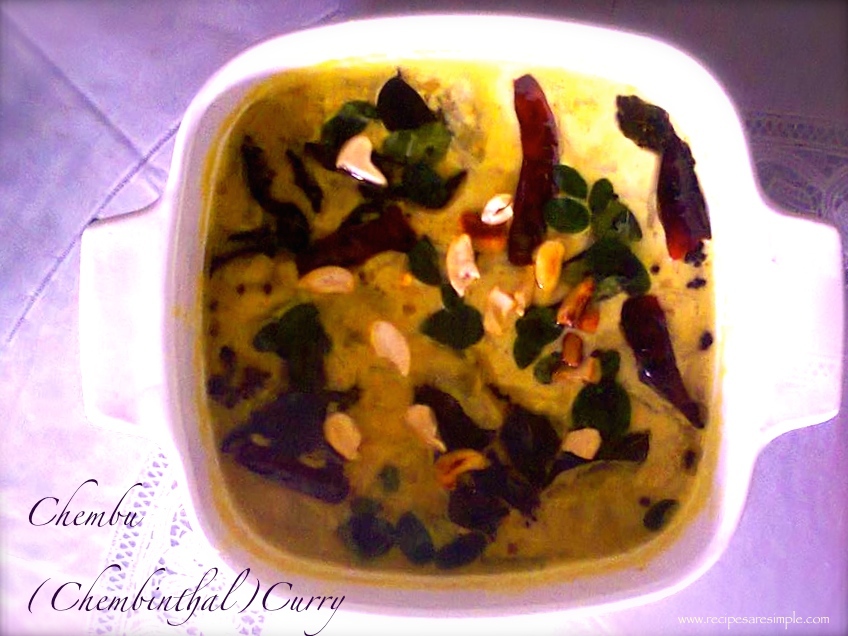 Colocasia Root and Stem Curry with Jackfruit Seeds (Chembu, Chembin Thal, Chakkakuru Curry)
I posted a very nice and simple curry for Chembu Asthram earlier. This dish takes it to another level by combining the stem of Colocasia along  with Jackfruit Seeds to provide  several layers of flavor! Thanks to mom for this lip smacking recipe.
Colocasia Root and Stem Curry with Jackfruit Seeds
Recipe Type: Vegetarian / Curry

Author: Recipes 'R' Simple

Prep time: 20

Cook time: 30 

Total time: 50

Serves: 6
Ingredients:
½ cup colocasia ( chembu ), peeled and cut into bite size pieces
½ cup jackfruit seeds (  chakkakuru), peeled and cut into 2-3 pieces
1 cup colocasia stem ( chembin thalu) scraped and chopped
½ cup  raw cashew nuts
1 Tbsp chilli powder- optional
¼ Tbsp turmeric powder
1½ cup fresh grated coconut
2 shallots
¼ tsp mustard seeds
¼ tsp cumin seeds (jeera)
3 dried red chillies cut into pieces
3 Tbsp vegetable oil / coconut oil

 salt to taste
Method:
Add the colocasia root, jackfruit seeds and cashew nuts to a large pot with enough water to completely cover the ingredients as well as  chili powder, turmeric powder and salt. Bring to a boil. Lower heat and simmer for 10-20 minutes till the colocasia root is tender and cooked.
When the root is tender, add the stem and cook for another 7- 10 minutes, topping up the water if needed.
Meanwhile grind the coconut with shallots to a fine paste, adding just a small amount of water.
Add this ground coconut paste to the curry and cook another 5 minutes.
For seasoning: Heat the oil in a small pan and crck the mustard seeds in it. Add the cumin, curry leaves and dried chillies and fry all briefly. Add to the curry. Do not stir. Cover and allow to sit for 10 minutes, then serve with rice.
Colocasia Root and Stem Curry with Jackfruit Seeds
Try it and let us know – Colocasia Root and Stem Curry with Jackfruit Seeds .