10 September, 2014
Colocasia Curry – Taro Root – Chembu Curry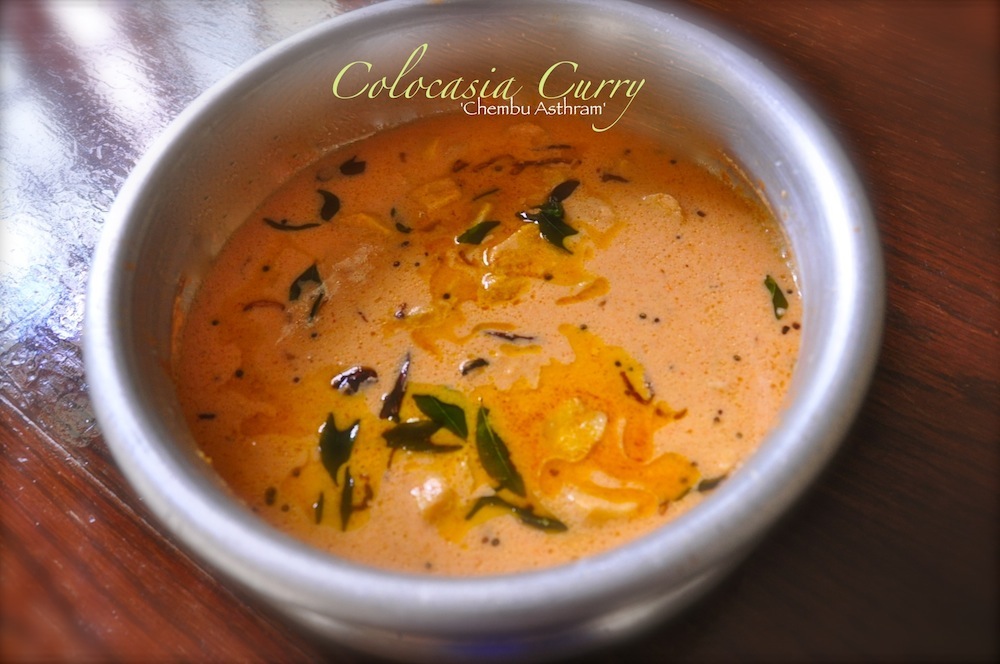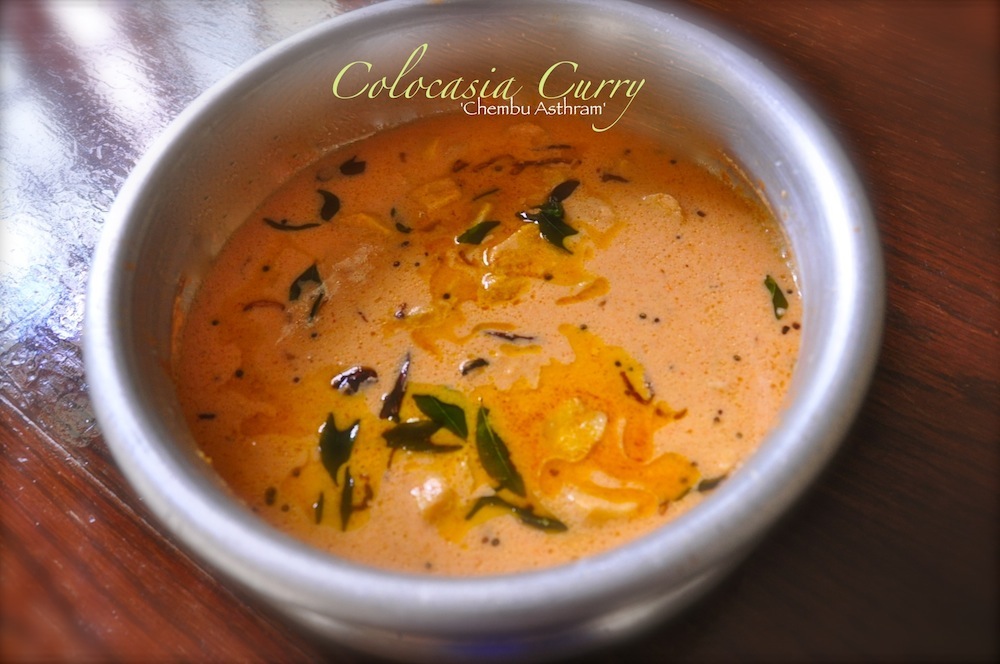 Colocasia Curry – Taro Root – Chembu Curry
Colocasia Curry or Chembu Ashtram-  A nice comforting curry to be had with rice or 'Kanji' ( Rice Gruel / Porridge)
Colocasia also known as Elephant-ear, Taro, Cocoyam, Dasheen, Chembu, and Eddoe in different languages.  The smaller sized 'baby' roots are best for this curry.
Colocasia Curry – Taro Root – Chembu Curry
Recipe Type: Vegetarian / Curry

Author: Recipes 'R' Simple

Prep time: 15

Cook time: 20

Total time: 35

Serves: 6
Ingredients:
2 cups or chopped colocasia root.

While peeling be sure to remove all the green colored flesh. Chop into bite size pieces.

1 Tbsp chilli powder
¼ Tbsp turmeric powder
¼ Tbsp salt
¹⁄3 cup fresh grated coconut
2 shallots (small red onion)
1 tsp aniseed & ½ tsp cumin

( or according to preference)

1 cup beaten yoghurt

(not  too sour)
For seasoning:
3 Tbsp vegetable or coconut oil
¼ tsp mustard seeds
3 long dried chillies cut into pieces
a handful of curry leaves
Method: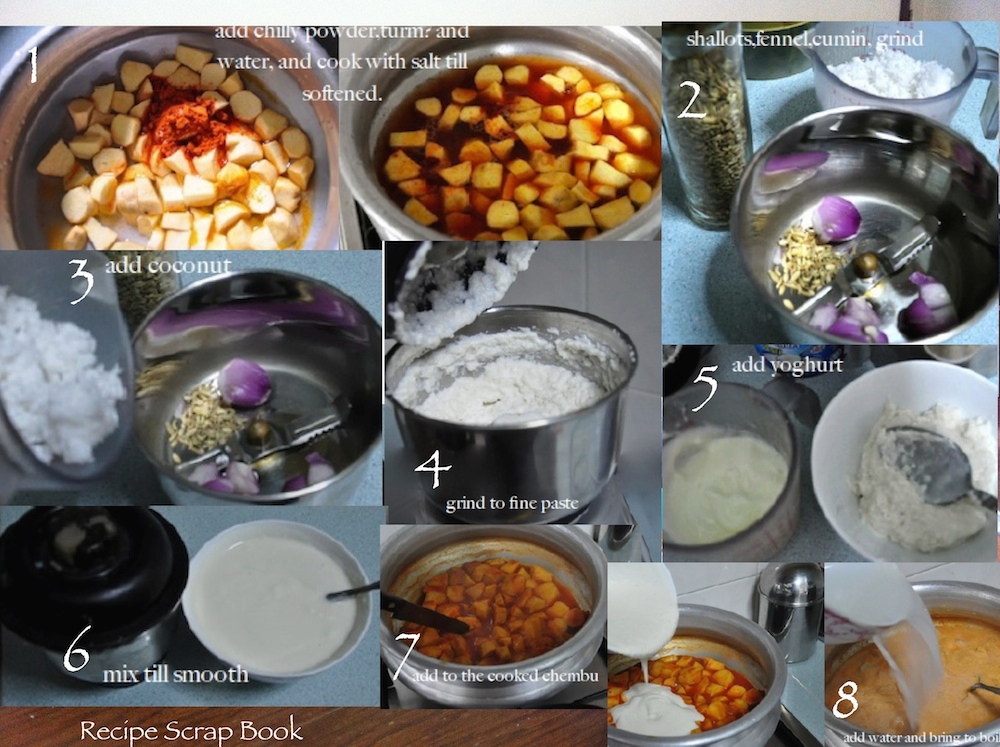 Add the thoroughly peeled and rinsed root into a wide pot with a heavy bottom. Add enough water to completely cover the vegetable.
Add the chili powder, turmeric powder and salt. Stir and bring to a boil. Reduce heat to a simmer and cook partially covered for 10 – 15 minutes till the root is completely tender. Check to see if a spoon can easily cut through the centre of one piece (1).
Add the fennel, cumin and shallots to a small grinder (2).
Add the grated coconut as well (3) .
Grind to a fine paste (4).
Next, add the beaten yoghurt (5).
And mix till smooth (6).
Add this to the completely cooked root (7).
Add some water to loosen (8).
Bring to boil and then simmer till the coconut mixture is cooked.
Season : Heat oil, splutter mustard seeds. Add the dried chili and curry leaves and allow to fry a bit. Add this to the curry. Do not stir. Keep covered for 10 minutes. Then serve with rice or 'kanji'.
Colocasia Curry – Taro Root – Chembu Curry
Try it and let us know – Colocasia Curry – Taro Root – Chembu Curry .
Some are wary of this  root vegetable because of the possibility of itch. If they are not cooked through fully, they tend to itch while eating. ( So don't try them before the cooking process is over) Cook till absolutely tender and the itchiness is gone. Adding a little extra coconut oil while seasoning can reduce itchiness as well. And while you are preparing the root, oil your hands.  Its also a good idea to peel the dry root before  rinsing and chopping.