30 September, 2013
Coconut Milk Pana Cotta with Jelly Recipe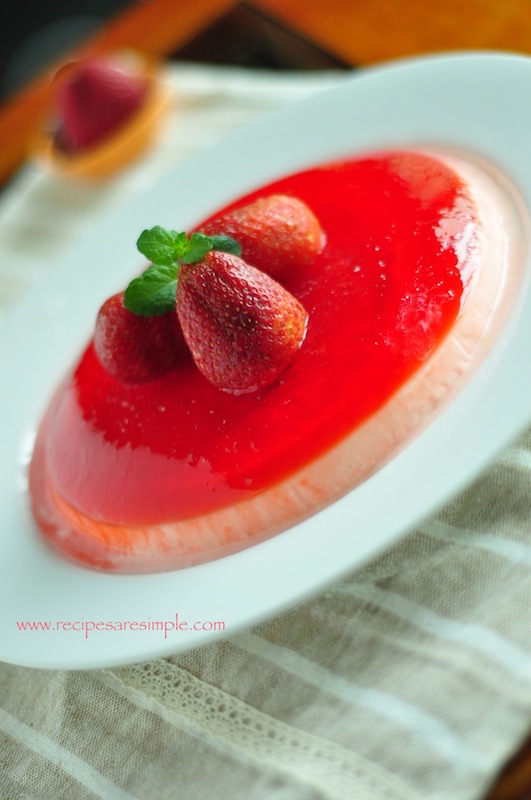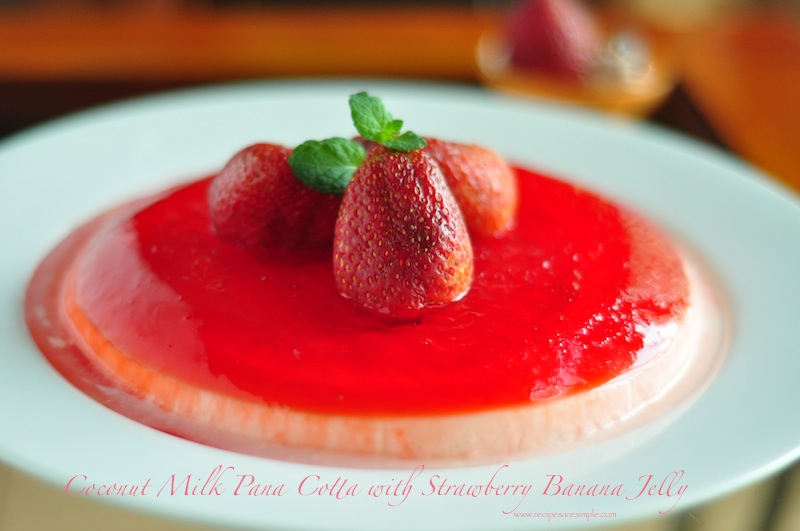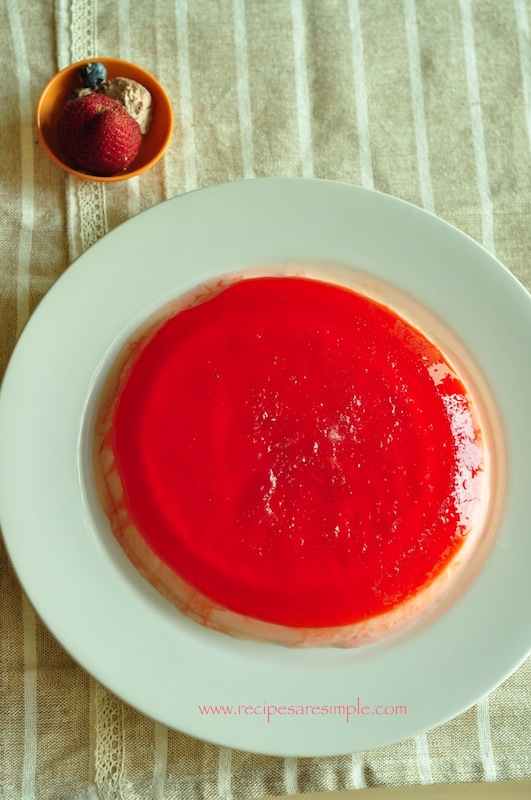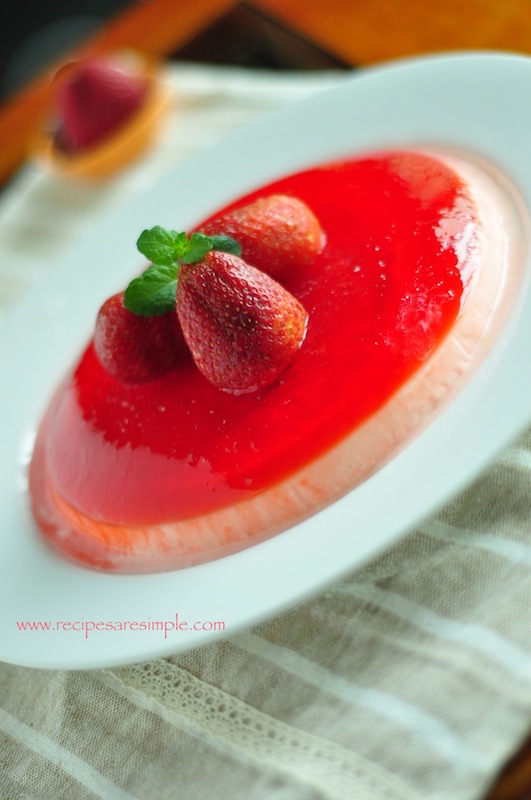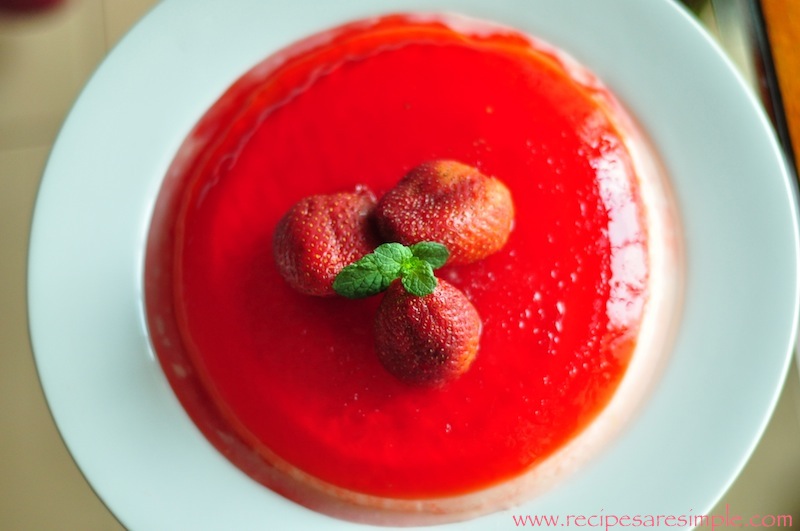 Coconut Milk Pana Cotta with Jelly Recipe

Panna cotta is an Italian dessert made by simmering together cream, milk and sugar, mixing this with gelatin, and letting it cool until set.
It is typically served with wild berries, caramel, chocolate sauce or fruit puree. This is a rich and delicious gelatin dessert, flavoured with vanilla and topped with fruit, jelly or spices, and served chilled.
This version incorporated the lovely aroma of coconut milk and is topped with a layer or Jelly.
Pana Cotta is best served the next day after chilling well.

This recipe takes a mere 10 minutes for the actual process. The rest of the time is for setting and chilling of the jelly and Pana cotta! 
Coconut Milk Pana Cotta with Jelly Recipe
Recipe Type: Main
Author: Recipes 'R' Simple
Prep time: 
Cook time: 
Total time: 
Serves: 5-6
Ingredients:
1 Packet Jello/Jelly – Any flavor. I use Strawberry Banana Flavor. OR

(To make you own fruit jelly see recipe below)

1 cup coconut milk
1 cup FRESH thickened cream
¼ cup sugar
 2 ¼ tsp powdered gelatine.(good quality)
¹ ½ vanilla tsp  extract. Use white vanilla powder if you want to keep the Pana Cotta WHITE.
For home made jelly (if using):
extra light oil for brushing
1 tablespoon lemon juice
¹⁄3 cup (80ml) strawberry juice
½ tsp banana extract
1½ tablespoons caster sugar
½ teaspoon powdered gelatine
Method:
Soak the gelatine in 2-3 Tbsp room temperature water till it is completely dissolved.
Microwave for 30 seconds or lower  the cup containing the gelatine solution in a sauce pan of boiling water for 30 seconds.
In a medium saucepan, stir the coconut milk, cream and sugar till smooth. Set aside so that the sugar may dossolve.
Prepare the Jelly according to package instructions. Pour into your mould and place in the freezer to speed up the setting process.
When the jelly is set. Add the gelatine solution to the sauce pan with the cream mixture. Stir well.
Place on the stove and  heat till just beginning to boil. (Stir, making sure it is smooth with no lumps). Take off heat. Add vanilla.
Stir to cool slightly and pour onto the set jelly in the mould..
Chill till completely set 4 hours- overnight.
To un-mould,  place the mould in a basin of hot water for a a moment.
Go around the sides with a sharp knife and then invert onto the centre of serving plate.
 Garnish with fruit or nut as desired.
(You can serve with some chopped cashew nuts)
To make home made Jelly:
Combine juice, sugar and gelatine in a small heatproof jug or bowl. Stand in a pan of simmering water, stir until sugar and gelatine are dissolved. Pour juice mixture into mould, then cover and refrigerate for about 2 hours or until jelly is set. Or freeze to speed up the process ( keep checking – don't allow to  turn to ice)
Coconut Milk Pana Cotta with Jelly Recipe
Did you enjoy our Coconut Milk Pana Cotta with Jelly Recipe ?
Notes: 
You can pour the jelly into samller indivdual moulds to set and then add the pana cotta to serve as individual cups.
You can also place fresh fruit in the mould before setting the jelly if desired.
In the picture I poured in the panacotta over the jelly before it was 100 % set, this caused the red colour to bleed into the pana color to give it the rose color. But I actually like it this way. Leave to set completely and pour over the stirred panacotta if you want your panacotta layer to be white.