15 February, 2015
Classic Buttermilk Pancakes | Never Fail Recipe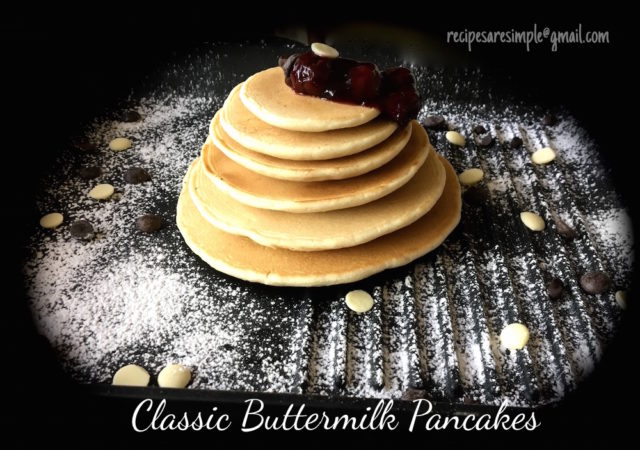 Classic Buttermilk Pancakes : Perfect, Fluffy, Sweet. Something to look forward at breakfast time!
This Original North American Recipe never fails to produce a simple, fast breakfast. My girls asked me how to make this yesterday. I pulled out the Recipe from my 25 year old hand written recipe book.
I never thought they would surprise me this morning with Breakfast in Bed though. I was so happy and pleased with them. Really did make me feel special. They made a couple themselves  and I helped them with pouring the remaining batter. We had so much fun, that We had Pancakes for tea time again!! This time I prepped them for the photo op.  I do love the pancakes with butter and maple syrup.. the cherry compote was left over from the night before, so it made its way into the photo as well. I was playing with the lighting on this pic. Rarely do i get to spend more time a my food pics these days.. but this one turned out nice, don't you think?
Why not let your kids help in cooking these? The girls enjoyed this and it was some great bonding fun.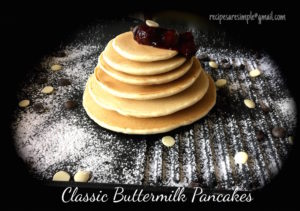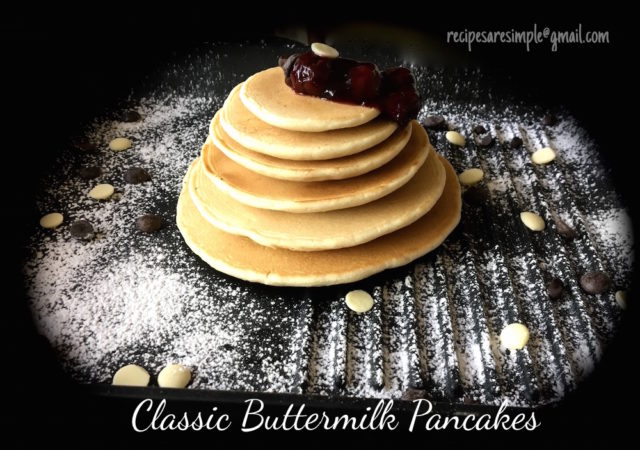 Classic Buttermilk Pancakes | Never Fail Recipe

You are here: Quick Browse > Breakfast > Classic Buttermilk Pancakes
 

Recipe Name: Classic Buttermilk Pancakes 

Author: Shana c/o Recipes 'R' Simple
To keep the pancakes nice and evenly colored, using a HEAVY nonstick or well seasoned cast iron pan is recommended. Also do not grease the pan with butter as it burns the crust. Oil is a better option.
Key Ingredients: Buttermilk, Flour, Butter, Eggs, Baking Powder, Baking Soda, Salt, Sugar.
EAT AND TELL!!!
Let us know if you tried –  Classic Buttermilk Pancakes | Never Fail Recipe



Back to Quick Browse. Thanks for visiting www.recipesaresimple.com