31 August, 2016
Chunky Beef Stew| Classic American Comfort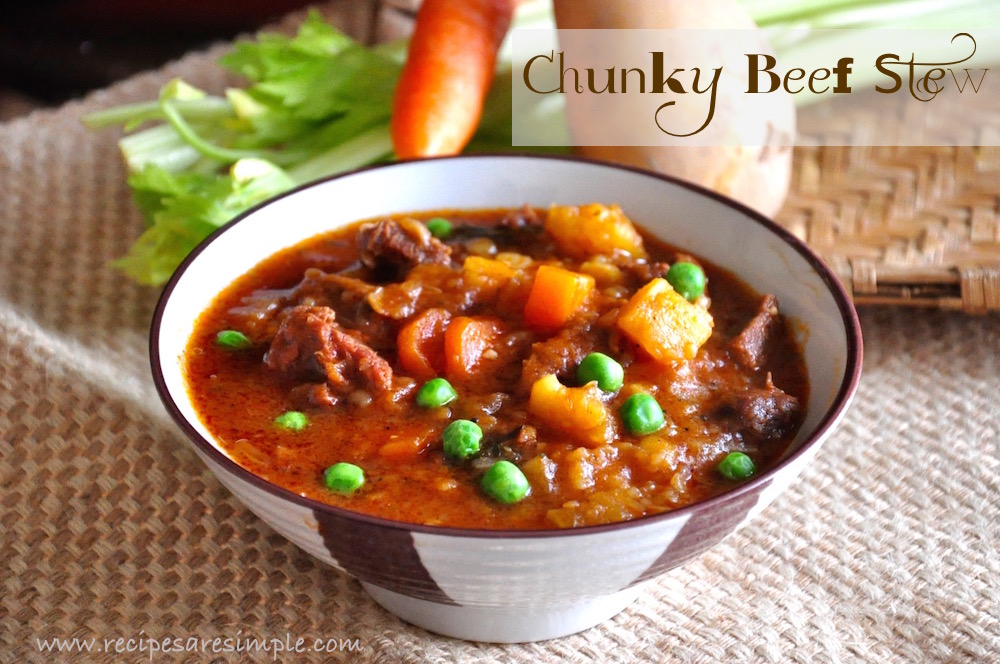 Chunky Beef Stew
The classic American Chunky Beef Stew is a meal in itself. Tremendously comforting with  some homemade bread, buttermilk biscuits or dumplings. I remember having beef stew in the winter months while growing up in Dhahran, where winters were very cold.
Singapore is usually always hot or rainy.. but I do sometimes get a  craving for this stew. The kids will eat it up faster than most meals and the hubby loves it too.
Whenever I get really good stewing beef, I always have this recipe in mind. Nope, it's not a soup, its not smooth or watery..oh and no it's not a curry either!!!  It's chunky and you have to rummage through the contents to make sure each spoonful has all the elements. The 'browned' beef promises a wonderful pearlescent gloss to the gravy. The gravy, that is simply heart warming and delicious. So good for something so simple!
A dutch oven or cast iron pot is traditionally used.. but I have made it in my trusted pressure cooker without any trouble too.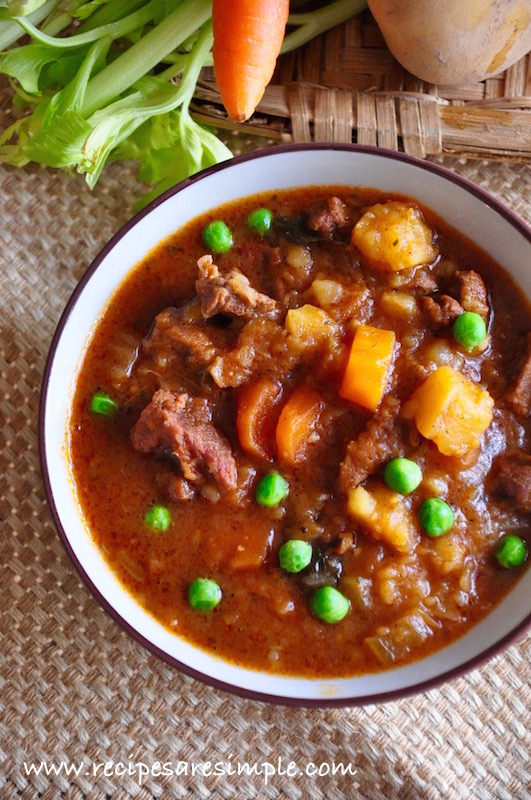 Chunky Beef Stew
You are here: Home > Soups and Stews  > Chunky Beef Stew
 

Recipe Name: Chunky Beef Stew

Recipe Type: Soups and Stews

Author: Shana c/o Recipes 'R' Simple
Ingredients:
800 gms  beef good for stewing, like chuck tender      
4 potatoes , peeled and cut into large cubes
2 large carrots, cut into large cubes
2 – 3 ribs of celery, sliced
2 onions, chopped

 (about 1 cup worth)

2 cloves of garlic
70 gms  (small ca) of tomato paste (not to be confused with tomato puree)
1 rounded tsp of dijon mustard
½ tsp black pepper
½ tsp garlic powder
1 bay leaf
1 ½ cups beef broth or you can use a beef bouillon cube dissolved in hot water.
4 Tbsp chopped fresh parsley  (or 1 tsp dried)
A few leaves of sage (or ¼ tsp dried)
½ cup frozen peas (thawed)
1 tsp corn starch
1 tsp potato starch
5 Tbsp vegetable oil
Method:
Cut the beef into stew sized chunks. Drain well. Pat dry. Season with a dash salt and pepper.
Heat oil in a dutch oven, cast iron pot or even a pressure cooker.
Add the dry pieces of beef and allow to brown on all sides. (Do this in batches). Remove.
To the same oil with some brown bits in there ( that's flavor!), add onion, garlic bay leaf and celery. Add a tiny bit of oil to the pot only if it is dry and sauté till the onions and celery are softened and reduced. It will be a brownish mixture from the residue in the pot.
Add the tomato paste and cook for 1 minute, stirring to make sure there is no burning.
Now add the pepper powder, garlic powder, dijon mustard and stir well.
Add the beef, carrots and potatoes and stir well.
Pour in the broth and add enough water to cover all the ingredients well.
Add salt as needed, since the broth contains salt. Bring to a simmer and add the parsley and sage leaves.
Cover with a tight lid and cook on low for 1 hour till the meat is tender. (If using a pressure cooker, cook on low till you hear 8 steam whistles).
Add boiled water, if the stew seems to be going dry. (This is usually not needed if using a pressure cooker), Also add the peas.
Mix the cornstarch ( cornflour) and potato starch  in ½ cup of hot water and add to the stew. Return to a simmer, check the tenderness of the meat. Do not stir too much or you will mash the potato ad carrots too much.
Chunky Beef Stew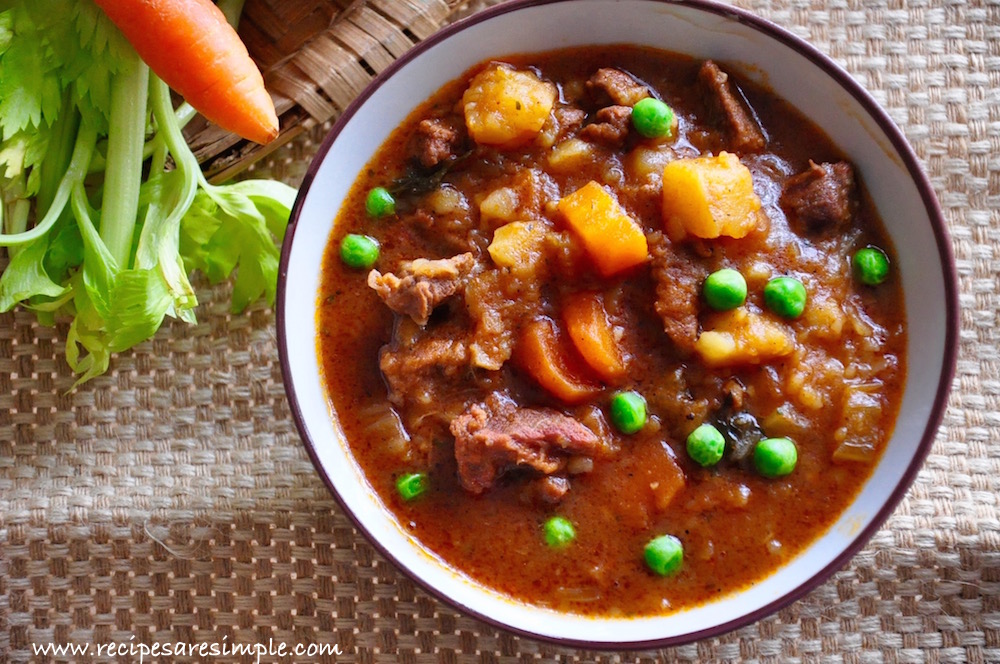 Notes: Using a pressure cooker will decrease the cooking time.
Key Ingredients: Beef, Potato, Carrot, Tomato Paste, Onion, Celery, Garlic, Parsley.
Leave a comment if you tried – Chunky Beef Stew.