30 March, 2015
Chocolate Chiffon Pie – Silky and Light Mousse Pie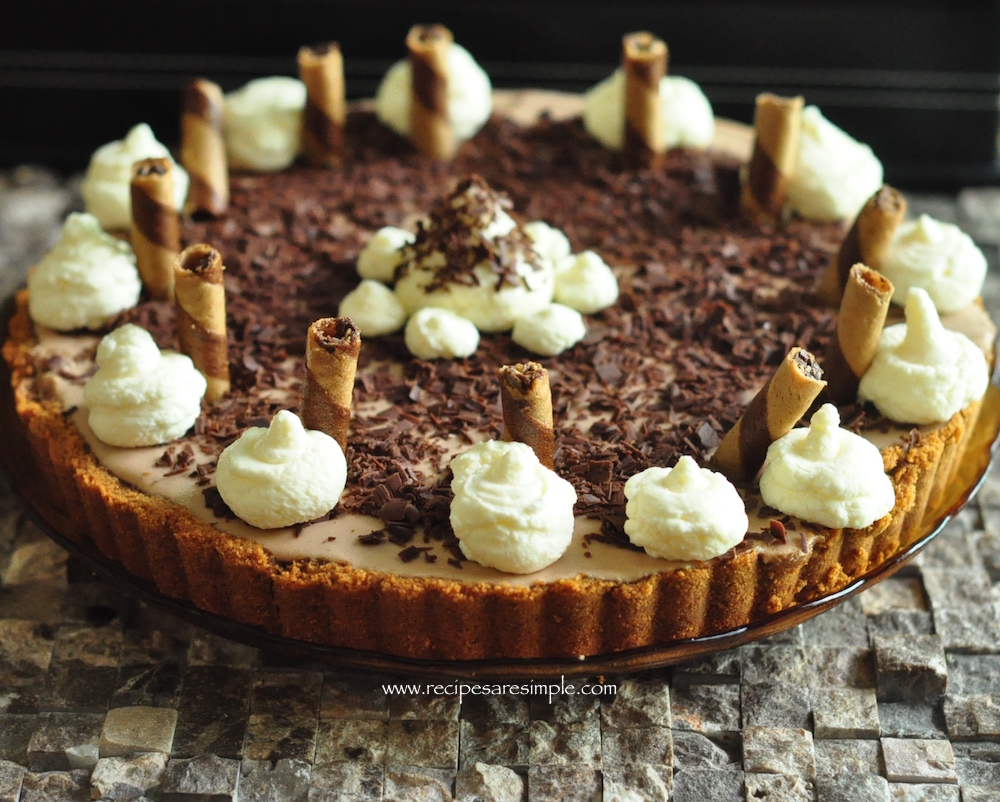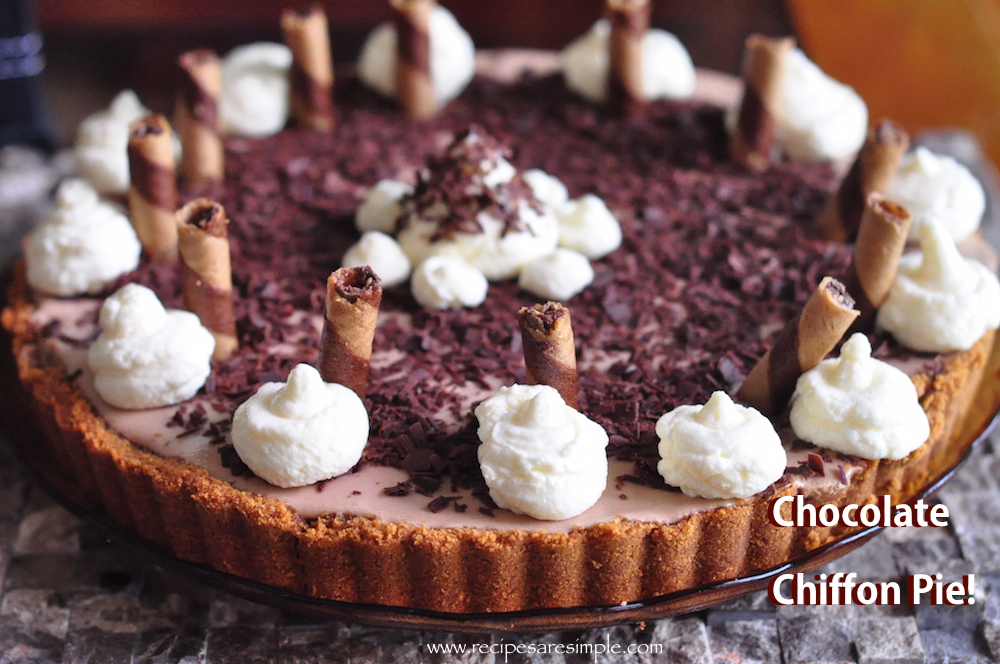 Chocolate Chiffon Pie
True to its name, this Chocolate Chiffon Pie is wonderfully smooth and light textured. A buttery Graham Cracker Crust and some whipped cream, make a lovely dessert that pleases the young and the 'young at heart' alike.
Plan out your bowls and whisks ahead of time for this recipe and the task is not as daunting as it first appears.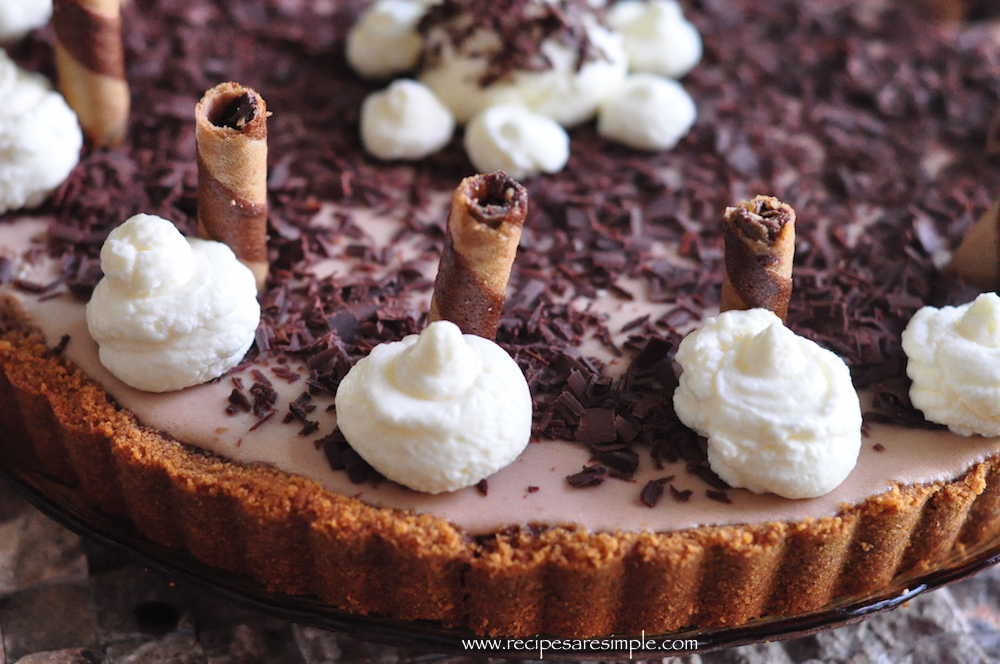 You are here: Home > Desserts / Sweets  > Chocolate Chiffon Pie
 

Author: Shana of Recipes 'R' Simple

Chill Time: 5 hours

Yield: 1 Pie (8 servings)
Chocolate Chiffon Pie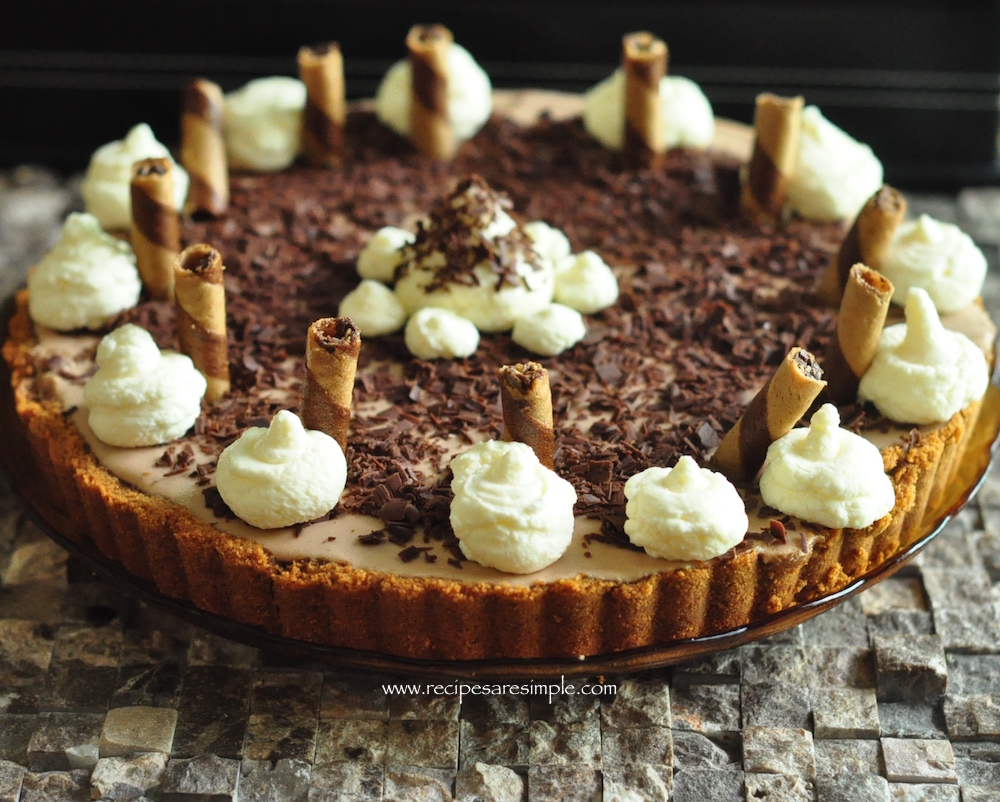 Ingredients:   You will need double boiler, 3 bowls a saucepan, pie pan and whisks.
The Crust:
200 gms graham crackers or digestive biscuits
6 Tbsp butter, melted
The Mousse:
200 gms /7 oz of you favorite milk chocolate  or dark chocolate

 250 ml / 1 cup milk

1 Tbsp gelatin
¼-½ cup sugar depending on sweetness of chocolate used.
2 extra large eggs (pasteurized)
1 tsp vanilla extract
¼ tsp salt
350 ml  / 1½ cups whipping cream
chocolate for making chocolate curls ( to decorate)
Method:
Whip the whipping cream ahead of time and keep covered in the fridge till time to use. See how to whip cream here.
Preheat oven to 180ºc / 350º F.
Process and crush the crackers/biscuits to a fine crumb.
Add the crumbs to a bowl and pour in the melted butter.
Mix with hands till evenly buttery. Then press into the bottom and sides of a pie pan (with a removable base). Use a smaller pan to press the base and flatten evenly.
Bake in middle rack for 8 minutes. (Keep an eye on the crust to make sure there is no burning of the crust).
Separate the eggs. Keep yolks and whites separately.
Chop the chocolate into small pieces. Add to microwave are bowl.
Heat on high stirring every 15 seconds, till melted.
Add the milk to a small sauce pan.
Sprinkle the gelatin over the milk and allow to sit for 5 minutes.
Now bring the milk just to a simmer to dissolve the gelatin.
Over a double boiler, place the sugar and egg yolks in a bowl over the simmering water( not touching). Whisk continuously till the sugar is dissolved.
Gradually whisk in the heated milk/gelatin mixture. Also add the melted chocolate. (Stir continuously to prevent any scorching or burning).
Add the vanilla extract and remove from heat. Place the bowl on a bed of ice or cool water to bring down to room temperature.
Meanwhile, beat the egg whites with salt in a sterile mixer with clean whisks. Wish till soft peaks form.
Pour a dollop of the whisked egg white into the cooled chocolate /egg yolk mixture and stir. Then pour back the entire mixture into the remaining egg whites and fold in gently.
Now fold in the whipped cream (leaving some for piped decoration).
Pour the mousse mixture into the prepared pie crust.
Cover with a domed lid and freeze for 15 minutes or till just set.
Then place in the refrigerator for 5 hours or overnight till chilled set completely.
Decorate the top with piped whipped cream and grated chocolate curls.
Always return remaining pie into the fridge to keep chilled. (Due to the egg whites which are used- for safety and to keep texture intact).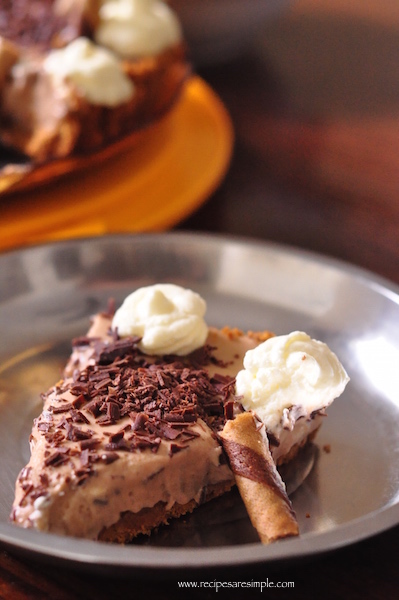 Chocolate Chiffon Pie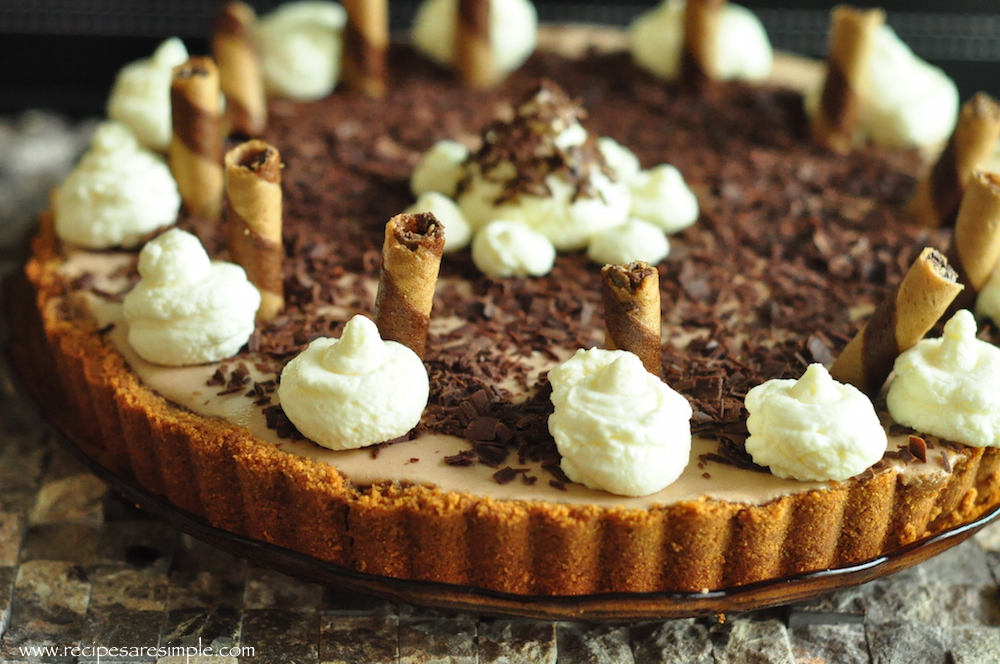 If you are looking for a healthier, eggless or vegan option to this pie, check out our Chocolate Tofu Mousse Pie as well. See below.
To make the cracker crust, you can use a food processor OR put the crackers in a large ziplock back and seal. Then crush with a rolling pin to get the desired crumb.
Keep whipped cream covered well in the fridge as whipped cream tends to absorb any smell from the fridge if left open.
It is CRUCIAL to  ensure that the milk and chocolate mixture does not get scorched even in the lightest as the entire aroma of the mousse will be affected drastically.
Key Ingredients: B
Let us know if you tried it – Chocolate Chiffon Pie . Comments from you provide motivation to keep up the driving force behind this blog, bringing you more delicious and perfected recipes regularly. Please do leave a comment. We love to hear from you.