31 August, 2013
Chocolate Biscuit Cake – Arretjescake (Netherlands)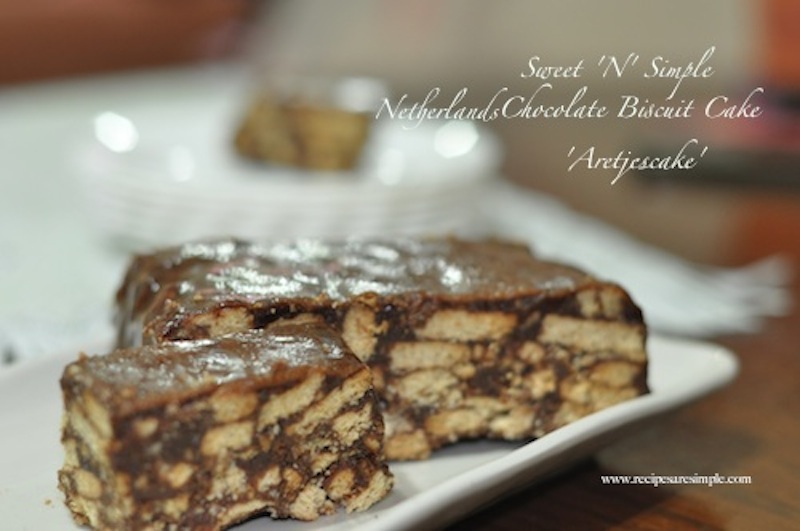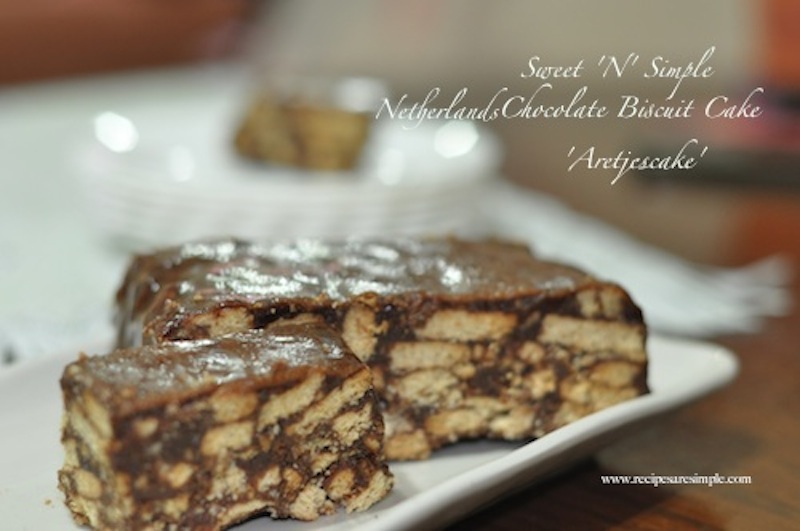 Chocolate Biscuit Cake – Arretjescake (Netherlands)
  Chocolate Biscuit Cake: Arretjescake –  A Kids Favorite! This simple old cake is a Dutch classic. Yes it's as simple as mixing together the ingredients and chilling till set! Here's our version! The name Arretjes comes from an old Dutch Cartoon Character called 'Arretje Nof'.

Chocolate Biscuit Cake – Arretjescake (Netherlands)
Recipe Type: Dessert

Author: Recipes 'R' Simple

Prep time: 10

Cook time: 15 

Chilling Time – 6 hours – overnight

Total time: 25

Serves: 6 – 8
Ingredients:
8 oz / 225 g of your favorite tea biscuits (Mcvities, Nabisco, Marie etc)
4 oz / 113 gms baking chocolate OR your favorite milk chocolate OR 3 Tbsp /25 gms Cocoa Powder 

(whichever you prefer, if using milk chocolate you can reduce the sugar by a Tbsp or so, Remember Baking chocolate is darker and bitter)

3-4 Tbsp Milk (optional) – helps to soften the biscuits

½cup  / 100 gms sugar
3 Tbsp / 45 gms unsalted butter
1 egg
¼-½ tsp vanilla extract

 
For Optional Icing:
1 cup white marshmallows
2 Tbsp Butter
2 Tbsp  Heavy Cream
1 Tbsp cocoa powder




Method:
Break the biscuits into almond sized pieces.
Mix together the sugar and butter till light colored.

If using Baking or Milk Chocolate,

 add to a small sauce pan and melt on low heat. Add milk ( optional) to make it smoother. Add the sugar and butter  mixture and heat till smooth.

If using Cocoa powder,

 add along with the mixed sugar and butter to a saucepan and heat gently, till smooth. Add milk if desired. It loosens the mixture.
Add the egg, take off heat and stir rapidly till very smooth.
Add the broken buscuits and stir well to coat evenly.
Butter a half loaf pan or small cake pan.
Line the greased tin with parchment (wax) Paper.
Press the chocolate bicuit mixture into the cake tin. Make sure the bottom is pressed into all the corners and sides well. (Remember , when inverted, this will be the top of your cake.
Cover tin with cling film (saran wrap) and chill overnight for best results.
To invert, First place the tin so that just the bottom in immersed in a basin of hot water for a few seconds.
Pull at the parchment paper to lift the cake along with the paper.
Invert onto a plate and remove the paper.
Optional Icing:
This cake does not need icing but if you like a glazed finish: melt the marshmallows along with butter, cream and cocoa powder  till smooth and apply on the cake that has been chilled at least 5 hours. Return to fridge to set.
Serve with Whipped cream or Butterscotch Ice cream or just on its own! Enjoy.
Chocolate Biscuit Cake – Arretjescake (Netherlands)
Try it and let us know – Chocolate Biscuit Cake – Arretjescake (Netherlands) .
Do not skip/leave  out the parchment paper. You wont be able to get the cake out without the paper or use cling wrap to line the tin as an alternative.
Although it's tempting to serve after 5 hours, we strongly recommend the overnight refridgeration, it makes all the difference.