15 April, 2013
Koorka Recipe – Mildly Spiced, Slow Fried Chinese Potatoes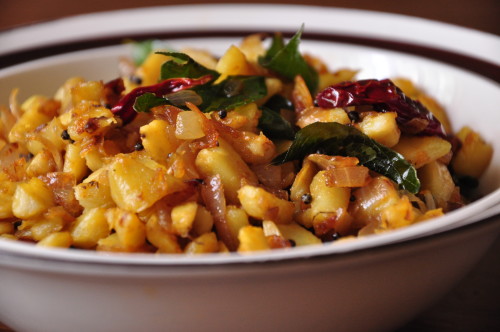 Koorka Recipe
The aromatic, earthy flavor is hard to resist. Chinese potatoes  are not as easy to peel as regular potaotoes, but trust us – it's well worth the effort. Follow this Koorka Recipe to make authentic and simple, homestyle Koorka Mezhukkupuratti.
Koorka Recipe



Ingredients:
2 cups chinese potatos, cleaned, washed and cut into even sized wedges(See notes on how to clean them).
½ tsp mustard seeds
1-2 tsp urudh/black gram dal
4 dry chilly, cut
6 curry leaves
2 large onions OR same amount in shallots, chopped
2 cloves garlic, crushed
2 green chillies slit
¼ tsp turmeric
pinch cracked pepper




Method:
Boil the cleaned, chopped chinese potatoes in just a little water with turmeric and salt to taste. Cook till they can be cut up with a fork. Drain and set aside.
Heat oil in a wok.
Add mustard seeds, then black gram dhal and allow the mustard seeds to splutter.
Add curry leaves and dry chillies.
When aromatic add garlic, onion, green chilly and saute till golden.
Add the potato and stir fry on low heat. till all the flavors combine. Add salt to taste and pepper.
Sprinkle some water and gently cook, covered till the potatos mash if pressed with a fork. Mash the potatos just a bit so that some potatoes are mashed slightly and some remain whole.
Enjoy.
Did you enjoy our Mildly Spiced, Slow Fried Chinese Potatoes – Koorka Recipe ?
Notes:
You can add ½ cup of grated coconut before covering if you would like a 'thoran'. Toss well on higher heat.
You may also add coconut slivers 'thenga kothu' for bite and flavor.
To clean/peel the chinese potatoes (Koorka)– due to thier small and irregular size, using a peeler may prove tricky unless you have a pointed peeler. Instead, use a small sharp knife.
If the outer skin is heaviily crusted, you can follow this trick:
Put them into a sack or cloth bag and grip tightly. Smack them against a marble counter top a couple of times. This will loosen the crust and make them easier to peel.
You May Also Like: Banana Flower Stir-Fry (Kodappan / Vazhapoo Thoran),   Stir Fried Long Beans – Achinga Payar Mezhukkupuratti