7 September, 2013
China Grass Pudding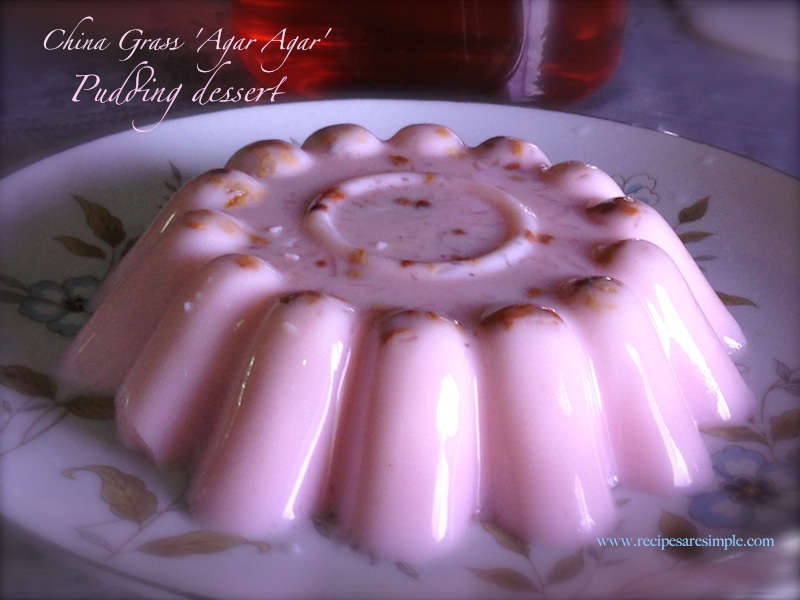 China Grass Pudding 
CHINA GRASS PUDDING. A very quick and simple pudding/jelly dessert that can be made very easily. Very refreshing and you can experiment adding different flavors, colors and ingredients.

China Grass Pudding 
Ingredients:
1/3 of a 32 gms packet of Agar Agar ( about 10.5 gms)
2 cups  skimmed milk
½ cup sugar
1/2 tsp  extract as desired – vanilla/rose/almond etc
4 – 6 drops food coloring or use fruit puree to color naturally
optional toasted nuts cashews, pistachios, almonds etc




Method:
Soak the china grass in

warm

water for 5 minutes

. (enough water to submerge the china grass)

Add the nuts that have been toasted lightly to the bottom of the pudding mould. Remember this will be the top of our pudding dessert. If you don't like nuts omit for a plain pudding.
Transfer the soaked china grass along with its water to a pan and bring  to a boil. Reduce heat and keep stirring till the China grass dissolves completely. 3 – 5 minutes.
Add the milk , sugar, vanilla and food color , mix well and bring to a boil.
Remove from heat immediately and pour into a 1 large tin or mould or several individual moulds.
Let it set at room temperature and then chill for a couple of hours.
 Shake the sides of the mould gently. Press against the pudding from the sides to gently release the edges. Carefully invert onto a serving platter.
Alternatively  cut straight from  the tin into squares or diamonds and serve.
China Grass Pudding 
Notes:
Sweet Corn Jelly : A variation can be made substituting  half of the milk with thin coconut milk and adding half a cup of thawed and drained frozen corn kernels.
You can allow one layer to set in a deep tin with one color and then add another layer of prepared jelly  (of another color) and leave to set.Repeat to get several layers of different colored dessert.
The consistency of this pudding is soft but cuttable. You can hold the cut pieces in your hand.
If you would like a softer consistency to scoop and eat from a small mould you can add  a half cup more of skimmed milk.
You May Also Like: