8 May, 2014
Chilli Fish Recipe – Indo Chinese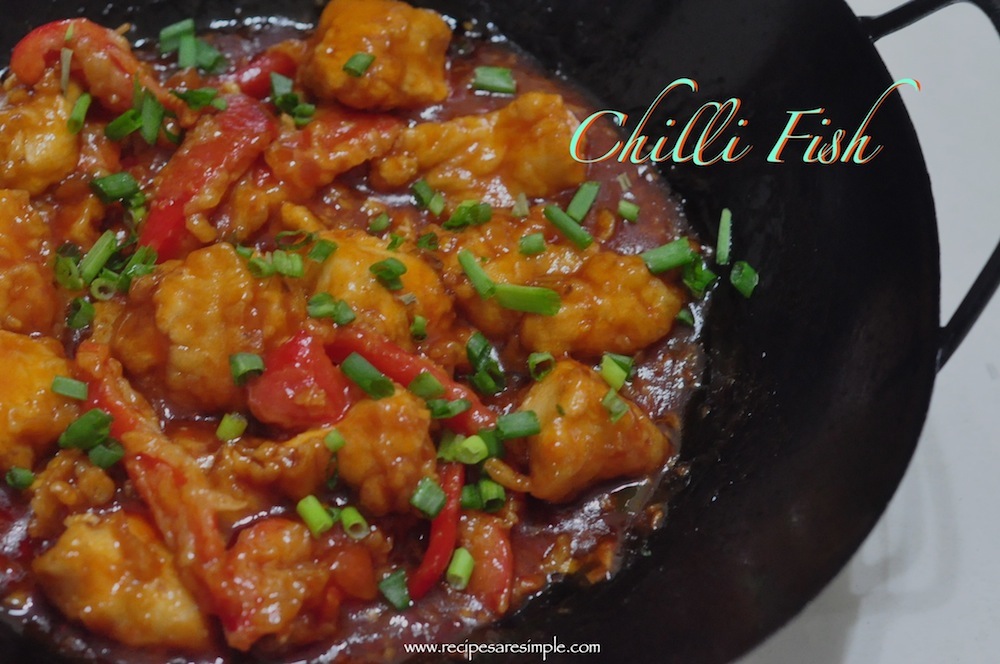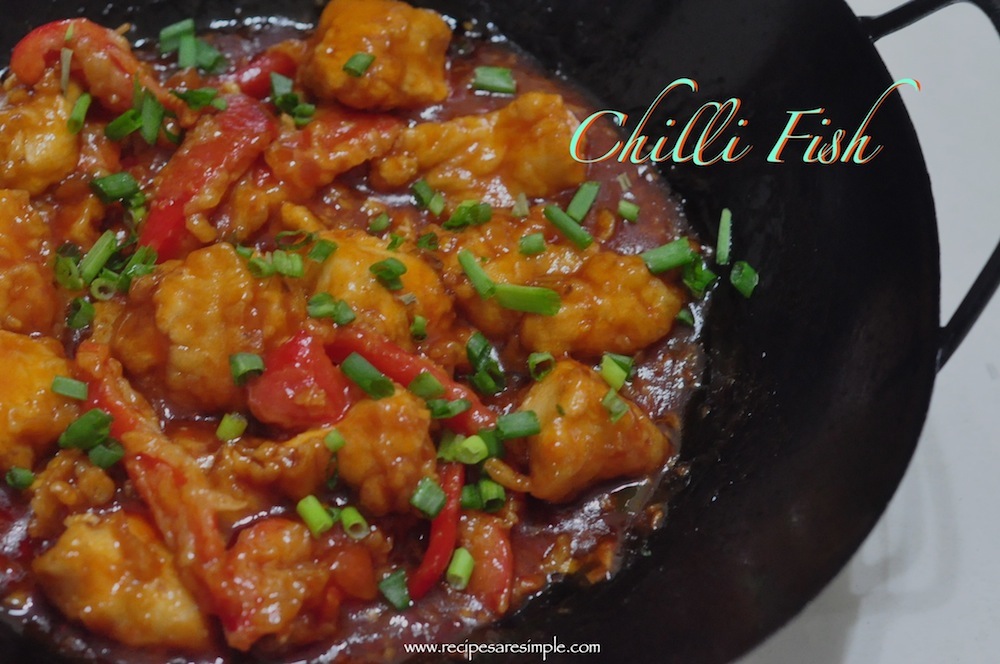 Chilli Fish Recipe – Indo Chinese
  The Indo Chinese version of Sweet and Sour fish incorporates peppers and can be spiced to taste. Adjust the amount of green chillies used to suit your taste. A perfect balance of sweet, sour and hot – Try this Chilli Fish Recipe to tickle your taste buds.

Chilli Fish Recipe – Indo Chinese
Recipe Type: Fish Seafoon / Indo Chinese

Author: Recipes 'R' Simple

Prep time: 15

Cook time: 15

Total time: 

Serves: 4
Ingredients:
350 gms firm fleshed white fish. Skinless, boneless – use only firm white fish for best taste.
1 small red or green bell pepper cut into long strips
For Batter:
3 ½ Tbsp plain flour
3 ½ Tbsp corn flour
1 tsp baking powder
2 tsp light soya sauce
2 Tbsp finely minced celery
½ tsp white pepper powder
For Sauce/Gravy:
1 Tbsp ginger, minced
1 Tbsp garlic, minced
1-3 Tbsp minced green chillies
3 ½ Tbsp light soya sauce
4  ½ Tbsp Tomato ketchup
½ Tbsp green chilli sauce
½ Tbsp red chilli sauce  

(If you only have one kind of chilli sauce, use 1 Tbsp of the same)

1 Tbsp cornflour
black pepper to taste and a pinch or two of sugar for balancing
Oil for frying like peanut oil
Scallions/ Spring  onion greens for garnish
Method:
Chilli Fish Recipe – Indo Chinese
Cut the boneless, skinless fish into bite size cubes. rub with some salt. Rinse well and drain.
Mix together the ingredients for the batter. Add ¾ cup water or enough to make a thick pancake like batter.
Add the drained fish to this batter and set aside, while you chop up your ingredients.
Heat enough oil for frying in batches in a small pan and fry the battered fish  till golden brown.
Allow the batter to drip back into the bowl. The fish should have a nice coating remaining. Drop into the hot oil and leave undisturbed for 30 seconds. The separate the cubes with tongs or they will fry in clumps.
Turn over after separating and fry the other side for another 30 seconds approximately.

(Bring the oil to a good heat on a low flame, gradually. When the fish is added to the hot oil there should be an instant sizzle. After  each batch is added, the oil temperature will fall- so at this point you must turn up the heat for a while (1 0seconds should do)  and then turn back down again).

Drain the golden fish nuggets and set aside.
Add the bell pepper strips into the remaining batter and fry similarly, only 20- 30 seconds, just untill the batter is crisp.
Drain alongside the fried fish nuggets.
Heat 2 Tbsp of the oil used for frying in a wok.
Add the minced ginger , garlic and green chilli. Saute till softened and light golden. Do not turn brown.
Add all the sauces and simmer till the color is a deep red.
Mix the cornflour in ½ – 1 cup water (stir well) and add to the sauce. allow to thicken.

(For a drier chilli fish use 1/2 cup water whereas for a little thickened gravy- use more)

Return  the fried fish and peppers to this gravy and simmer briefly.
Garnish with chopped scallions/ spring  onion greens
Try it and let us know – Chilli Fish Recipe – Indo Chinese .