25 October, 2013
Chili Gobi Recipe – Crispy Fried Cauliflower Snack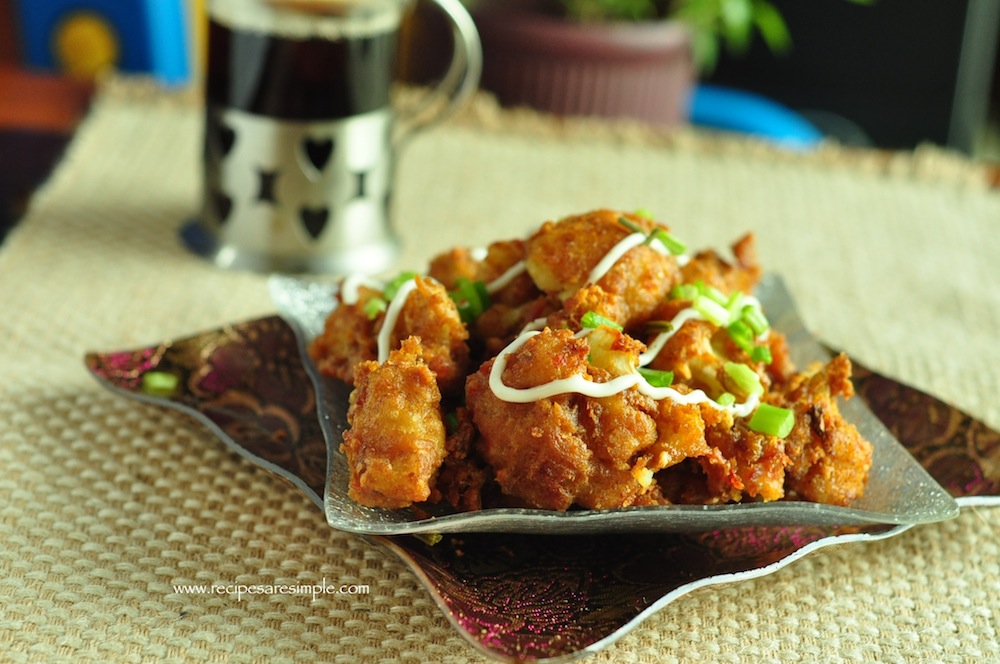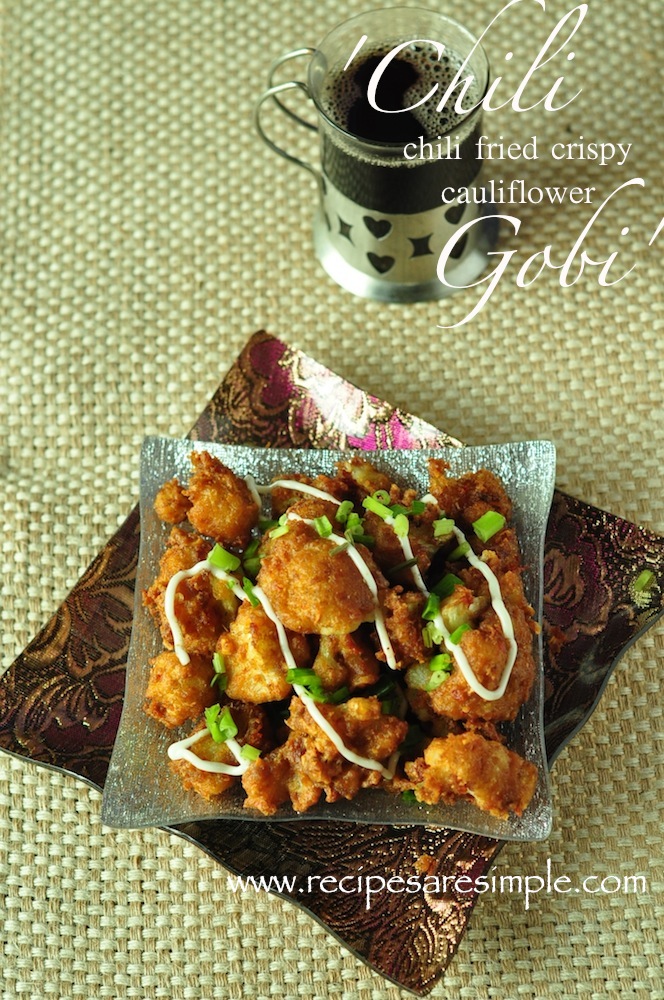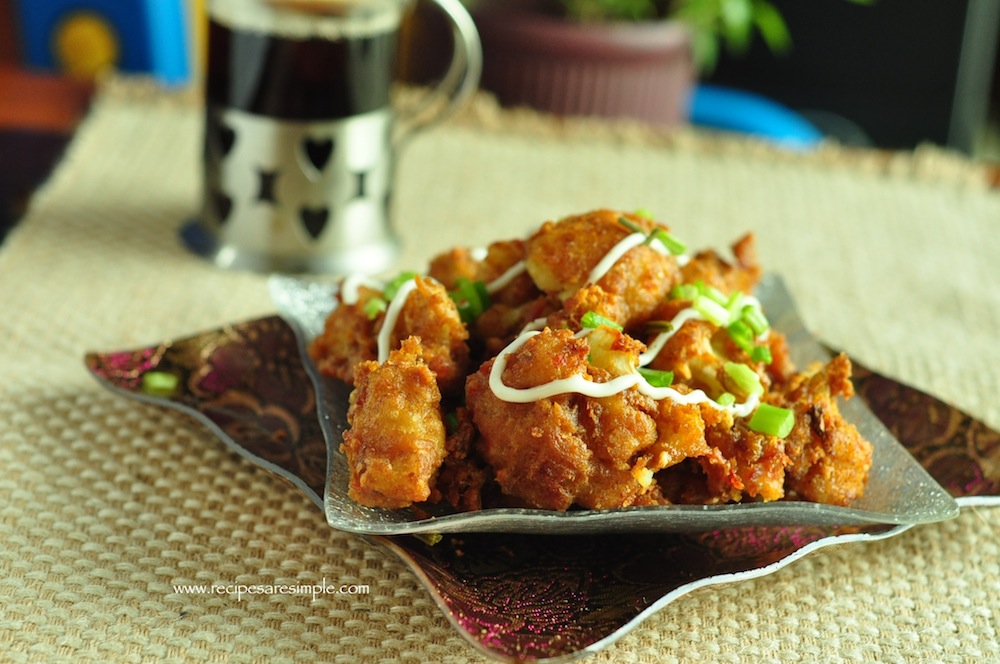 Chili Gobi Recipe – Crispy Fried Cauliflower Snack
Cauliflower! Some people love it. I do. Some dont like the texture and bite. However in this crispy snack version, I  believe even those 'On the Fencers' will agree it's great for a tea-time snack! Must be served hot and crispy! Chili Gobi Recipe – Crispy Fried Cauliflower Snack Can be prepared up untill frying well ahead of time.
Chili Gobi Recipe – Crispy Fried Cauliflower Snack
Ingredients:
1 head of cauliflower, cut into SMALL florets ,

cherry sized

½ cup plain flour
¼ cup cornstarch/cornflour
¼ tsp baking SODA
1 tsp coriander powder
 ¾ tsp cumin powder
½  tsp light soy sauce
½ white vinegar
1 tsp garlic, minced finely
1 tsp ginger, minced finely
salt to taste – about ¾ tsp
6 mild dry red chilies
for the garnish :  4 Tbsp spring onion/ scallion green cut into rings, 2 tbsp Mayonnaise for piping, a pinch or two of chat masala ,
about ½ cup water
oil for deep frying – I fry in batches so I use 1½  cup oil




Method:
First make the chili paste: : Add the dry chillies to  a sauce pan of water and bring to boil. Allow to sommer for 5 minutes. Then turn off heat and allow to sit for 30 minutes. Drain the chilies from the water and grind to a paste.
Rinse the florets thoroughly and drain for 15-20 minutes.
Combine the

(DRY INGREDIENTS)

flour, cornflour, baking soda, coriander powder, cumin powder, salt in one bowl.
Keep the

(WET INGREDIENTS )

soy sauce, vinegar, garlic and ginger and 2 tsp of the prepared chilly paste in another non-reactive small bowl till ready to mix the batter.
When you are set to fry, Heat oil in a deep pot.

Test  if the oil is hot enough by dropping a tiny amount of batter, it should sizzle and come up to the top quite quickly.

Add the wet ingredients to the dry ingredients  and add water, about ½ cup and whisk till you get a thick batter that is not runny.
Add the cauliflower florets and toss with hands till well coated as seen in the picture.
Fry in batches for a minute or two till crisped and golden. Drain on a large tray with paper towels or parchment paper.
Once all the florets are fried and drained well, bring the oil back up to a good heat and fry in batches again this time till you get a nice crisped coating and a reddish golden color.  

( you should hear a distinct crusty sound when you knock at a fried floret with the back of a spoon)

Spread on a fresh tray of paper towels to drain well.
Place in serving platter. Sprinkle over the sliced spring onion greens and using a piping bag to drizzle mayonaise all over the top. Lastly sprrinkle  

(VERY LIGHTLY)

a bit of chat masala.

It should barely be noticeable.
Chili Gobi Recipe – Crispy Fried Cauliflower Snack
Did you enjoy our Chili Gobi Recipe – Crispy Fried Cauliflower Snack ?
 The coriander and cumin powders should be a fine powder and not crushed whole spices.
 Do not overcrowd the pot while frying. Once you add all the pieces of one batch wait for a  30 seconds and then separate any pieces that are stuck to each other gently and continue frying