9 July, 2013
Chili Fried Dry Shrimp Delicacy – Unakka Chemmeen Fry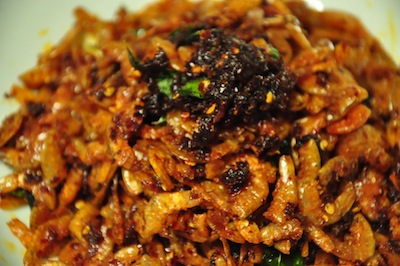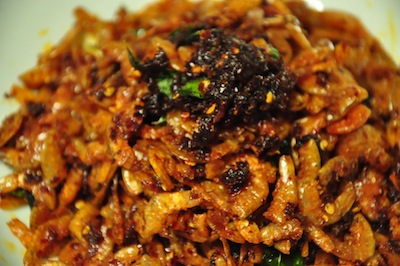 Chili Fried Dry Shrimp Delicacy – Unakka Chemmeen Fry
Many cuisines are unaware of the concept of using dry shrimp to enhance their dishes. 
Sun dried shrimp is considered irreplaceable in many Chinese, Malaysian and Indian dishes.
This Southern Asian Recipe comes from Coastal India where shrimp are aplenty and frying them makes for good company with rice. Unakka Chemmeen- Porichathu' translated-  Dried Shrimp Fried
There are two varieties of dried shrimp available in Asian and South Asian markets.
One is dried shrimp which is round and plump , the other is flatter and drier looking. For this dish we use the latter.
Chili Fried Dry Shrimp Delicacy – Unakka Chemmeen Fry
Recipe Type: Appetizer / Side
Author: Recipes 'R' Simple
Prep time: 
Cook time: 
Total time: 
Serves: 5
Ingredients:
2 cups of dried shrimps, cleaned by removing head and tail
Coconut oil or Sunflower oil for frying the shrimp
6 dry chillies (Kashmir variety is good- the shriveled up type has less heat)
5 shallots chopped
Curry leaves and salt to taste
Method:
Clean the shrimp carefully if not already cleaned.
Deep fry in hot oil on medium heat till crisp – do not allow to brown! Make sure they are crisp!

Note that dried shrimp is salted, so don't add any more salt.

Drain and set aside to cool. Retain the oil used for frying
Meanwhile grind the dry chilies with shallots and ¼ tsp of salt to a course paste.
Remove some of the oil used for frying (leaving just enough to saute the ground chilly paste)
Heat the reserved oil and saute the chilly paste well till aromatic.
Add curry leaves and stir-fry till chillies are well fried without burning.
Return the fried dry shrimp to the sauteed chilly paste and stir well till evenly heated.
(You may not need to use the entire amount of fried chilly paste,depending on how spicy you like it)
The leftover fried chilly grind can be used to top various dishes.
Did you enjoy our Chili Fried Dry Shrimp Delicacy – Unakka Chemmeen Fry ?