2 April, 2013
Chicken with Capsicum – Easy Quick Tasty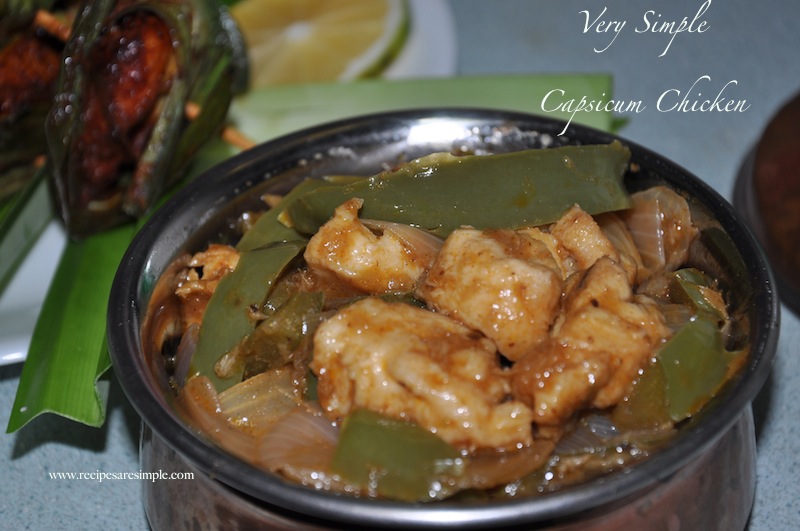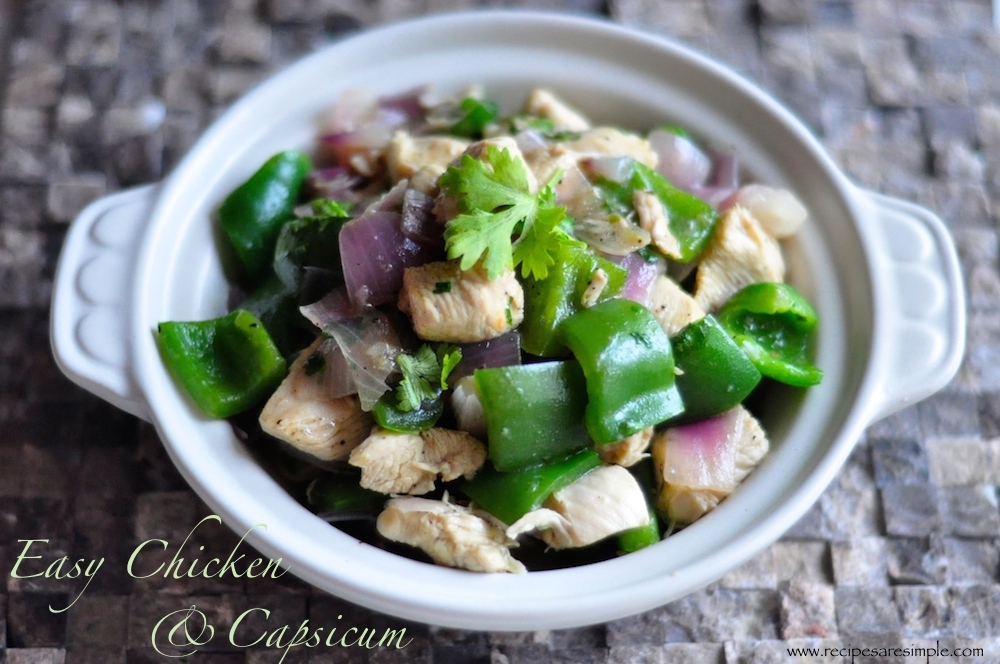 Are  you too tired to cook but still want something quick as well as tasty to whip up for dinner? Try our Chicken with Capsicum and you'll be noting this down to cook on those 'In a Rush' days. It's as simple as can be and with a just a few ingredients. Serve with rice or flatbreads: The chicken is full of flavor and very moist.
Chicken with Capsicum – Easy Quick Tasty
Recipe Type: Chicken / Quick
Author: Recipes 'R' Simple
Prep time: 10
Cook time: 7
Total time: 17
Serves: 2-3
Ingredients:
1 chicken breast (half of a chickens breast portion)
1 large Green Capsicum/Bell Pepper
1 large Onion
3 Tbsp  + 2 tsp Oil
Leaves of your choice for garnish;Scallions/Coriander/Basil
½ tsp cornflour mixed with ¼ cup water
Marinade:
4 large cloves garlic
1 large green chilly (the not so hot variety)
1 tsp soy sauce
5 drops sesame oil
¼ tsp pepper (or more if you like)
1 Tbsp cornflour
salt to taste




 Method:
Wash the chicken. Pat dry with kitchen towels. Cut the chicken into bite size pieces.
Crush the garlic and green chilies together to a fine paste.
Add to the rest of the marinade ingredients and stir well.
Marinate  chicken with this mixture and allow to sit for 5 -15 minutes.
Meanwhile; Cut the capsicum into square  or rectangle pieces.
Cut the onion into squares as well.
Heat 3 Tbsp oil in a non stick wok/pan. On high heat, Stir fry the chicken.
Toss continuously  till the chicken cooks tender white and still remains moist. This does not take too long. Cut through your biggest chunk of chicken to test doneness.  Set aside.

(Or you can just move to the side of the pan – however setting aside gives a better result).

In same wok heat another 1 tsp oil add the onion and stir fry till onion starts to turn golden.
Then add the capsicum and stir fry till slightly golden on the edges as well.
Return the chicken to the wok and toss well together for a minute.
Add the cornflour solution and cook till this mixture thickens and coats the chicken ( about 20 seconds).
Garnish with Spring onion or Coriander/Cilantro leaves.
Serve hot.
Chicken with Capsicum – Easy Quick Tasty
Try it and let us know – Chicken with Capsicum – Easy Quick Tasty .
You can add a tsp of Oyster Sauce when you stir fry the chicken with vegetables for additional flavor.
You can add 1 tsp of Shao Xing chinese cooking wine or meat tenderizer  to the marinade to tenderize the chicken

.