28 August, 2016
Easy Chicken Tikka Sandwich Baguette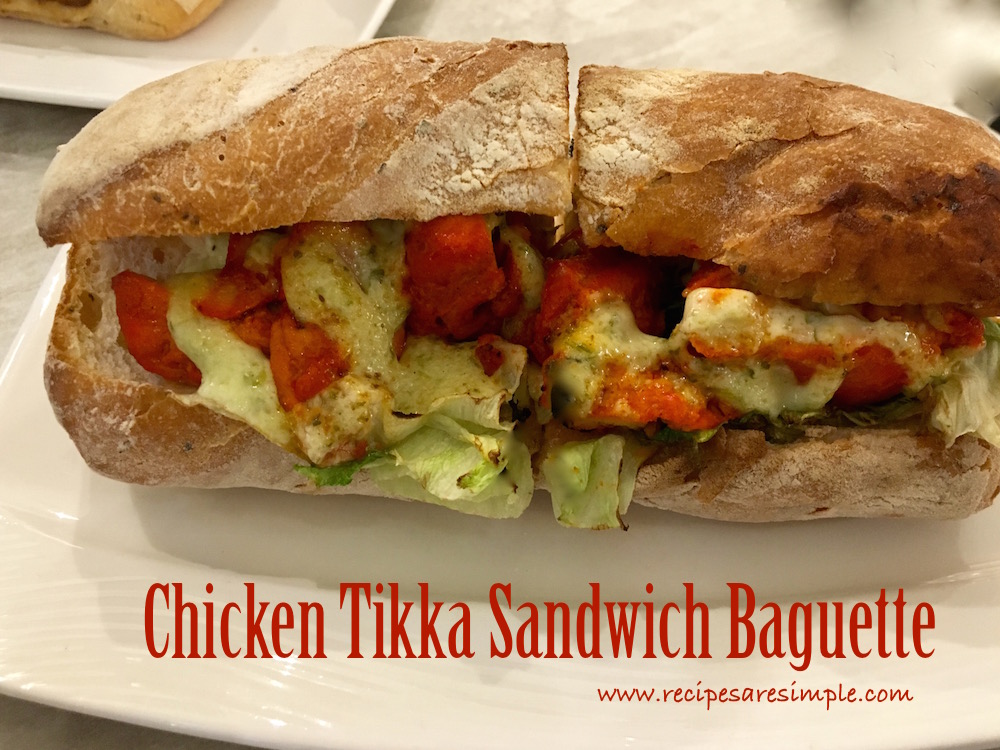 Chicken Tikka Sandwich Baguette
This is my version of an easy Chicken Tikka Sandwich Baguette. Who can resist delicious Chicken Tikka? Well this is a simplified but delicious version made into a  hearty sandwich. Crusty Italian Bread or Baguettes will be the preferred bread for this Sandwich. You need that hard crusty exterior to compliment the meaty textured filling. Soft breads will not do justice.
And do try my version of Smooth Coriander Chutney Dressing.  Give it a go. Pretty straightforward, this one!  My kids like to have the extra tikkas with the chutney.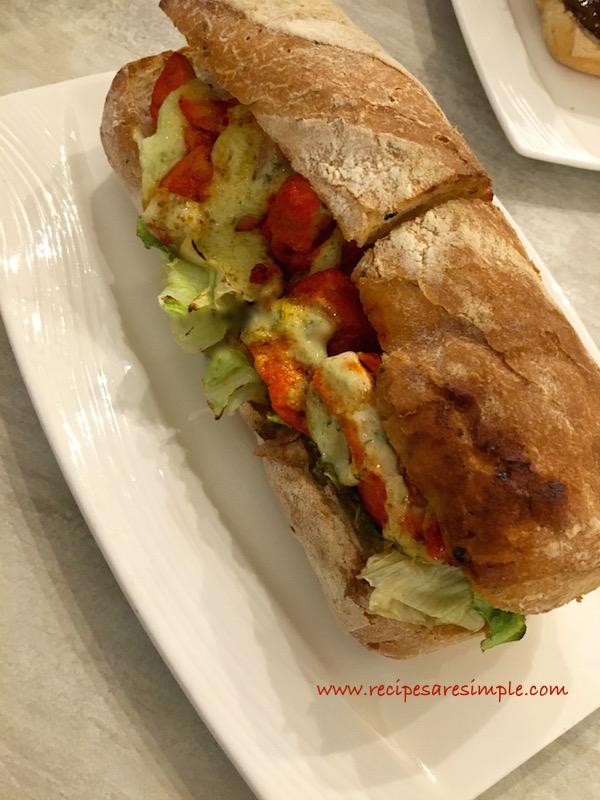 Chicken Tikka Sandwich Baguette
You are here: Home > Breads & Breakfast  > Chicken Tikka Sandwich Baguette
 

Recipe Name: Chicken Tikka Sandwich Baguette

Recipe Type:  Wraps / Sandwiches

Author: Shana c/o Recipes 'R' Simple

Refrigerate: 3 hours
Ingredients:
600 gms chicken breast
6 generous Tbsp yoghurt
1 rounded Tbsp plain flour
1 Tbsp minced red onion
1 Tbsp mustard oil – optional
2 tsp garlic paste, divided
2 tsp ginger paste, divided
2 tsp lime juice
pinch of red food coloring – optional
½ Tbsp dry fenugreek leaves (kasoori methi)
¾ tsp salt (or use black salt / kala namak – optional)
¼ rounded tsp  cumin powder
¼ rounded tsp coriander powder
¼ rounded tsp garam masala powder – use your favorite brand
½ tsp kashmiri red chilli powder (bright red/ less heat)
¾ tsp tandoori masala powder (Use your own favorite brand OR use masala recipe  given below)
Oil for greasing the wire rack.
Melted butter for basting
Delicious Green Chutney (Dahi Wala Hara Chutney)
80 gms chopped coriander 

leaves,

1 small clove of garlic

1 slice of ginger

2 tsp fresh lime juice

½ cup buttermilk ( or whipped yoghurt)

3-4 tsp sour cream, salt to taste 
Tandoori Masala Powder: Lightly toast and Powder grind the following.
1 tsp coriander powder
1 tsp cumin
4 cardamom pods
4 cloves
6 black pepper corns
1 " cinamon stick
Method:
Cut the chicken breast into large chunks (large enough so that they dont fall through the grilling rack). Cut away any excess bits of fat and discard.
Pat the chicken breasts with kitchen paper and add a little salt, lime juice and

HALf the amounts

of ginger and garlic pastes. Mix and marinate briefly.
Meanwhile, add the yoghurt to a muslin cloth and leave to hang over a strainer.
Once you have made your hung yoghurt (after about 15 minutes of 'hanging') , add the yoghurt, remaining salt, reserved ginger and garlic pastes as well as all other ingredients to a bowl and mix well.
Check for salt and add if needed.
Add the chicken pieces that have been marinated in ginger, garlic, lime  and salt to this marinade and mix well.
Cover and refrigerate for 3 hours.
Remove from fridge 20 minutes before cooking.
Preheat oven to 180º c.
Grease the oven rack thoroughly to prevent the chicken from sticking to it while cooking.
Place the pieces on to the rack, spaced 2-3 cm  from each other.
Place in the oven with a foil lined tray one level beneath to catch the drippings.
(Placing the chicken pieces directly on the tray will prevent them from getting slightly charred as they will be cooking in their own juices. Not recommended for delicious tikkas).
Grill in the oven for 10 minutes. Turn over the pieces gently. Baste with melted butter.
Return to a higher rack and switch to broiler setting (Heat from above).
Broil an additional 10 minutes. Check one piece for doneness.
Instead of placing the chicken tikkas on the wire rack you can also skewer onto soaked bamboo skewers, so that they may be turned easily.
Slice the crusty bread, without cutting through. Open and grill lightly. Add some of the Coriander dressing, shredded lettuce and sliced onion (optional) . Place 3 to 4 tikkas per sandwich. Use a sharp serrated knife to divide each sandwich into two. Serve warm.
Delicious Green Chutney (Dahi Wala Hara Chutney) 
Add chopped coriander 

leaves

,  garlic, ginger, fresh lime juice, buttermilk ( or whipped yoghurt), sour cream, salt to taste to a small grinder .
Leave for 5 minutes.
(MIX WITH SPOON) and then blend all together to a sauce like consistency. Yum!
Add enough sour cream to get a nice creamy consistency.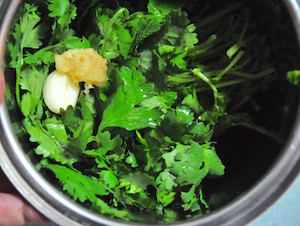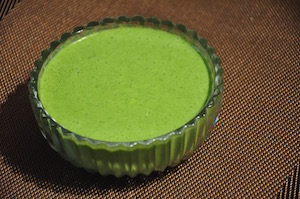 Chicken Tikka Sandwich Baguette
Key Ingredients: Chicken, Ginger, Garlic, Onion, lime, Spices, Salt,  Crusty bread, lettuce,Oil.
Leave a comment if you tried – Chicken Tikka Sandwich Baguette .