11 September, 2015
Chicken Tikka Masala – Simple and Delicious Recipe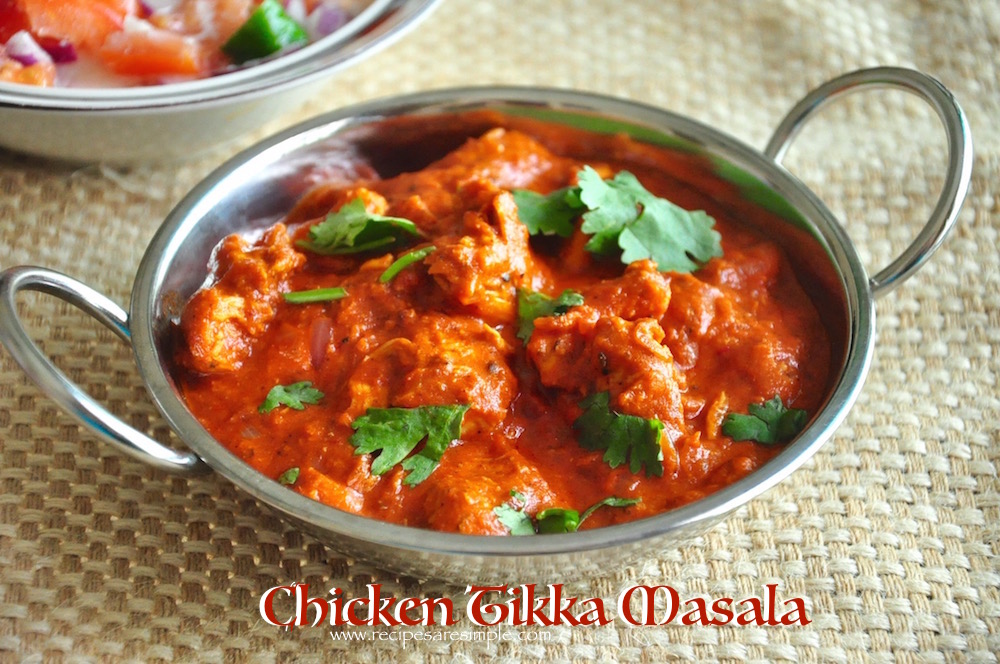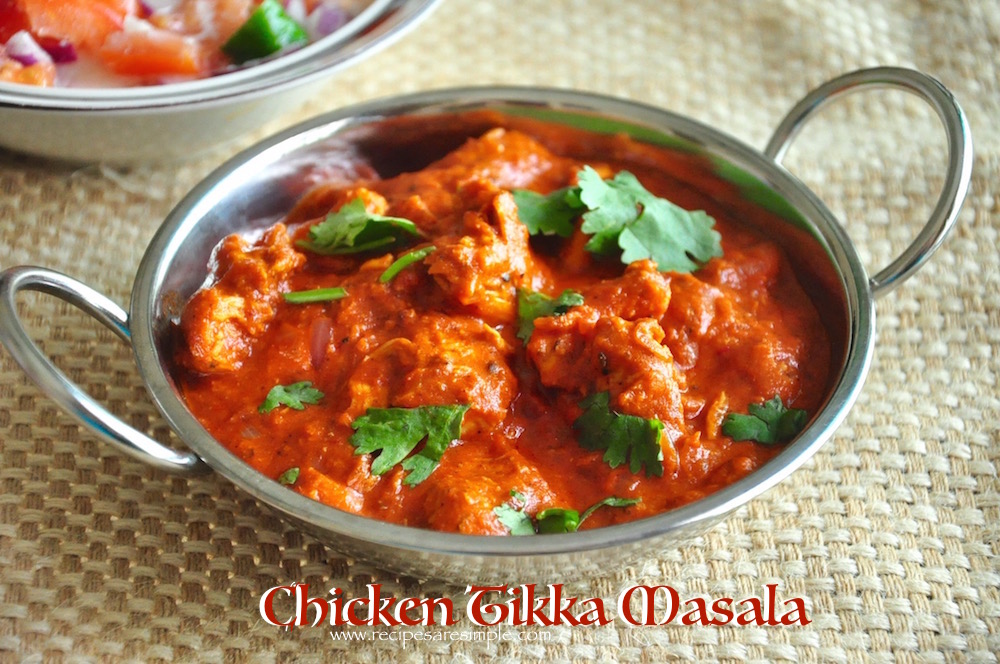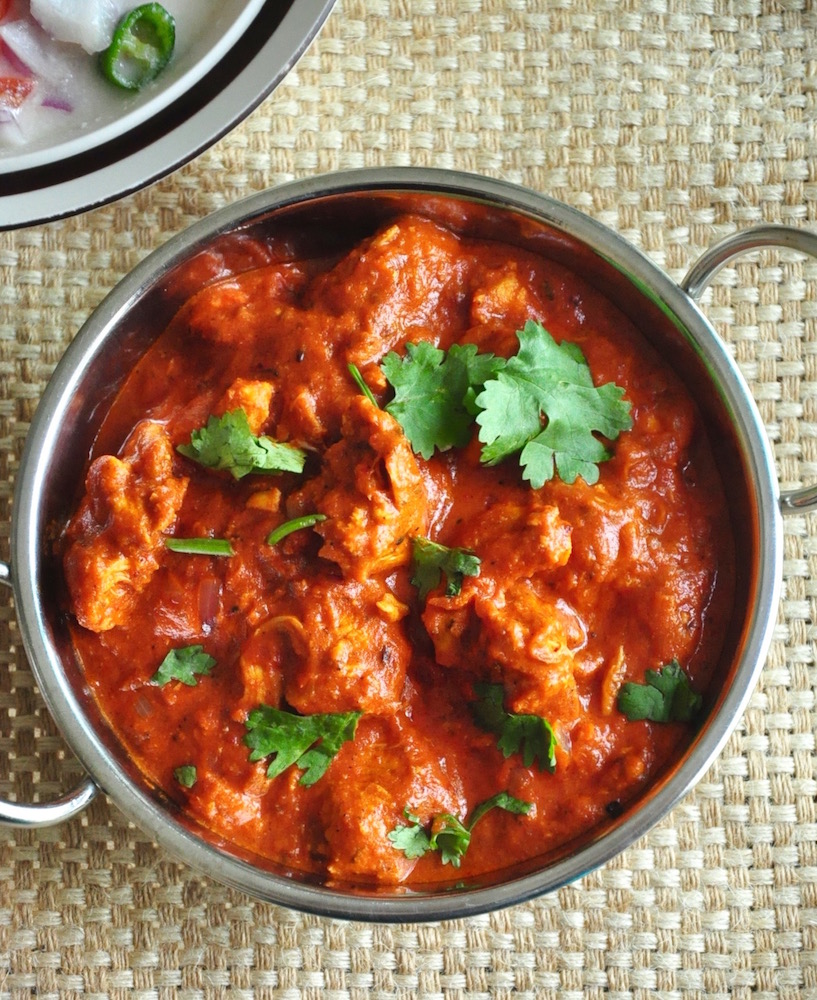 Chicken Tikka Masala – Simple and Delicious
One of Britains favorite foods, it's true that Chicken Tikka Masala a concocted Indian Fusion Recipe. Most International Indian restaurants feature this popular recipe. Similar to Indian Butter Chicken. More often than not, however Restaurant versions include red food coloring and sometimes even flavor enhancers.
Follow this recipe to make Delicious, MOUTH Watering, Chicken Tikka Masala in the comfort of your home. The garam masala is made from scratch too. You will be so astonished at how simple it can be!

Chicken Tikka Masala – Simple and Delicious
You are here: Home > Chicken Dished  > Chicken Tikka Masala
 

Recipe Name: Chicken Tikka Masala

Cuisine – British – Indian

Author: Shana c/o Recipes 'R' Simple
Ingredients:
2 pairs of joint thigh and leg portions of chicken (bone left in, skin removed)
ghee for basting
fresh coriander leaves for garnish, finely chopped
For Marinating:
3 cloves garlic
same amount of ginger as garlic
1 Tbsp fresh coriander leaves
4 generous Tbsp thick yoghurt (not too sour)
1 lime (Indian yellow lime preferred – yields about 2 Tbsp juice)
¼ tsp black peppercorns

¼ tsp mace
¼ tsp nutmeg
1 tsp cumin seeds
2-3 long dried red chillies or 1 tsp red chili flakes
4 cloves
4 cardamom pods
1 small stick cinnamon or cassia bark
optional – ¼ tsp kalpasi (black stone flower) – omit if not available
For the Gravy:
1 Tbsp ghee, butter or vegetable oil.

Ghee is preferred.

¼ tsp cumin seeds
1 medium red onion, finely chopped – about ½ cup
300 gms tomato puree (either canned OR made from boiling 4 tomatoes, just till skin peels off and blending without water to a puree)
2 cloves garlic and same amount of ginger, ground to a paste with a tiny bit of water
½ tsp paprika
2 Tbsp yoghurt, beaten
½ tsp dried fenugreek (methi) leaves
½ tsp chilli flakes – optional
¼ tsp black pepper powder
½ cup  or as needed for gravy
¹/3 cup fresh cream, beaten
¼ tsp salt or to taste
Method:
To Marinate the Chicken:
Preheat the oven 210°c/ 410°F.
Wash the joint thigh and drumstick portions well.
Make a single, long gash – vertically through the centre. Start from the side of the thigh to the end of the drumstick – for both pieces.
Make further cross wise gashes all over the length of the 2 pieces. The gashes should just brush against the bone.

This helps to remove the chicken without shredding, after grilling. It also helps the marinade to penetrate better.

Pat dry and set aside in a bowl.
Add all the dry spices to marinate the chicken to a dry pan and toast lightly till fragrant.

You can even heat them up together for about 6 -7 seconds in the microwave, till popping. 

Add to a spice/ coffee grinder and grind to a powder.

This is our home made garam masala for chicken tikka masala.

Remove about ¹/3 tsp from the garam masala and set aside.
Also add the garlic, ginger, coriander leaves and yoghurt to the mixer and blend till smooth.
To the chicken: add the yoghurt mixture, salt, lime juice and home made garam masala ( all but the reserved ¹/3 tsp).
Leave to marinate while you prepare the ingredients for the gravy.

(About 15 minutes).

Line an oven tray with aluminum foil. Place wire rack over it and brush with oil.
Place the marinated chicken on the wire rack. Pour over any remaining marinade.
Place in the hot oven closer to the upper heat source. The aluminum lined tray should be placed below to catch drippings.
Bake for 30-40 minutes, or till chicken is tender.
After 20-30 minutes, baste with ghee and turn over the pieces.
Baste again with ghee, once done. The chicken should be slightly charred.
While the chicken is getting cooked, prepare the gravy.
Heat ghee in a non stick pan.
Add the cumin seeds and allow to pop.
Add the onion and sauté till just changing color.
Now add the ginger garlic paste and sauté till the raw smell dissipates.
Add the tomato puree. Cook well till deep red, thickened and the oil shows on top.
Add most of the the reserved garam masala as well as paprika.
Now add the beaten yoghurt and stir briskly till combined to avoid curdling.
Add the salt and turn off heat at this point if chicken is not ready.
Once the chicken is cooked tender and basted with ghee, remove the chicken from the bones easily with the gash lines to guide you. Try not to shred the chicken.

The bone should not show any signs of red if cooked thoroughly.

Add about a half cup water to the prepared thick gravy  and heat again to a simmer.
Add the chicken pieces and simmer briefly. Add water if it seems to dry.
Cook for about 5 minutes on low.
Now add the cream and stir through till heated.
Taste and add salt if needed.
Lastly, add the remaining dash of garam masala, chill flakes and pepper powder.
Remove from heat. Garnish with the fresh coriander leaves.
Serve with Naan or Rice.

Chicken Tikka Masala – Simple and Delicious
Bone-in chicken is best for this recipe to provide the most succulent chicken,

although boneless may be used as well.

Oven is my preferred choice to cook the chicken, but you can also pan fry the pieces till tender, on medium heat.
If you don't have fenugreek leaves, use dried coriander leaves instead or omit.
Read about Black Stone Flower.
Key Ingredients: Chicken, Spices, Tomato, Onion, Garlic, Ginger Yoghurt, Cream, Coriander Leaves, Ghee, Salt.
Let us know if you tried it – Chicken Tikka Masala – Simple and Delicious. Comments from you provide motivation to keep up the driving force behind this blog, bringing you more delicious and perfected recipes regularly. Please do leave a comment. We love to hear from you.