16 December, 2013
Chicken Tikka Biryani – Lighter and Simple to Make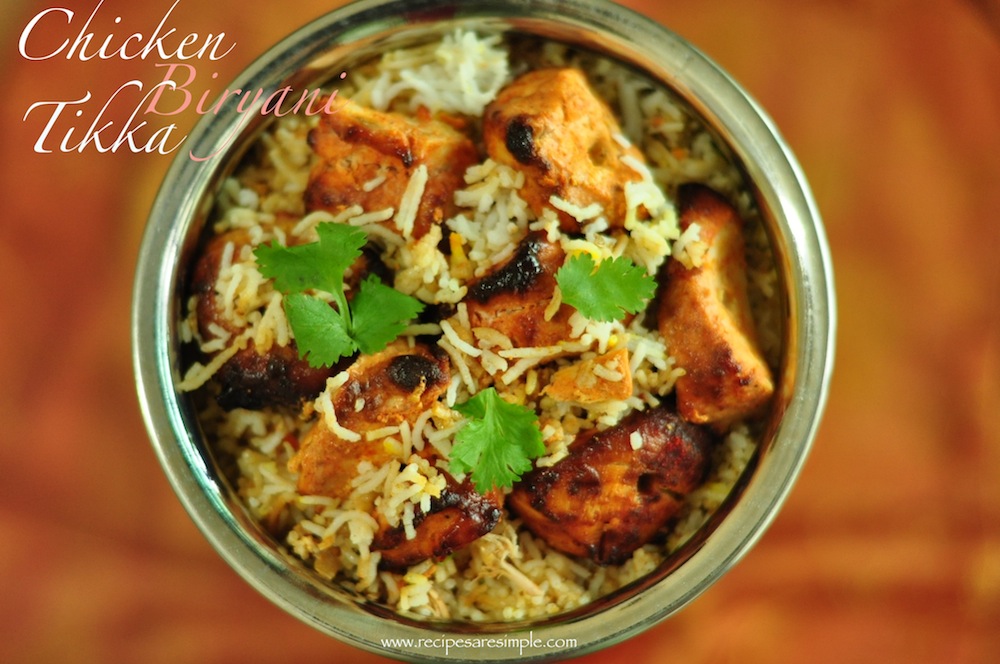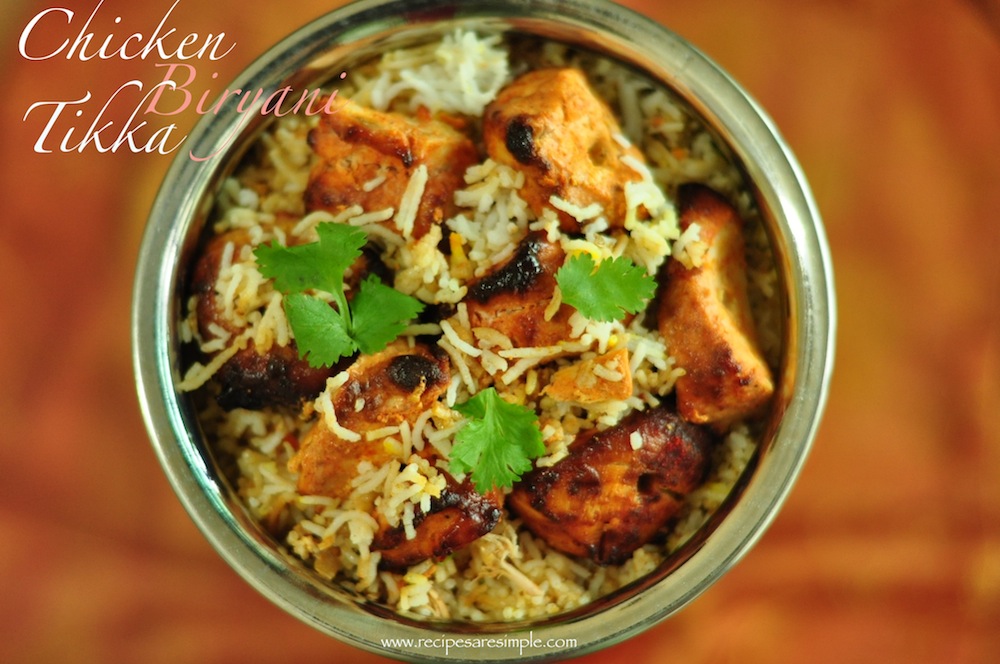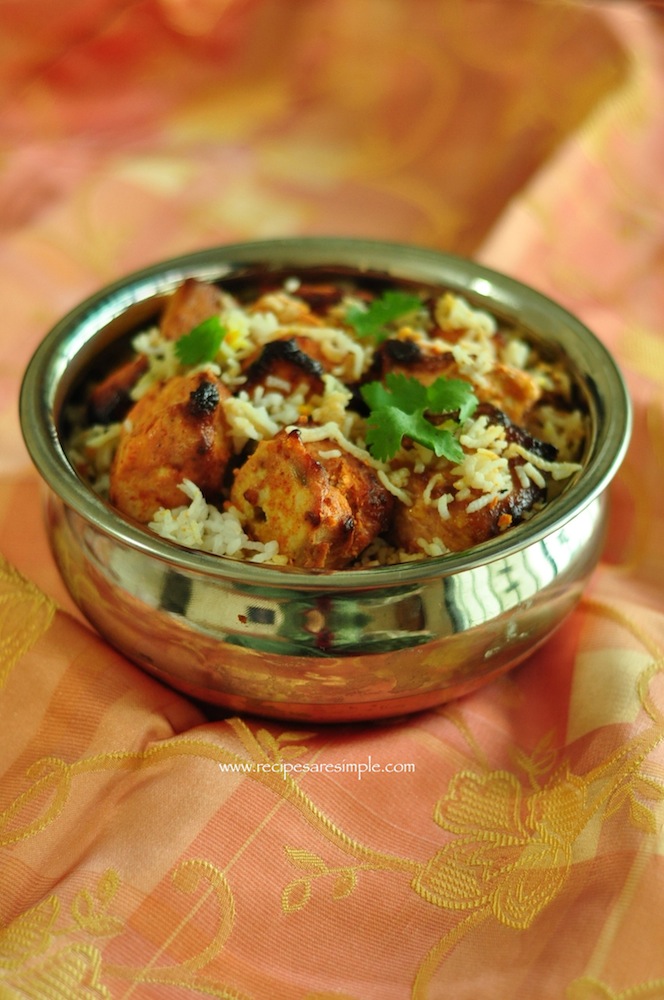 Chicken Tikka Biryani 
My family LOVES Chicken Tikka – 'Tandoor style, boneless chicken skewers".  I make them quite regularly and they always come out great!  I love making it because everyone is so happy to hear that we're having 'Tikka' for dinner.
So I pondered upon the idea of serving it with rice instead of our usual home made Naan or Chapathi for a change .  I tried a few recipes on the net to my utter dismay. The rice didn't taste good and the 'Tikka' lost it's supremeness in the making.
I decided to have a go at another one of my Kitchen experiments and chucked all those borrowed recipes out the window. Finally arrived at a rice combo that does justice to the delicious tikka! In this recipe the Chicken Tikka is made just as normal without steaming them under the rice and loosing their alluring taste.  The rice is very simple and stays moist and aromatic.  Serve with a Yoghurt Raita Salad.
Chicken Tikka Biryani 
Ingredients:
800 gms/ 1 ¾ lbs chicken breast cut into big  pieces
2 cups yoghurt
3 tsp kashmir/mild chili powder
½ tsp turmeric
1 tsp garam masala – everest brand is good
3 Tbsp Mustard oil
4 tsp ginger garlic paste – equal amounts of ginger and garlic ground to smooth paste
2 Tbsp lemon juice – small Yellow limes are best
½ tsp cumin powder
——
2 cups rice
2 onions, chopped finely
2 tomatoes, chopped
2 + 2 Tbsp butter + for basting
2 Tbsp oil
4 cups water
2 cubes of chicken bouillon cubes
6 cardamom pods
½ tsp saffron strands
——
¼ cup fresh coriander/ cilantro
1 onion sliced into thin rings- for garnish
Method:
Marinate the chicken with 1 tsp of the Ginger Garlic paste, 1 tsp chili powder 1 Tbsp of the lime juice and enough salt – about ½ tsp or to taste. Place in the fridge covered for 20 minutes.
Hang the yoghurt for 30 minutes, (no more) in a muslin cloth to get a thickened yoghurt.
Add the remaining 2 tsp Ginger Garlic paste, 2 tsp chili powder, turmeric, mustard oil, cumin powder, garam masala, remaining 1 Tbsp Lime juice and salt to taste and stir well.  Divide this yoghurt mixture into 2 bowls.
Use 1 half of the mixture to  rub into the chicken that has been marinating and place back in the fridge for 3 hours or more.
Preheat oven to 250ºc /480ºF. Grill with a rotisserie attachment or placed on soaked bamboo skewers on an oven rack, catching any dripping on a tray below. Bake 8- 10 minutes. Baste nicely with butter. Bake another 10 minutes.  Take out of the oven, baste with some more butter and sprinkle some chili powder over the tikkas.
Alternatively, you can wok fry the tikka – for about 10 minutes till tender  with char marks.
Do not over cook the tikka, or they will be dry and this will spoil our dish.
Keep the tikka wrapped in foil while your rice gets ready.
While the tikka are int he oven, soak you rice for 10 minutes and drain.
Heat the 2 Tbsp butter and 2 Tbsp oil.
Pre boil the water, adding the chicken cubes and set aside.
Add the onion and saute till softened.  Add the drained rice and fry for a minute.
Add the pre boiled water and cardamom as well as strands of saffron.
Cover and cook on low till the rice is cooked and fluffy – all water absorbed.
Heat remaining 2 Tbsp of butter in a large pot or pan and add the tomatoes.
Cook till pulpy and add the reserved yoghurt mixture and cook on medium till the oil separates.
Top the masala with coriander leaves, leaving some for garnish.
Add the cooked rice over this masala, fluffing up the rice a bit.
Cover tightly and steam  for 5 minutes on a very low flame – no longer.
Toss the rice so that the masala is nicely mixed through.
Cover with our Chicken tikka, fresh coriander and fresh  onion rings.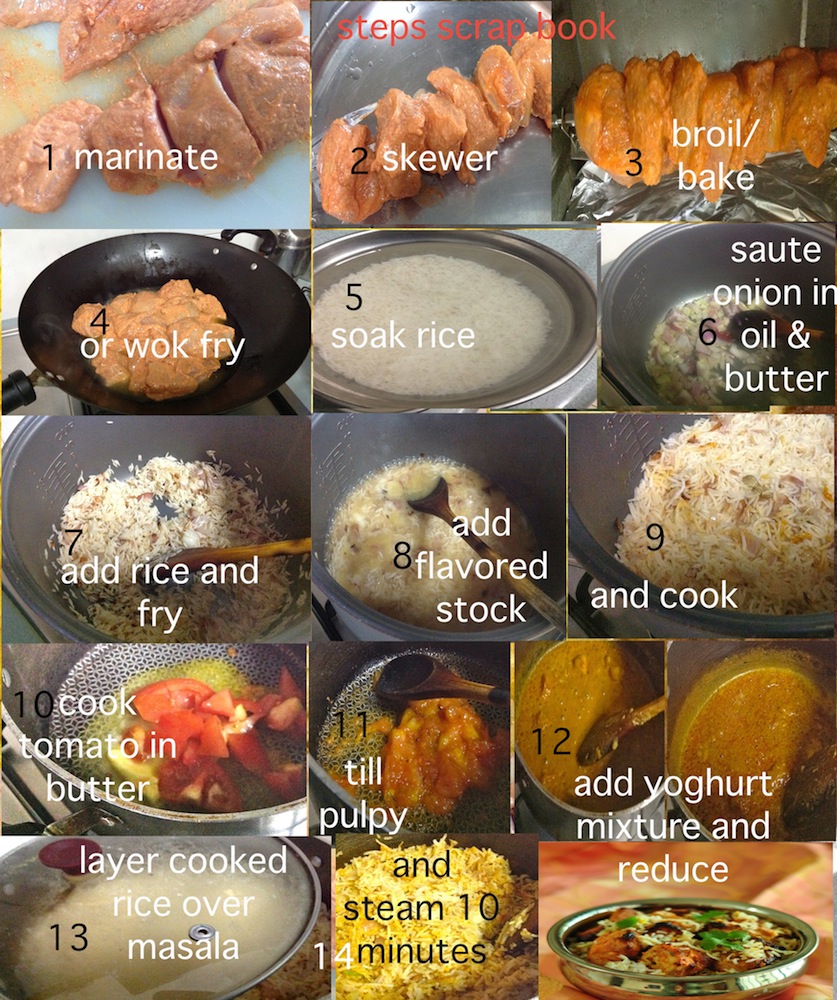 Chicken Tikka Biryani 
Try and let us know Chicken Tikka Biryani.
The chicken can be marinated the night before, reserving half of the yoghurt mixture to be used the next day for the rice.
Keep the sliced onion rings in ice water till time to serve.  Drain well on paper towels.  This keeps them crisp and reduces the onion 'punch'.