16 March, 2015
Chicken Spaghetti – "Pantry Raid" Dinner in 30 minutes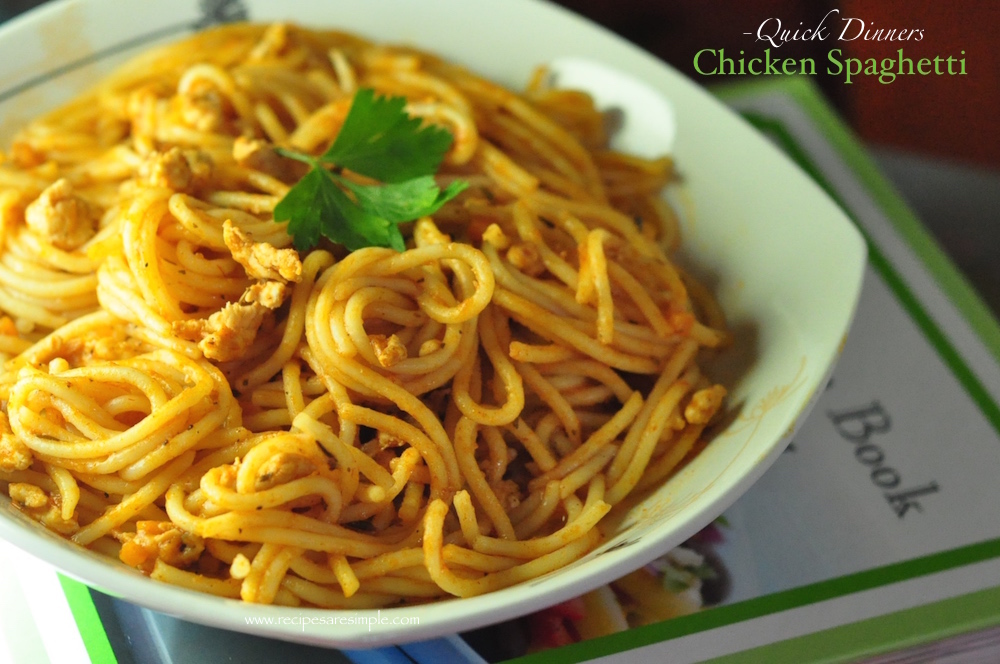 Chicken Spaghetti
Who said making dinner after a long day at work has to be a troublesome and time consuming affair? With quick recipes like this "Pantry Raid" Chicken Spaghetti, you can have a simple hot meal on the table while you phone a friend or your mom at the same time. Simple flavors, hot pasta, easy cleanup. More time to spend on other things.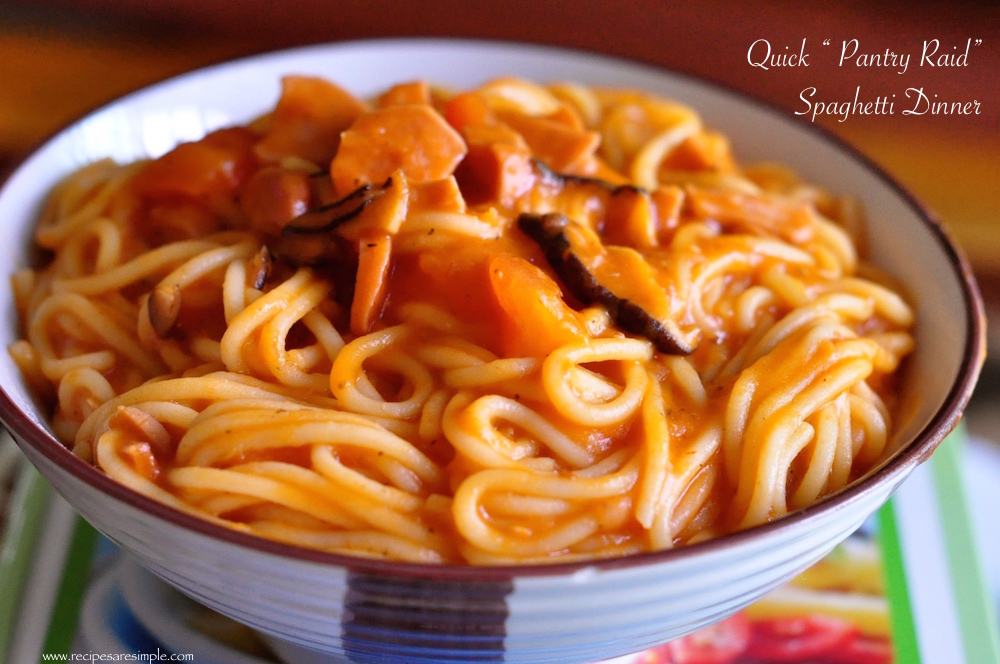 You are here: Home > Pasta & Noodles > Chicken Spaghetti
 

Recipe Name: Chicken Spaghetti

Recipe Type: Pasta / Main

Author:  Recipes 'R' Simple
Chicken Spaghetti, Quick Dinner
Ingredients:
150 gms, minced chicken OR use chopped chicken sausages.
2 cloves garlic, bruised.
½ a carrot, finely chopped.
1 Tbsp celery, finely chopped.
1 onion, chopped finely.
3- 4 porcini or other brown mushrooms, sliced.

Use the cap and discard the stem. 

1 small tomato, chopped.
½ cup canned baked beans in tomato sauce(I used Heinz).
½ cup Passata (

uncooked tomato puree that comes in a jar/bottle

), or home made tomato puree.
2 tsp tomato paste (concentrate).
2 bay leaves.
1 tsp italian dried herbs ( a mixture of sage, basil, rosemary oregano ) OR use Italian seasoning.
250 gms spaghetti – I used Instant Spaghetti.
200 ml chicken stock.
¼ tsp hickory liquid smoke.
3 Tbsp vegetable oil & 1 Tbsp olive oil.
fresh torn basil, salt and pepper to taste.
 Buy Liquid Smoke Now. Great for adding smoky flavor and aroma to marinades, bbq's and other dishes. Just a little.
Method:
First, bring a large pot of water to boil and add salt.
Add the

spaghetti

and allow it to cook till al dente.
Meanwhile, chop up the fresh ingredients.
Heat

vegetable oil

in a skillet or non stick pan.
Add the bruised

garlic

, followed by the chopped

onion

,

carrot

and

celery

.
Allow to just soften.
Add the

mushrooms

and

chicken or chopped sausage.

Stir fry till the chicken is white or the sausage is just browned.
Add

tomato paste

 and chopped

tomato

and stir till incorporated.
Lightly mash the

baked beans

 in its sauce with a fork and add to the pan along with the

pasatta

.
Bring to a boil.
 Add italian

dried herbs

,

bay leaves

,

salt

and

pepper

to taste.
Pour in the 

chicken stock

and bring to boil.
Simmer 2- 3 minutes till slightly thickened. The chicken should be cooked.
Add the liquid smoke. This is optional.
Drain the pasta while there is still some 'bite' left.

Add the drained pasta

to the cooked sauce and toss well.
Season again with salt and pepper if needed and toss in the

basil leaves

.
Drizzle

olive oil

over top and Serve hot!
Pantry Raid Recipe – Chicken Spaghetti
Do not overcook the spaghetti. Al dente means, there should be some 'bite left'. Spaghetti looses its integrity and structure if over cooked.
I like to leave the sauce a little 'loose' in consistency before adding the spaghetti. Keeps the spaghetti moist and does not go dry even after cooled.
In the first picture, I used minced chicken. In the second , I used chopped up sausage. I use whatever I have on hand.
Key Ingredients: chicken/sausage, oil, tomato, onion, garlic, carrot, celery, herbs, spices, stock, baked beans, mushroom
Let us know if you tried our – Chicken Spaghetti . Comments from you provide motivation to keep up the driving force behind this blog, bringing you more delicious and perfected recipes regularly. Please do leave a comment. We love to hear from you.