15 September, 2013
Chicken Rice Balls in 15 minutes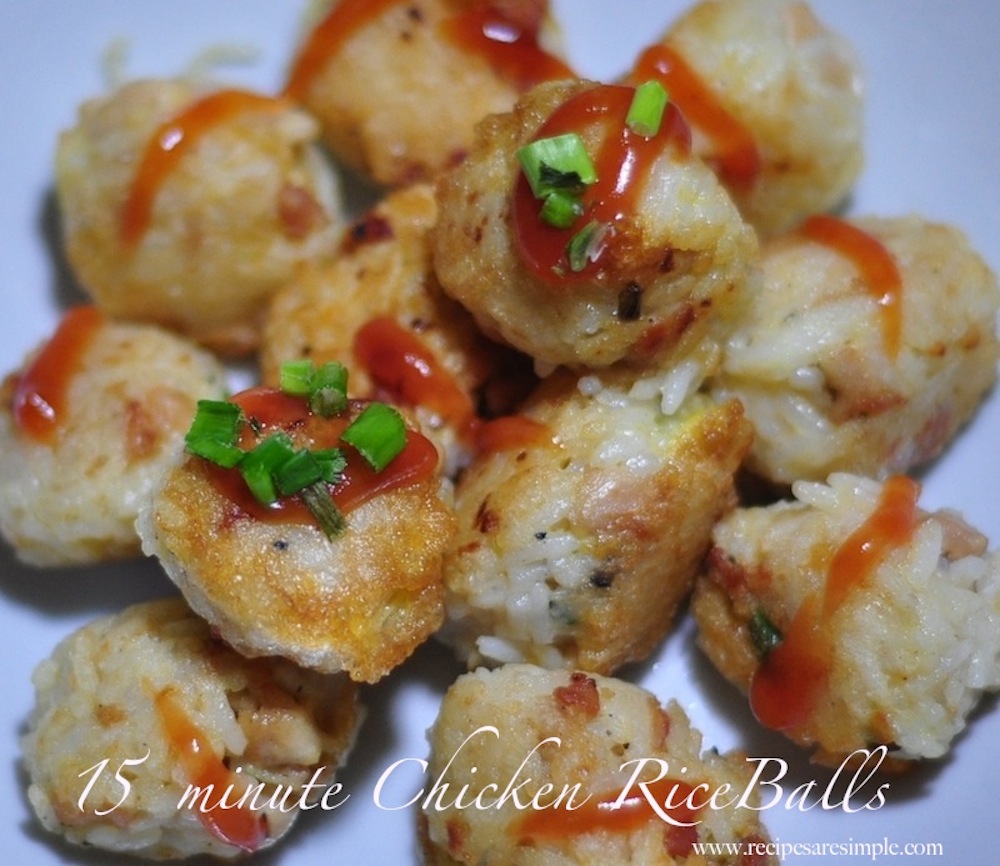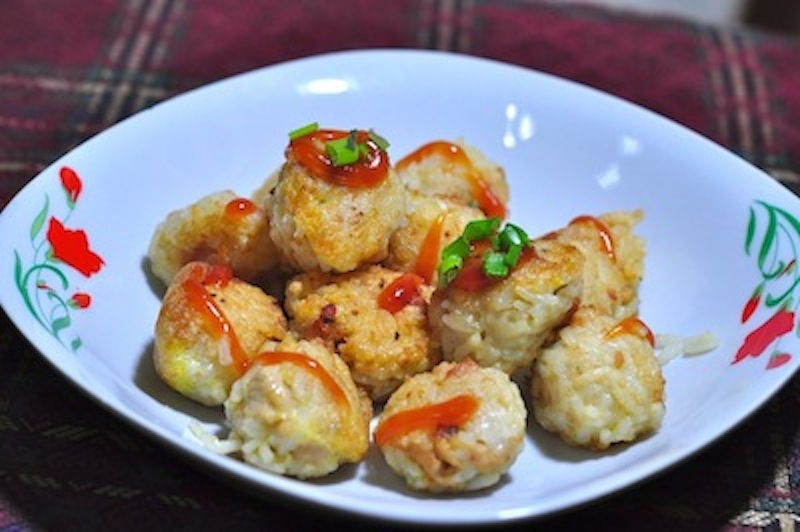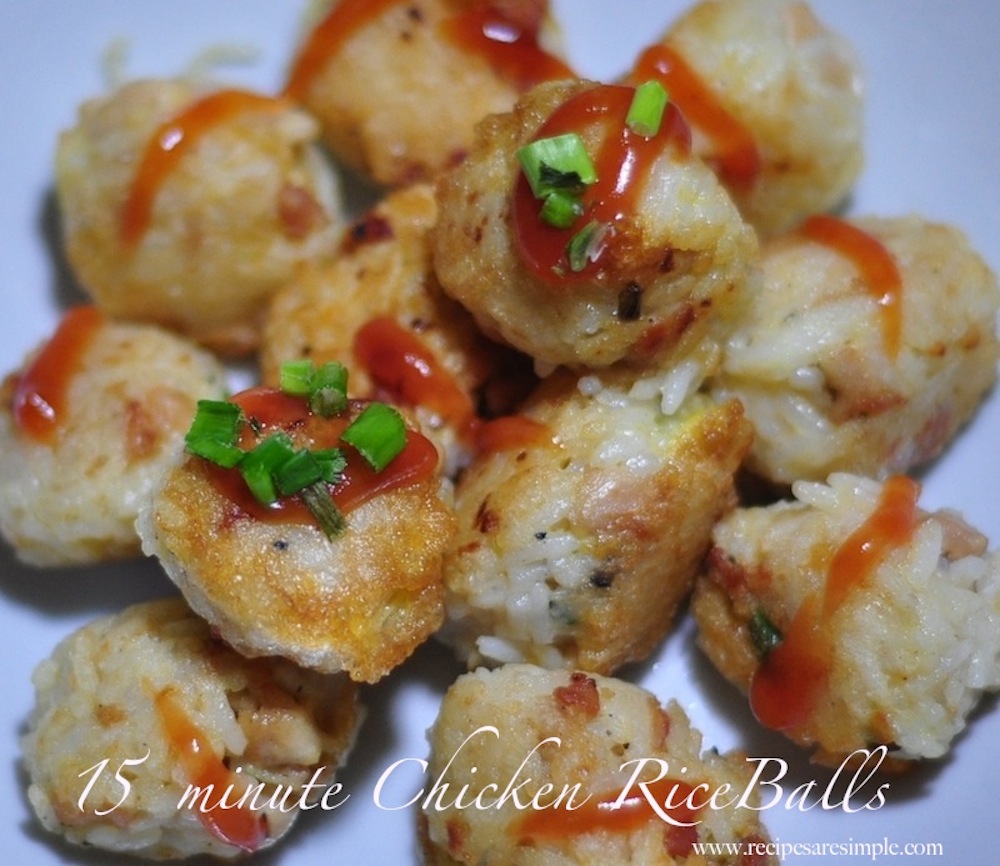 Chicken Rice Balls in 15 minutes

These rice balls were invented out of necessity. My daughter, aged 5 had become quite the fussy eater. It was impossible to get her to eat her food. Typical of many 5 year olds? Yes. However I just  wished she would eat enough rice to keep me happy. She loves chicken but was that enough? Of course not. I was only satisfied if she had a bowl of rice at least for lunch.

So one day she was watching 'Kunfu Panda' and started to chant, "I want Rice Balls! I want Rice Balls!"
I had no idea what she meant. I asked her  is she was hungry. "Yes!", came her reply! I want Chicken rice balls.

Too happy that she was actually asking for food, to wonder what kind of rice balls she meant.. I rushed to my kitchen where I had some chicken thawing for dinner. I took out two of the chicken wings, cut off the skin and cut off the meat from the bones.Chopped it up like a chunky mince. Then I started chopping some shallots and garlic. I was thinking about the Thai Rice in the fridge and had an idea. "Mix some cooked chicken with the rice into balls and fry them lightly into balls", I thought.

The recipe that developed turned out to be quite yummy as I munched some down myself as I finished cooking.
BUT MY HARSHEST CRITIC, my 5 year old would have to approve now wouldn't she?
I plated it up all fancy to make her happy and set it at the table. "Your chicken balls are ready! Come and have them", I called out.

As she ran up to the Dining Table and stopped abruptly, I cringed. "Oh no here comes the rejection".
She shouted "Wow I want the whole plateful!" :):):):) And just about finish it she did! With her tummy full, she exclaimed, "Don't eat the rest. I will have it for Dinner!"

So here this is for those lovely mothers out there in the same boat as me. Try it out. Maybe it will come in handy.
You can put them on toothpicks to serve as hors d'oeuvres as well!
Chicken Rice Balls in 15 minutes
Recipe Type
:
Simple 15 Minute
Author:
Prep time:
Cook time:
Total time:
Ingredients:
For 1 plate
¾ cup cooked Thai or Jasmin rice ( Day old rice from the frige is best)
¼ cup boneless chicken chopped into a rough mince
2 spring onion (bulb part only), chopped finely
2 small cloves garlic, chopped finely
same amount of ginger as the garlic, chopped finely
1 Tbsp of whatever veggies you like; carrot, beans etc, chopped extra finely
1 tsp seasoning of choice (chilly powder, curry powder , mushroom powder etc) – opional
1 tsp light soya sauce
salt and pepper to taste
oil




Method:
Heat a little oil in a non stick wok.
Add and saute the garlic, ginger and spring onion bulb till softened.
Add the vegetables and stir-fry till softened as well.
Next add the chicken and stir -fry till almost cooked through – about 3 minutes.
Add seasoning as desired.
Add soya sauce and allow any moisture to evaporate.
Add salt and pepper to taste.
Allow to cool.
Add the cold rice and mix with hands into balls the size of small limes.
Heat very little oil in the cleaned out frying pan and dip in the beaten egg and fry gently turning till golden all over.
You may also choose to bake these in the oven for 5 minutes at a moderate temperature.Notes:
Chicken Rice Balls in 15 minutes
Did you enjoy our Chicken Rice Balls in 15 minutes ? Please rate: [ratings]
Notes:
You can try mixing in your favorite elements to suit your tastes. Whatever works for your own little fussy eaters.