11 October, 2013
Chicken Pie / Tuna Pie – Layered Pan Cooked Chicken/Tuna PIE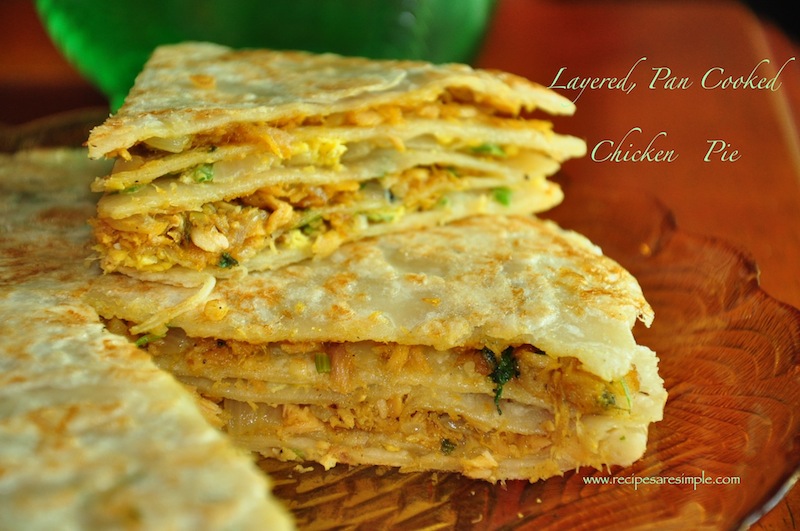 Chicken Pie / Tuna Pie – Layered Pan Cooked Chicken/Tuna PIE
This is a delicious and easy to prepare dish that can be made with either cooked chicken OR a can of Tuna!

Both work really well. Served with some ketchup – it makes for a great late evening snack. My daughter loves this and will often demand that I make it for dinner. I have 2 daughters. They are the light  in my life!  The older one has never been much of a fussy eater although she does have distinct tastes. The younger one is so hard to feed! Fuss Monster, that one. Has a sweet tooth that spoils her appetite regularly! This is something that they will both eat without uttering a word! Use wholemeal flour to make it healthier, although I must say I prefer the Aroma with plain flour.
It can be made with beef as well.
Chicken Pie / Tuna Pie – Layered Pan Cooked Chicken/Tuna PIE
Author:
Prep time:
Cook time:
Total time:
Ingredients:
1 ½ – 2 cups flour, depends on how big you make each circle layer
1 chicken breast cooked with very little water,1 Tbsp olive oil, ¼ tsp chili powder, ¼ tsp turmeric & salt to taste – shred using processor OR
1 TIN Tuna flakes in oil – drain the oil
1 large onion, finely diced
2 tsp garlic, finely minced
2 tsp ginger, finely minced
4 tsp mild green chili, finely minced
¼ tsp pepper powder
½ tsp or more Meat Masala Powder
3 eggs, separated
4 Tbsp Coriander/Cilantro leaves, minced
Oil for sautéing  +  brushing




Method:
Add the flour to a large enough bowl. Add salt to taste (¼ tsp or so) to the flour. Add just  enough water to knead the flour into a dough. Knead gently into an  elastic dough.Roll in a little oil. Cover the bowl with a damp cloth and set side for 10 minutes.
Divide the dough into 5 equal balls.
Roll each ball on a lightly floured surface to a circle,  roughly the size of the frying pan that you will be using to make the pie.

I was in a hurry and didnt care much for the shape!

Put a non stick skillet/ taw on the stove. Place each rolled out Flat Bread-'Roti' onto the hot skillet and roast till you see some bubbles.
Add oil to a paper towel and press all over the roti. This helps  more bubbles to form on the surface.
Turn over and slightly roast the other side as well.

(no need to oil the second side)

Remember that we don't want to make the bread brown. It should remain white  with a slightly translucent finish. Repeat with remaining breads. Set aside.
Separate the eggs.
In a non stick pan or wok, heat the oil. Add half of the chopped onion.
Also add the ginger and garlic and half of the chopped green chili.
Saute till softened. Add the chicken or tuna.
Stir- fry, adding the meat masala and pepper as well as salt to taste. Toss well till chicken is slightly crisp coated.
Remove the chicken/tuna mixture to a plate.
In same pan, heat a bit more oil. Saute the remaining onion and green chili. Add the Yolks only of the egg and stir fry well adding salt and a dash of pepper. Set aside.
Very lightly grease the bottom and sides of a non stick frying pan.
Dip one of the rolled out layers into the egg white. Allow excess to drip back. Place this roti onto the pan.
Top with half of the chicken/tuna mixture. Spread evenly.
Place another Roti dipped in egg) on top. Spread half of the scrambled egg mixture over this scantily.
Continue as follows.Another dipped Roti, Another chicken tuna layer, another dipped roti, another egg layer, and the last dipped roti.
Place the pan on the stove on low heat. Pour Over the remaining eggwhite over the TOP of the pie, allowing it to spread to the sides.Don'pour around the edges or the egg will get cooked WHITE, without coating the pie.

Cover the pan and cook a minute or so till bottom is golden.

I like to check by lifting with my spatula.

Using a wide flat spatula and the support of another ladle or spatula, Flip over the pie. Cover and cook the other side. The egg will have cooked and the pie will be golden on both sides.
Cut into wedges and serve with Tomato Ketchup.
Chicken Pie / Tuna Pie – Layered Pan Cooked Chicken/Tuna PIE
Did you enjoy our Chicken Pie / Tuna Pie – Layered Pan Cooked Chicken/Tuna PIE ?