18 April, 2014
Chicken Oats Haleem – Stewed Shredded Chicken and Oats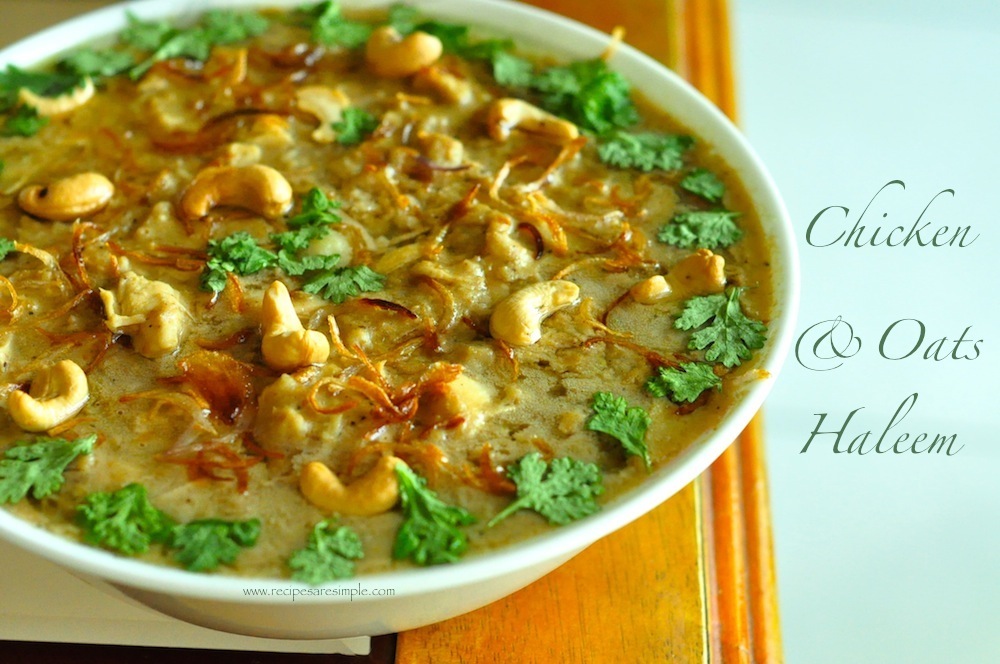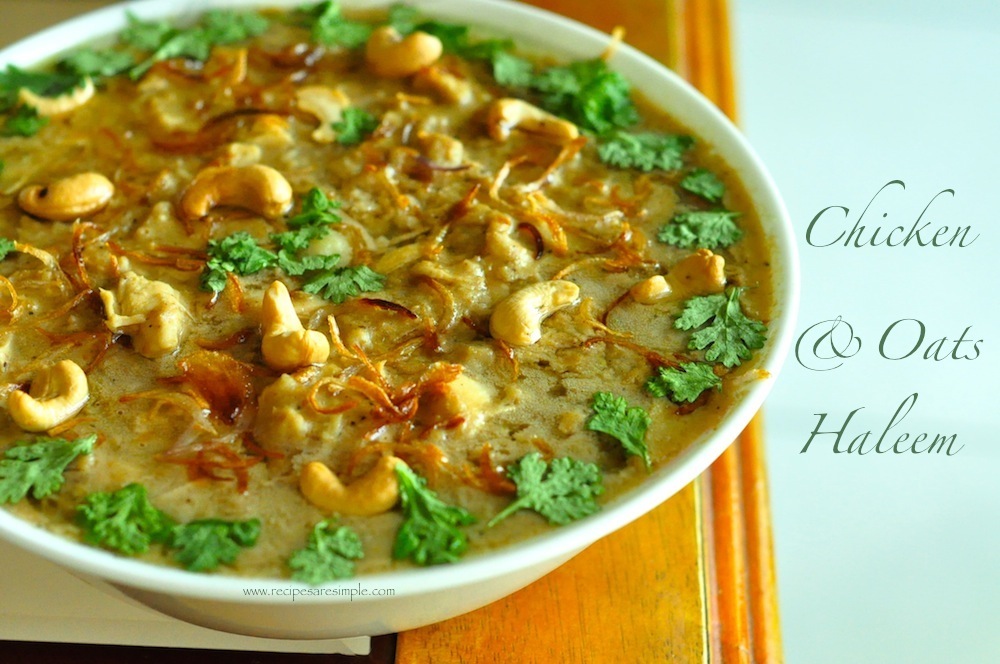 Chicken Oats Haleem
By Dr Shemmi N K
Haleem is a stewed dish popular in the Middle East, Central and Southern Asia. It consists of meat  usually cooked with lentils, wheat and barley. The recipes are vast and differ from region to region. Here is a great recipe of Haleem cooked with chicken and oats!  It is very simple to make and very tasty. Serve with Hot Butter Naan!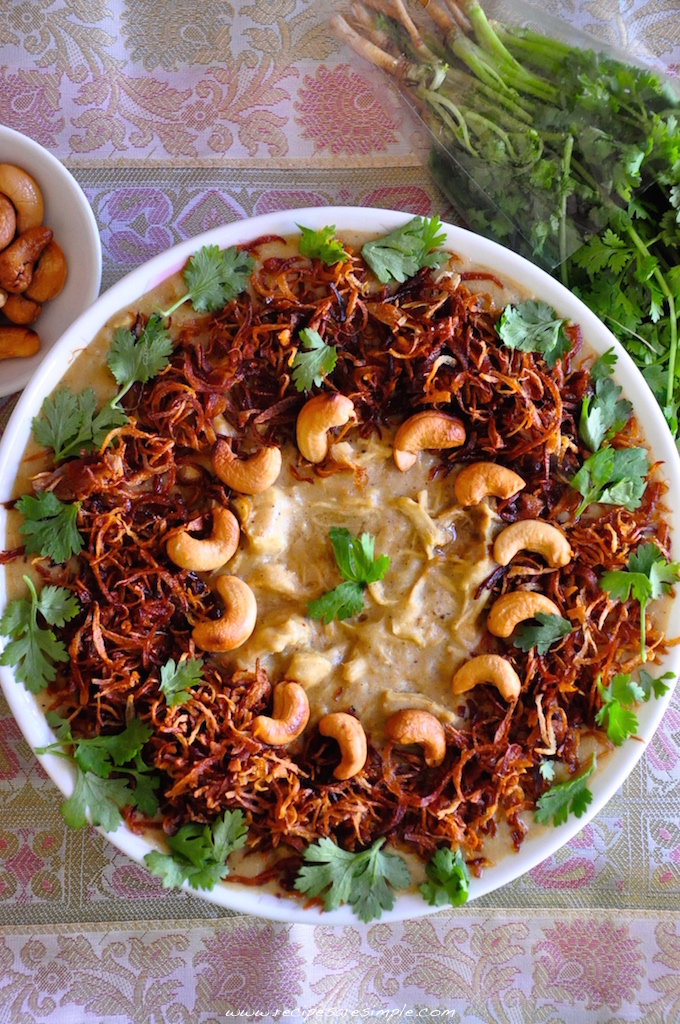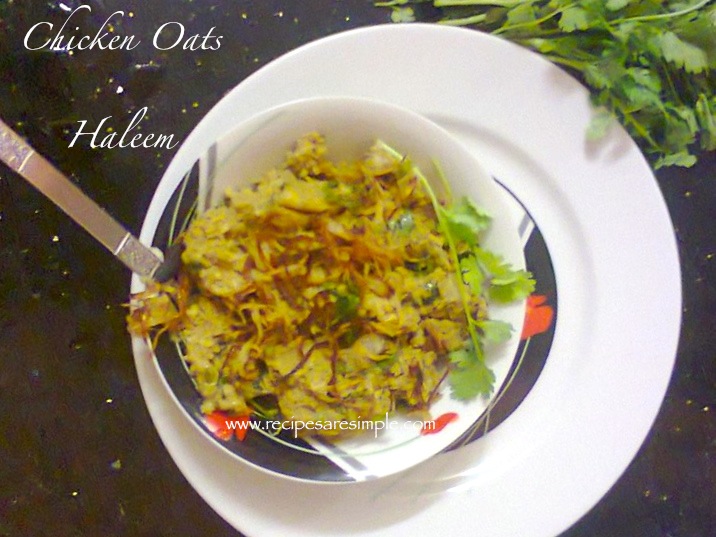 Chicken Oats Haleem
Recipe Type: Chicken Side Dish

Author: Recipes 'R' Simple

Prep time: 10 mins

Cook time: 25

Total time: 

Serves: 4
Ingredients:
2 chicken breasts, cut up
1 cup oats
4 large onions sliced finely
2 Tbsp ginger paste
2-3 Tbsp garlic paste
a hand full of almond and cashew nuts each (¼ cup each)
corriander leaves
lemon as needed
more cashew for garnish
3-6 tsp of Haleem Masala or Garam Masala as desired ( I use 3 tsp Garam Masala + 6 tsp Coriander Powder + ¼ tsp turmeric & ¼ tsp black pepper)
salt and pepper to taste
For home made Haleem Masala: ( use required amount )
2 Tbsp coriander seeds
½ Tbsp cardamom
2 dried red chillies
2 cloves
½ a star anise
1 " cinnamon stick
1Tbsp Fennel seeds
1 Tbsp cumin seeds – optional
½ Tbsp black cumin (Kalonji) -optional
¹⁄8 tsp nutmeg
¹⁄8 tsp mace
Method: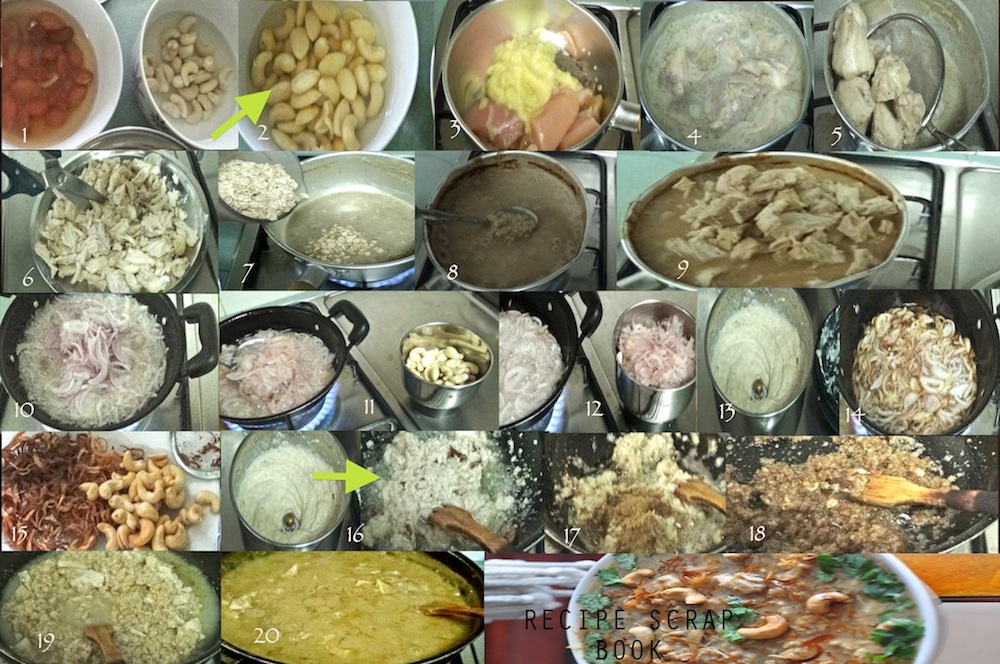 Soak almonds in warm water for 10 minutes and then skin them. (1 & 2)
Soak cashew nuts  as well.(1).
Boil the chicken with ginger and garlic pastes, salt and pepper  in enough water to immerse. (3 & 4).
When cooked, remove chicken from the stock using a strainer or slotted spoon. (5).
Shred the cooked chicken using your hands and cut them up with kitchen scissors. (6).
Add the oats to the same stock, adding more water as needed. (7).
Cook till oats are very tender with ample amount of liquid.(8).
Return the cooked chicken to the oats. (9).
Set aside the cooked chicken and oats.
Finely slice and fry onion,(10) till transparent and  remove half (11 &12) and grind along with nuts to a paste.(13).
Continue to fry the remaining onion till crisp and golden brown. Set aside. (14).
Fry the cashew for garnish and set aside as well.(15).
In a non stick pan, add some of the oil used for frying the onion and nuts.
Heat and stir in the  ground nuts and onion mixture. Cook this for a few minutes. (16) 

(Careful not to burn the paste, sprinkle water to prevent this if needed).

Then add chicken masala powder or haleem masala powder (17) 

(ready made or your own).

Stir and cook till the raw smell of  spices and nuts dissipates. (18).
Add the shredded chicken and oats mixture to the pan, bring to simmer.(19).
Keep stirring till oil separates on top (20) and drizzle a little more of the scented oil on top.
Serve, garnished with fried onion, cashew and fresh coriander as well as a squeeze of lemon.
For home made Haleem Masala:
Dry Roast the coriander seeds, cardamom, dried chillies, cloves, star anise and cinamon stick in a pan till very aromatic without burning.
Add the remaining spices and grind to a fine powder.
Store in airtight bottle.
Recipe can be tripled for storage.
Chicken Oats Haleem
Try it and let us know – Chicken Oats Haleem.
The consistency of Haleem can be adjusted to your preference, a little more stock can be added to make it a looser consistency or it can be reduced to make it a little thicker. It depends on what you are serving it with.
When cooking the chicken you can make the chicken more savory by adding a little turmeric powder and fennel powder.
See the link below for more traditional Chicken Haleem with Wheat and Dals.