2 April, 2013
Chicken Manchurian / Cauliflower Manchurian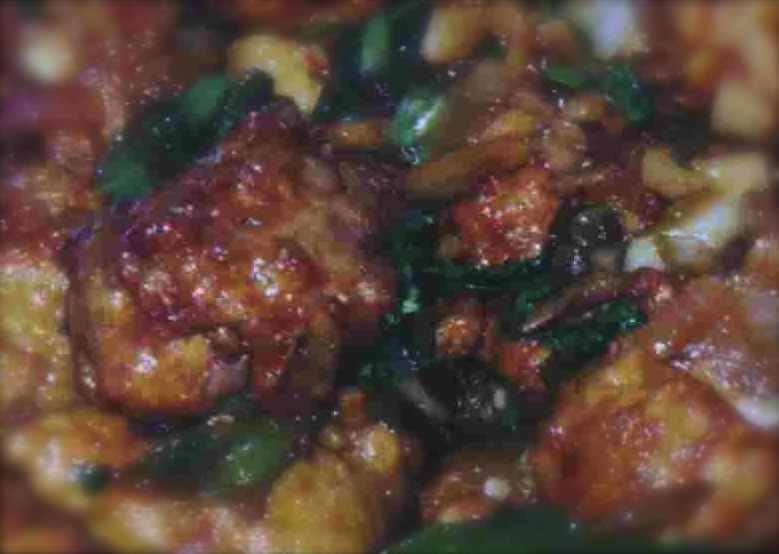 Chicken Manchurian / Cauliflower Manchurian
One of the most ordered items at Indo – Chinese Restaurants. This is a chicken dish with a nice peppery gravy. Its just as easy to make at home. Great with Fried Rice  or Bature. For the vegetarian version just substitute chicken pieces with cauliflower florets.
Chicken Manchurian / Cauliflower Manchurian
Ingredients:
2-3 Chicken Breast rinsed and cut into bite size chunks OR 1 Head of Cauliflower, separated into bite sized florets

If using Cauliflower, sprinkle the washed and drained florets with ¼tsp salt for 10 minutes- (Optional)

1 Tbsp ginger, minced
1 Tbsp garlic, minced
2 onions, cut into square pieces
1 green bell pepper/capsicum, cut into square pieces
2 Tbsp each Leaves of celery, spring onion and corriander, chopped
Oil for deep frying as well as seasoning
1 Tbsp cornflour mixed in ¼ cup water
Batter: 
¼ cup cornflour
½ cup all purpose flour/plain flour
salt to taste
water to make semi thick batter
Sauce:
1½ cups water OR Chicken stock
2 Tbsp soy sauce
1 Tbsp green chilly sauce (must be green and not green tabasco sauce)
1 tsp pepper
1 tsp coriander pwder
salt to taste




Method:
Combine the ingredients for the batter to a smooth semi thick consistency (just thick enough to coat the pieces without dripping off)
Heat oil for deep frying the chicken/cauli-florets.
Dip in the batter and then into the oil to fry till golden brown on all sides. Remove to a strainer. Set aside.
Mix together all ingredients for the sauce. Set aside. Carefull not to add too much salt as soy sauce and stock can be salty.
Heat 2 Tbsp oil for the gravy. Add ginger and garlic and saute till softened.
Add onion and capsicum till softened and just beginning to turn golden.Stir and add in the ingredients for sauce.Bring to a boil.
Add the cornflour water mixture and stir till thickened.
Add the chicken pieces and coat well.Stir in the leaves and scatter some on top.
Serve warm.
Chicken Manchurian / Cauliflower Manchurian
You May Also Like General Tso's Chicken, Nuts  & Chilly 'Nutcracker' Chicken  ,  Chilly Chicken Fry