24 August, 2015
Chicken Manchurian – Quick and Simple with Red Gravy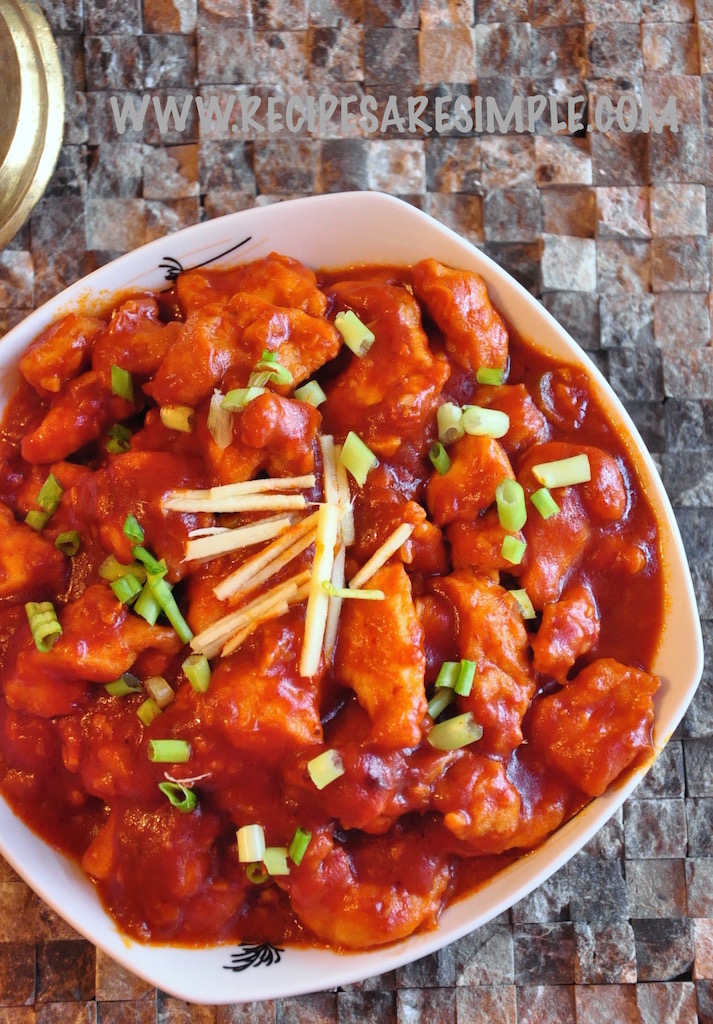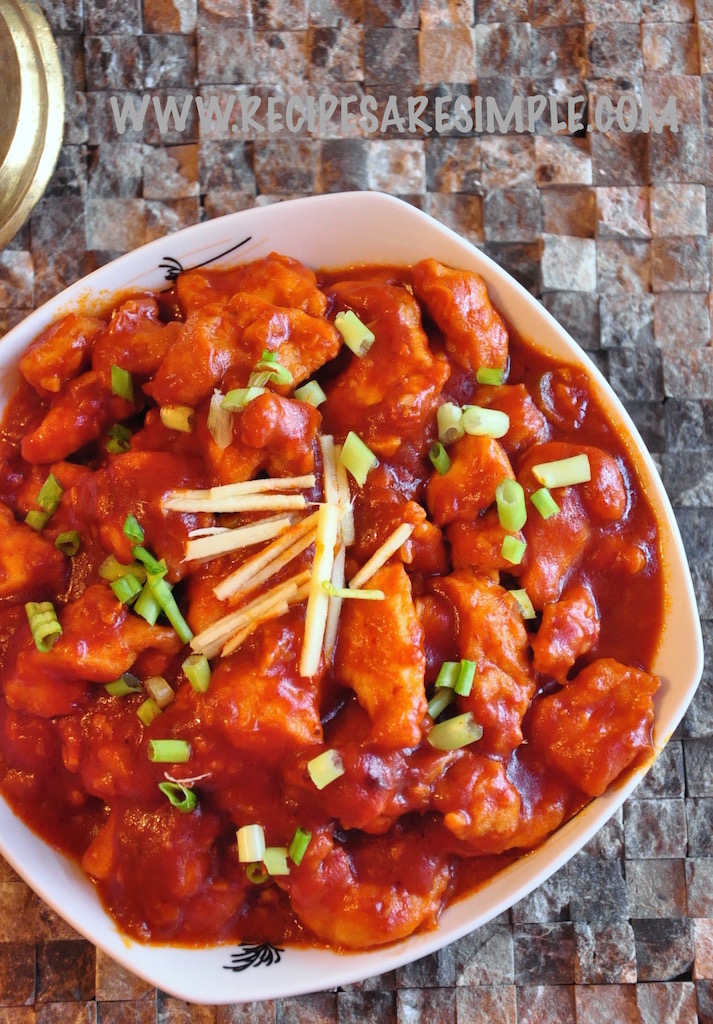 Chicken Manchurian – Quick and Simple with Red Gravy
This has got to be the simplest Chicken Manchurian Recipe out there. The chicken stays nice and juicy. There are very few basic ingredients. The sauce is a tomato based one as opposed to the dark soy based ones. Start to finish, this dish takes less than 30 minutes. I love this with some puffed Bature or Roti. I used my 'quick deep fry' method prior to cooking in the sauce / gravy – this actually keeps the chicken from absorbing too much oil.  It is only half cooked and placed on kitchen paper towel before being cooked till tender in the gravy. Now, if you want to cut out the oil, altogether, you can do so as well by completely skipping that step and adding the battered chicken directly to the pan after sautéing the ginger and garlic.




Chicken Manchurian – Quick and Simple with Red Gravy
You are here: Home > Chicken Dishes > Chicken Manchurian
 

Recipe Name: Chicken Manchurian – Quick and Simple with Red Gravy

Cuisine:  Indo Chinese (Indian Chinese)

Author: Shana c/o Recipes 'R' Simple



Ingredients:
600 gms boneless chicken (thigh or leg meat preferred but breast is alright as well)
 1 Tbsp ginger, finely chopped (Do not use ginger or garlic paste for this dish)
1 Tbsp garlic, finely chopped
4-5 tomatoes – boiled, peeled and blended to a puree after cooled
½ cup ketchup
1 Tbsp oyster sauce
1 long mild chilli, chopped
1 ½ tsp mild dry chill flakes ( without  the chillies seeds)
1 tsp knorr chicken powder or similar seasoning powder
1 cup chicken stock. (Made from boiling neck/bone of chicken, perhaps a piece of the chicken in 1 ½ cup water and drained) . Without salt.
Oil for frying (optional) plus 2 Tbsp
Spring onion greens and/ or free coriander for garnish
1 Tbsp ginger julienne  for garnish
For the marinade / batter:
2 rounded Tbsp plain flour
1 Tbsp corn flour
1 tsp light soy sauce
¼ tsp salt
¼ tsp white pepper powder
¼ tsp baking powder
½ and egg or 1 small egg

(both white and yolk)
Method:
Cut the chicken into 1″ x 2 " cubes.
Rinse and drain.
Apply all ingredients for marinade/ batter to the chicken. Rub well to coat evenly and thoroughly.
At the same time bring oil for deep frying in a wok/pan.

(Skip this frying step if you want to reduce oil).

Add the chicken, one piece at a time to the HOT oil. There should be instant sizzle. Add a batch at a time, without overcrowding.
Leave the chicken undisturbed for 40 seconds to keep the batter from coming off.
Then gently separate and turn over the pieces. Fry till just light golden, maybe 20- 30 seconds more. Drain from the oil and place on kitchen paper. The chicken should not be fully cooked. The crust however, should still be golden and crisp.
Heat oil (2 Tbsp) in a seasoned or non stick wok.
Add ginger and garlic and sauté till fragrant, without going brown.
Add the tomato puree. Cook, stirring till the puree thickens and oil separates.
Add the chill flakes, chicken powder and salt to taste.
Now add the ketchup and stir till thickened.
Gently stir in the fried chicken and toss gently to coat.
Add the clear stock now and bring to a boil.
Add  sliced green chili.
 Also add oyster sauce  and a little salt to taste.
Lower heat, cover the wok with a lid and cook for 5 minutes.
Remove from heat.
Serve garnished with ginger julienne and chopped fresh herbs.
Chicken Manchurian – Quick and Simple with Red Gravy
Key Ingredients: Chicken, Ginger, Garlic, Tomato, Ketchup, Oil, Pepper, Chilli flakes, Flour, Corn flour, Herbs for garnish.
Let me know if you tried this Chicken Manchurian Recipe. Comments from you provide motivation to keep up the driving force behind this blog, bringing you more delicious and perfected recipes regularly. Please do leave a comment. We love to hear from you.