30 December, 2013
Chicken Majboos – Majboos Djaj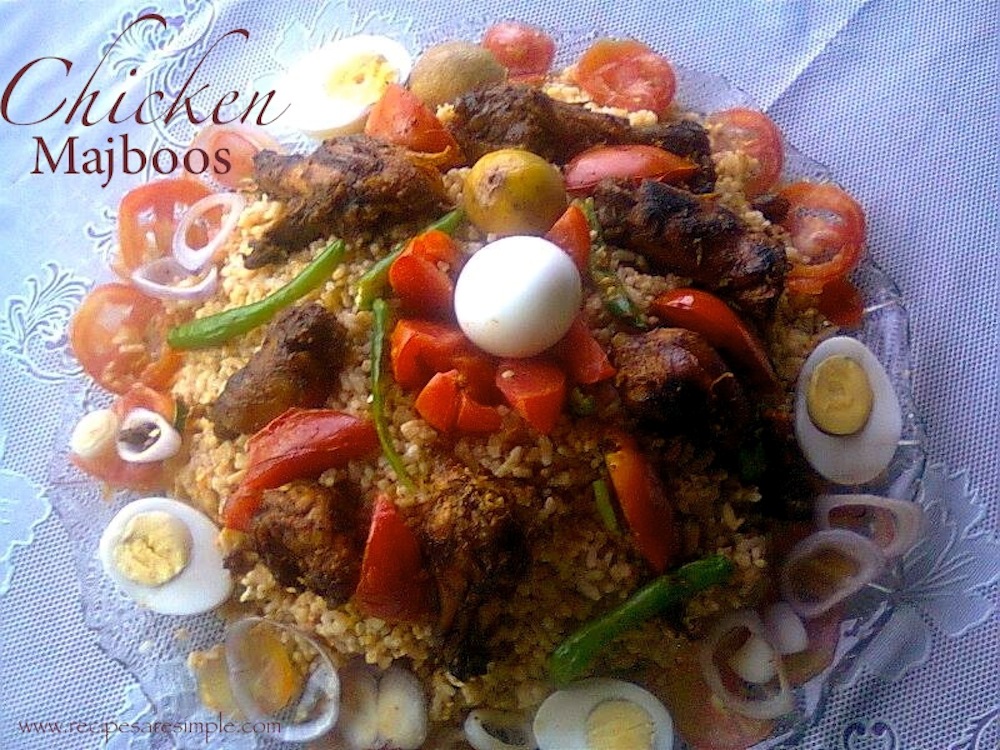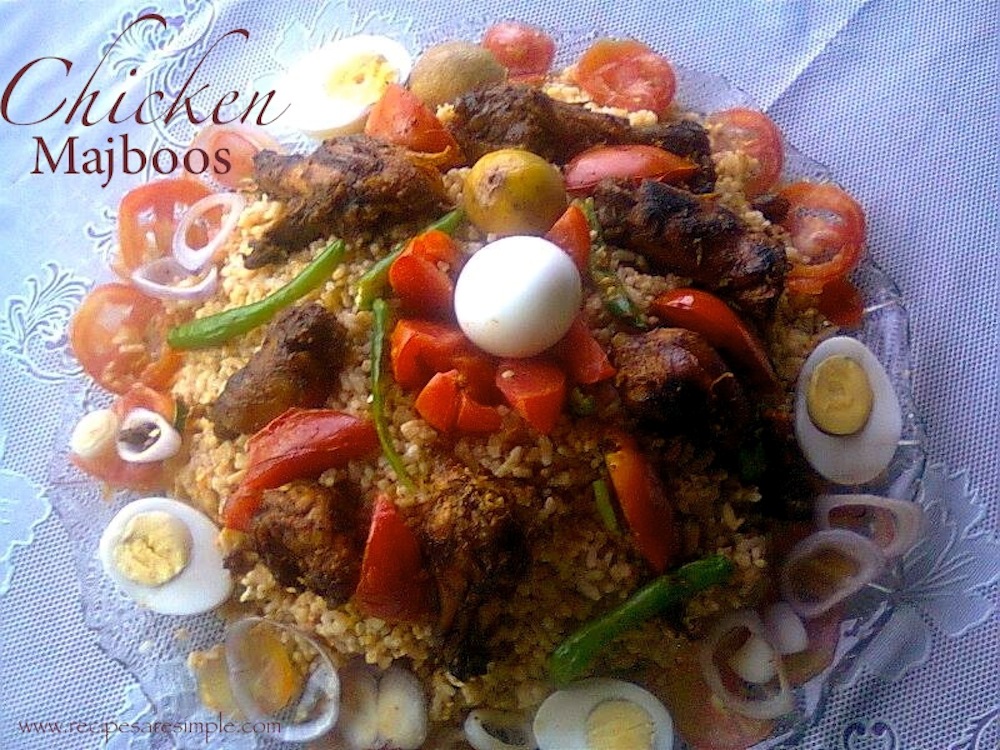 Chicken Majboos
 By Arifa K
Majboos is a traditional Arabian Rice dish incorporating fish or meats. Similar to Saudi Kabsa, this is a Bahraini dish that is popular in the gulf countries. It is not like a biriyani but a lovely aromatic Rice Preparation. Try this delicious, aromatic Chicken Majboos.

Chicken Majboos



Ingredients:
1 kg good chicken large pieces
½ Tbsp Coriander powder
½ Tbsp garam masala or baharat
pepper to taste
mild chili powder /paprika to sprinkle
4 cups rice – kaima or basmati
8 large tomatoes, 3 of which are for decoration – use nice plump RED tomatoes( Roma Tomatoes are good)
1 cup garlic, crushed
5 large onions, chopped finely
2 tbsp ketchup or 3 tsp tomato paste
8 cloves
6 cardamom pods
2 small sticks cinnamon
2 tsp lime juice
¼ tsp white pepper powder
¼ cup green chili, chopped – optional
For marinade
1½ Tbsp black pepper powder
1½ olive oil
1½ garlic, crushed finely
3 tbsp lime juice
Method:
Marinate chicken. Rub the ingredients for the marinade and rub well into the chicken.
Place in fridge for 2 hours. Place outside at room temperature 20 minutes before starting to cook.
Rinse the rice throughly. Soak for 5 minutes and drain.
Preheat oven 175ºc.
Heat oil in a pot.
Add garlic and onion. Sauté till color changes  to light brown.
Next, add coriander powder & garam masala or baharat spices as well as pepper to taste.
Add diced tomato.  Cook well.  Also add 2 tbsp ketchup or tomato paste.
Allow to cool. Then grind to a paste using a small mixer grinder.
Return the ground paste to the pot.
Add chicken and salt to taste and enough water to cook chicken.
Wash out the mixer/blender and add this liquid.
Cook covered till chicken is tender.
Remove chicken from the gravy and set aside on baking tray.
Sprinkle mild chili powder on the chicken pieces.
Grill/ broil the chicken for 10 minutes, basting after 5 minutes with butter or olive oil. (Place on top rack of oven to broil).
Measure the broth left in the pot.  Add enough water to make  exactly 8 cups . Set aside.
Add 1 tsp oil to the cleaned out pot. Heat and add cloves, cinnamon and cardamom. Allow to emit aroma.
Return the measured stock. Bring to a boil
Add rice, 2 tsp lime juice and the white pepper powder.
Cook covered on low heat till all the water is absorbed by the rice and the rice is cooked. Turn off heat.
Cut the garnishing tomato into flower shaped and place on top of the cooked rice.
Cover the pot for 10 minutes, allowing the tomato to sweat in the steam of the pot.
Move to serving plate, placing tomatoes on top.
Also garnish with boiled eggs, herbs, onions and toasted pine nuts as desired.
Chicken Majboos

Did you enjoy our Chicken Majboos
Notes: 
Baharat is an arabian spice. If unavailable, it may be substituted with Bhar or Garam Masala spices.
You can cook this dish with the chicken skin left on for a moist and tender chicken. Broil till the skin is crisp.
White pepper powder is used to keep the color of the rice, black pepper can be used instead.