4 July, 2015
Chicken Lollipop with Green Chilli Mayo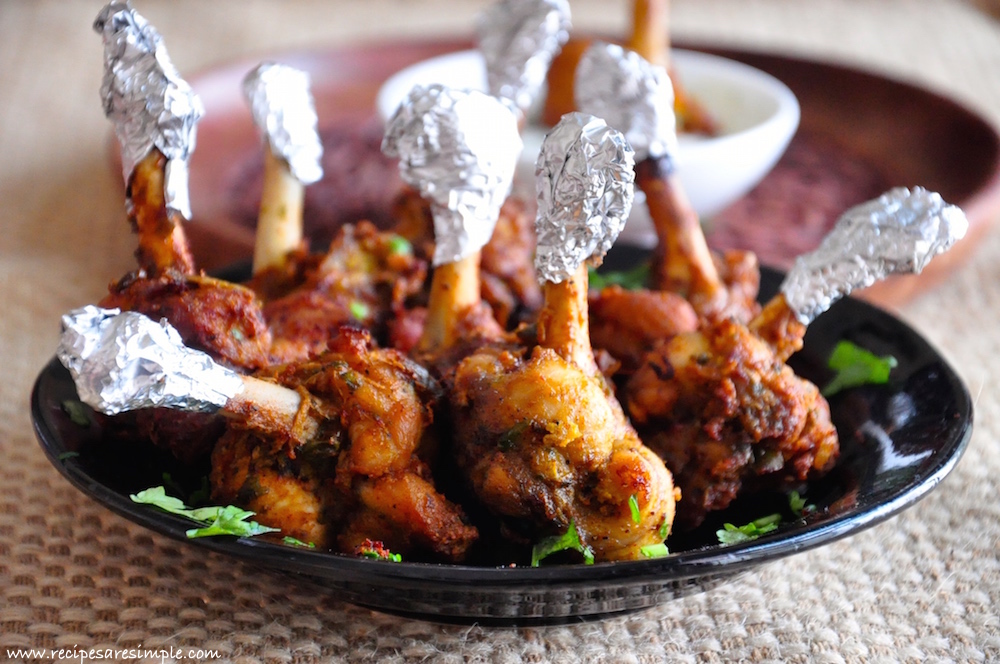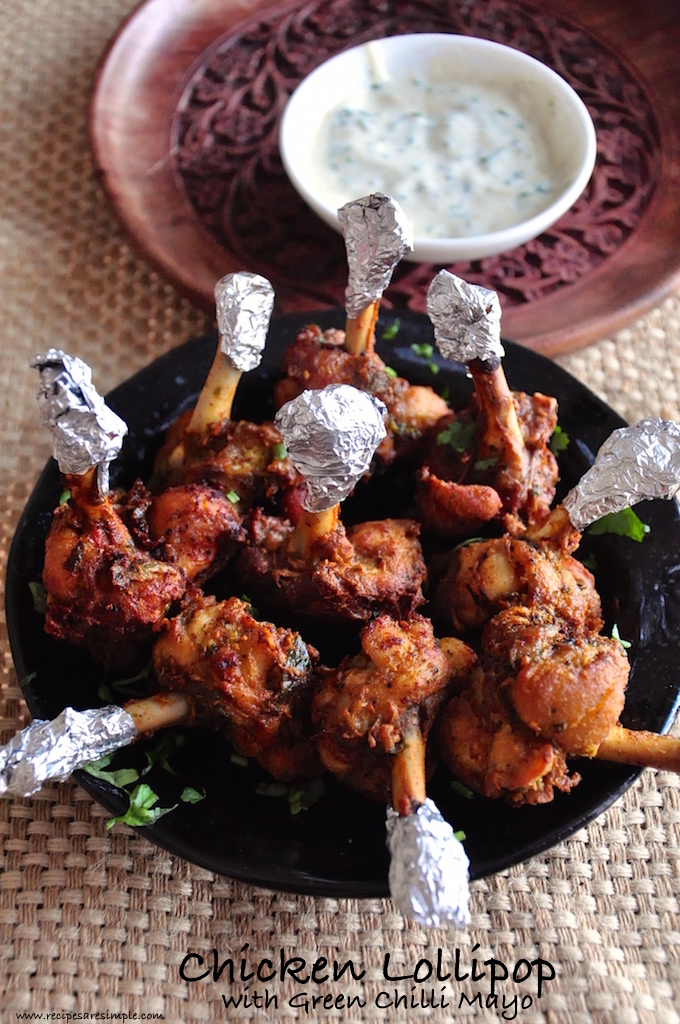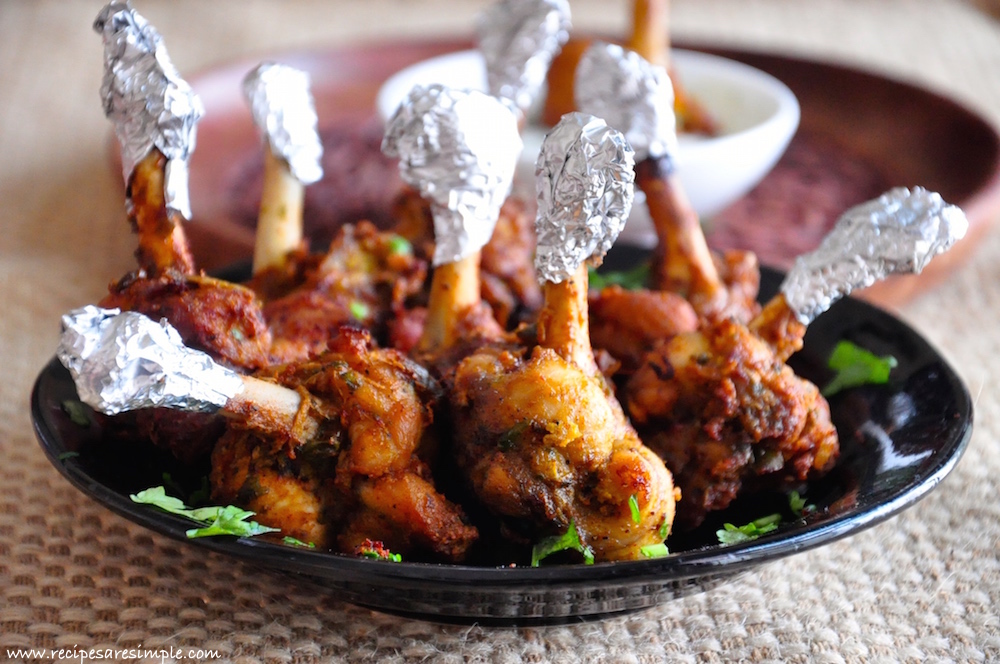 Chicken Lollipop with Green Chilli Mayo
Chicken Lollipop is a popular Indo Chinese appetizer/ hors d'œuvre. Something about these Lollipop Shaped fried chicken wings has everyone reaching to grab one!  Could it be the crunchy texture and spiced, aromatic flavor that comes with each bite?!?
A very 'simple to do 'recipe. I use chicken drumettes, although you can make lollipops with both drumettes as well as the mid joint of the wing. The drumette is 'frenched' – a term used when the meat is cut loose from the bone end and pushed down creating a lollipop appearance.  We love it with a simple Green Chilli Mayo.
You are here: Home > Snacks and Starters  > Chicken Lollipop
 

Recipe Name: Chicken Lollipop with Green Chilli Mayo

Author: Shana c/o Recipes 'R' Simple

Marination: 30 min (minimum)

Total time: 23 min plus marination

Yield: 10 Chicken Drumette Lollipops
Chicken Lollipop with Green Chilli Mayo
Ingredients:
10 chicken drumettes / wing sticks
oil for deep frying
fresh coriander for garnish, lime wedges
For the Marinade:
 3 cloves garlic

(the larger ones)

Same amount of ginger as garlic, peeled

1 long green chili

(the milder variety)

2 Tbsp fresh coriander leaves
2 Tbsp fresh celery leaves
1 egg
¹/8 tsp turmeric
¹/8 tsp garam masala
¼ tsp black pepper powder
1 tsp kashmir chilli powder
1 tsp lemon juice
¹/3 tsp salt – or to taste
1 ½ Tbsp plain flour
1 ½ Tbsp cornstarch / cornflour
For Green Chili Mayo:
3 Tbsp Mayonnaise
3 Tbsp green chili sauce

(I use Ching's Secret)

2 Tbsp chopped coriander



Method:
First we will french our chicken drumettes. (The drumette is the first section of the entire chicken wing between the shoulder and the elbow).

 Scroll down to see how the chicken drumettes are 'frenched'.

Remove skin from the drumettes /wing sticks.
Make a circular cut around the bottom bone, cutting through the flesh, down to the bone and removing any 'connective tissue'.
Scrape up the meat along the bone (without bruising the bone) with the side of your 'boning' knife.
Also remove / cut off any extra flesh and cartilage left on the bottom tip of the bone.
Pull up the flesh over the top tip of the bone, much like pulling off socks to form the rounded 'lollipop' shaped top.
Pound the garlic, ginger, green chili, coriander and celery leaves using a pestle and mortar or a grinder to a course paste.
Add this as well as all other ingredients for the Marinade to a bowl. Mix well.
Marinate the chicken with this for a minimum of 30 minutes.

Leave in the fridge if marinating longer.

Heat oil for deep frying.
Wrap foil around the bottom (exposed) tip of the drumette.

This prevents blackening.

Add in batches, if needed and fry to a dark golden color.

*Careful  not to over fry.

Sprinkle some chopped coriander over the Chicken Lollipops.
Serve with lemon wedges, sliced onion rings and the Green Chilli Mayo.
To make Green Chilli Mayo:
Simply mix together mayo, green chili sauce and coriander leaves or use method below in 'Notes' section.
Chicken Lollipop with Green Chilli Mayo
If you don't have green chili sauce, pound one 1 -2 long green chili along with 1 clove of garlic, 2 tsp vinegar ,¹/8 tsp sugar, 2 black pepper corns  to a course paste. Set aside for 10 minutes before mixing with Mayyonaise.
See the different cuts of  chicken here.
Key Ingredients: Chicken, corn flour, plain flour, green chili , garlic, ginger, egg, lime, spices, herbs (celery & coriander),oil,
Let me know if you tried – Chicken Lollipop with Green Chilli Mayo . Comments from you provide motivation to keep up the driving force behind this blog, bringing you more delicious and perfected recipes regularly. Please do leave a comment. Love to hear from you.