6 September, 2013
Tangy Savory Chicken 65 made in 30 minutes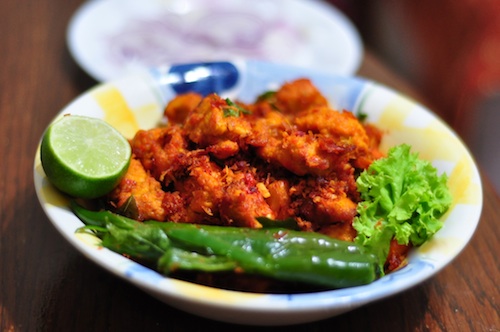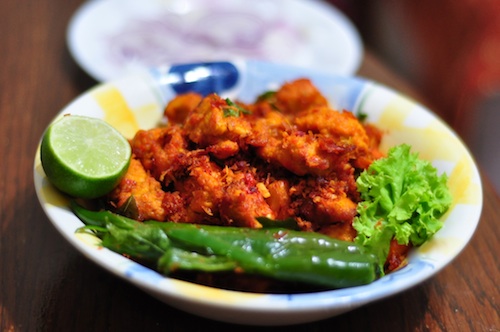 Tangy Savory Chicken 65 made in 30 minutes
Chicken 65, a staple on the Indian 'A la carte' list  is a spicy, tangy, fried chicken dish originating from Chennai as a bar snack, entree or quick snack.The combined flavors of cayenne pepper, ginger, lemon and mustard are essential to uniqueness of this dish. The name  'Chicken 65' has a dozen odd theories stating how it came about but  the reality remains, that this dish was introduced in the Buhari Restaurant in the year 1965 and was hence named. Chicken 78, 82 and 90 were also introduced in the later years but did not emerge quite as popular – obviously. This version of the Chicken 65 dish is tangy, succulent on the inside, crisp on the outside and flavor is enhanced by the mustard seeds and coconut.
Tangy Savory Chicken 65 made in 30 minutes



Ingredients:
For Marinade:
4 chicken breasts
1 heaped tsp Red Chilly powder or more if you like it spicy
1 tsp ginger paste
1 tsp garlic paste
½ tsp Garam Masala
1 Tbsp Corn Flour
1 Tbsp Plain Flour
1 egg, beaten
the juice of ½ a large yellow lemon – less if your prefer it less sour
salt to taste
Yoghurt-Chilly Paste:
½ cup yoghurt (not low fat type)
1 tsp chilly powder
½ tsp plain flour
Other:
¹⁄8 tsp cumin
1 tsp Mustard seeds
4 dry red chillies
1 handfull of curry leaves
2 Tbsp Grated coconut – fresh or frozen (thawed)
Oil for frying




Method:
Rinse the chicken breasts well. Pat dry with paper towel
Lay each breast flat on a cutting board vertically and cut into strips.
Then cut each strip into bite size pieces holding your knife diagonally as you slice.
In a bowl, mix together the chicken along with all the ingredients for marinade. Combine well.

 30 minutes preferably.

Mix together the ingredients for the yoghurt chilly paste well and set aside.
Heat some oil for frying in a non stick wok or pan.

( Deep frying is best, but you could also pan fry.)

Add the chicken, one piece at a time ensuring they do not stick into the hot oil and fry till crisp golden – a  minute or so. T

he chicken does not have to be cooked through at this stage, just ensure the crust is crispy.

Drain and set aside.
Remove all but 2 Tbsp of oil from the wok and heat ON HIGH.
When very hot, add cumin & mustard seeds and allow to crackle. Add the curry leaves and when they splutter add the dry chillies and allow to turn aromatic without burning.
Next add the yogurt paste and stir quickly to mix well. Now add the fried chicken and toss.
Toss the chicken on a continued hight heat till  the yoghurt mixture is completely absorbed.
Lastly, add  the grated coconut and continue to toss till coconut is just crisped.
Serve hot! Enjoy.
Tangy Savory Chicken 65 made in 30 minutes
Try it and let us know.  Tangy Savory Chicken 65 made in 30 minutes
You May Also Like: