17 February, 2014
Cheng Tng Recipe – Healthy Asian Dessert!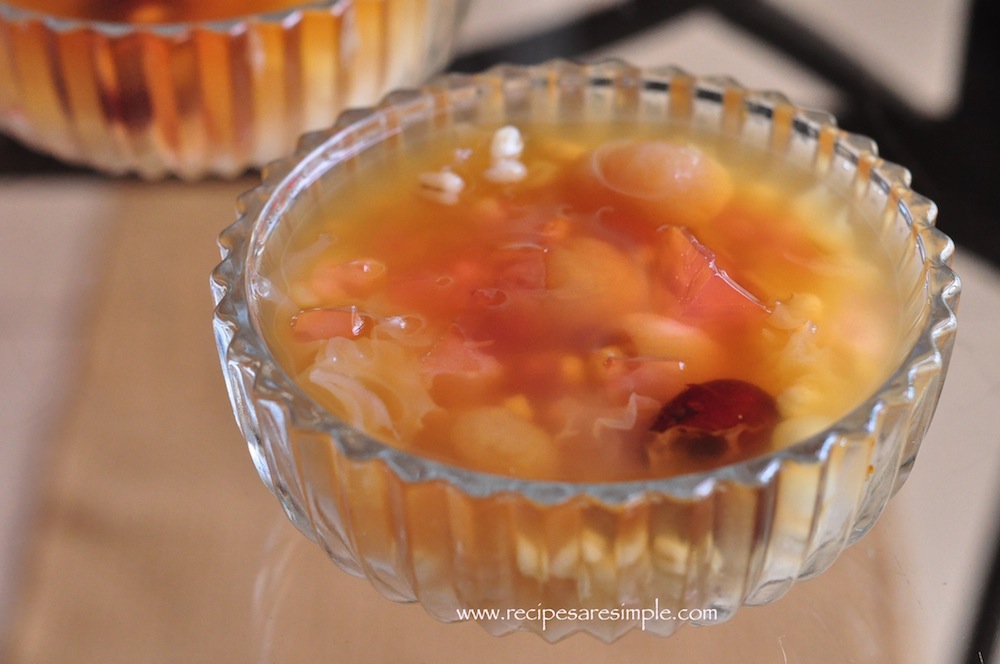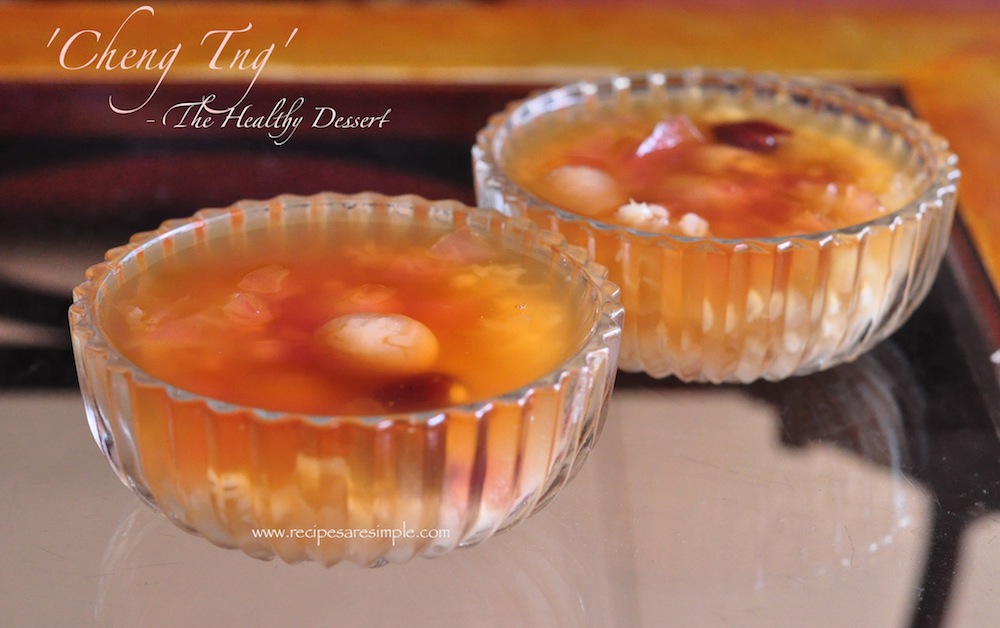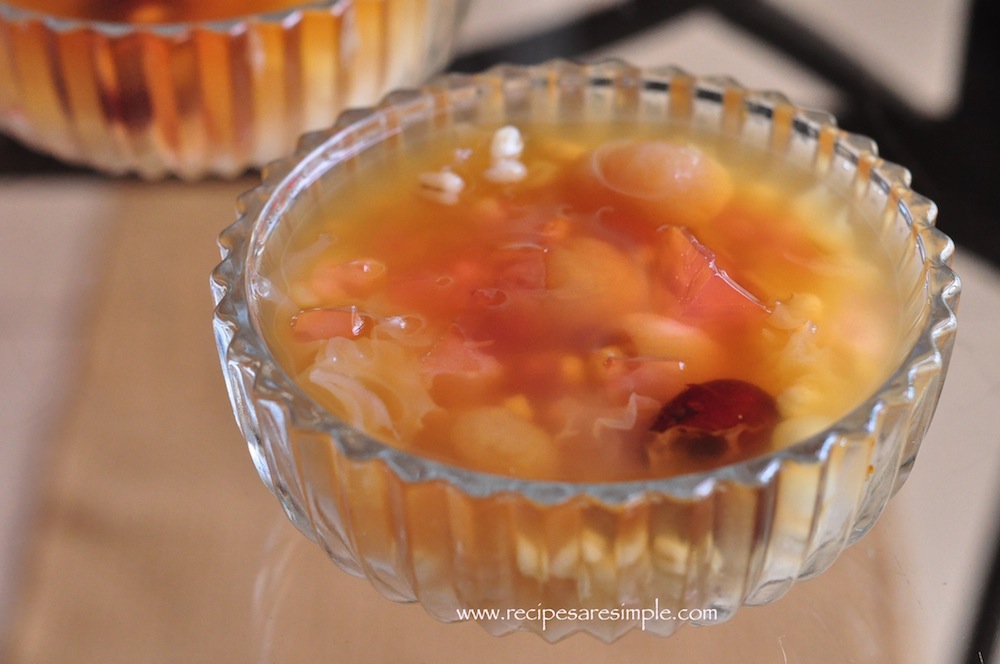 Cheng Tng Recipe
Cheng Tng is a very popular dessert that is available in almost every Hawkers Centre in Singapore.There is a similar dessert in Vietnam called Ching bo leung.  It is a good choice for the health conscious, as it combines an array of healthy, dry ingredients that are boiled in a sweet soup-like dessert that is sweetened with rock sugar. There are a variety of ingredients that may be used, and you can add or omit according to your personal preference or availability of ingredients.
The common ingredients are Dried Longan, Dried dates, Barley, Sago, White Fungus, Pandan Leaves (Screwpine), Lotus seeds, Ginko Nuts, Dried Persimmon, Pang Da Hai (Boat Sterculia Seed). It can also contain jelly strips. You can use agar agar or Konnyakku.
I usually make my own with these selected ingredients, because that's the way my daughter likes it.
I love the darker one with the 'pang da hai ' too. It is darker in color too.
Here is a list of some of the health benefits of the ingredients used in the Cheng Tng Recipe:
Sago Pearl :

Good source of carbohydrate and provides a quick boost of energy.

Konnyakkyu Jelly :

High in dietary fibre and helps eliminate harmful matter from body, helps to normalize blood sugar and cholesterol levels, helps reduce blood pressure

Pandan Leaves:

Used in treatment of, chest pains, ear pains, headache, arthritis, leprosy. wounds, small pox, skin problems, gum and stomach problems,  Good for post natal care for mothers.

White Fungus:

Also known as White Wood Ear or Tremella Mushroom : Anti Inflammatory, Anti Tumor, helps in treatment of dry cough and removes heat from lungs, Believed to be a wonder ingredient to keep skin looking young.

Red Dates:

Known to  have high nutrient value, high in vitamin C, a key ingredient to many chinese herbal concoctions, is said to be for for stomach irritability and a beauty aid as it has blood replenishing and enriching properties.

Pearl Barley:

A good source of dietary fibre, vitamins and mineral, energy and protein.

Longan:

Used to treat insomnia, amnesia, stomach ache and good for nourishing the blood.

Rock Sugar  : 

Rock Sugar is known for its Mouth Freshening Properties, helps to ward of Laryngyitis and is good in treating flu and cold paired with herbed tea.
Cheng Tng Recipe
Recipe Type: Dessert

Author: Recipes 'R' Simple

Prep time: 

Cook time: 

Total time: 

Serves: 8-10
Ingredients:
50 gms White fungus
¼ – ½ cup Pearl Barley – I like more
¼ cup large Sago
3 ½ litres of water
4 Pandan leaves, knotted
Prepared Agar Agar or Konyakku jelly, cut into tiny dice.
50 gms or a bit more Dried Longan
14 Dried Red Dates
about ¾ cup Rock Sugar (to taste)
Method:
Prepare the jelly of choice according to packet instructions. Pour into a shallow tray and place outside at room temperature, until set. Then place in fridge to chill.  You can pour excess amount into moulds and serve separately. When the jelly is completely chilled, cut into very small dice.
 Soak the dried fungus in Hot Water for 10 minutes. Cut off the central yellowish and hard parts on the underside. We will not  use this.
Cut  into very small pieces.
Wash the Barley throughly 2-3 times. Drain.
Rinse all the dry ingredients and drain.
Add the water to a large pot and bring and heat.
Add  the knotted pandan leaves, red dates, longan, the cut up (soaked) dry fungus and barley.
Bring to a boil on high.
Lower the heat and simmer for 15 minutes. Stir occasionally.
Now add the sago and rock sugar and simmer for another 15 minutes. Stir occasionally.
Once the rock sugar is completely dissolved ( you know when you can stir the bottom of the pot and no longer hear the crackling noise of the rock sugar hitting the floor of the pot)
The sago should also be cooked through. – i.e. no longer white in the centre. (Sago cooked along with the soup will turn the soup a little whiter and starchier ; if you want a clearer soup, cook the sago separately in water, strain, rinse under running water in a strainer and then add to the finished soup while still hot.)
Turn off the heat and cover the pot for another 15-20 minutes.
Add the diced jelly to the soup once ready.
You can serve it warm or cold.
Enjoy this healthy dessert from the Lion City.
Cheng Tng Recipe
Try it and let us know – Cheng Tng Recipe.

All ingredients can  be purchased from the 'Dried Goods' section of you Asian Supermarket or the Asian food Section.
They are also available at Asian Herbal Stores.