10 October, 2013
Cheese Fries Cheese Sauce Recipe Made EASY!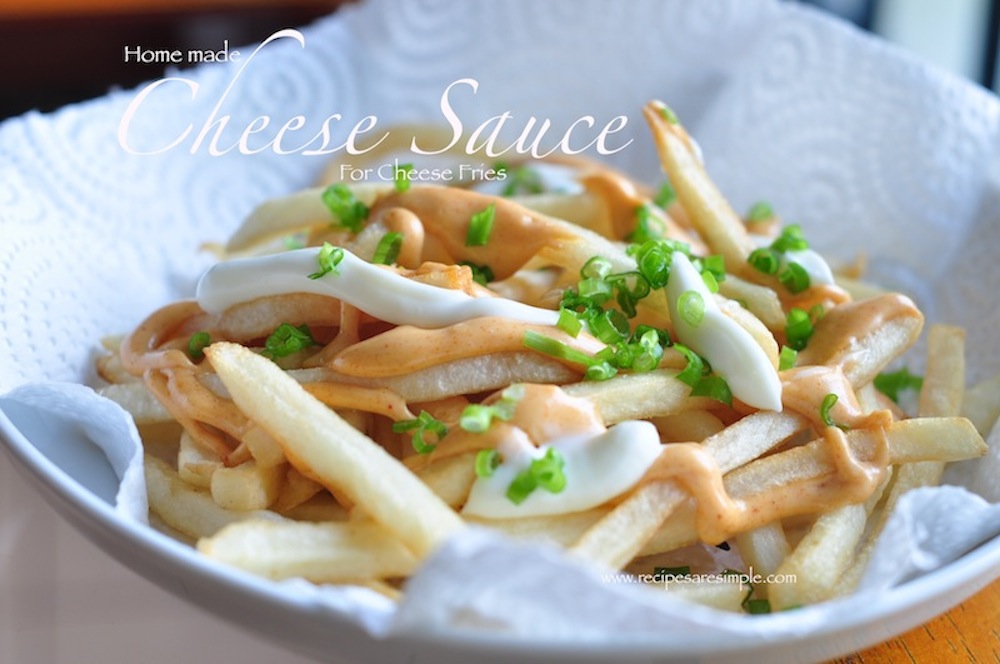 Cheese Fries Cheese Sauce Recipe Made EASY!

Okay I am going to share my 'Secret' QUICK recipe for cheese sauce. You know the kind you can squirt all over your cheese fries and make your kids drool over them! I like my sauce as a dip with toast. This is a simpleton recipe but i guarantee if you like cheese fries you will use this recipe repeatedly! Sure you can buy those spray bottles of cheese sauce but god only knows whats inside that! Try my recipe. I kept it secret so far 🙂
Cheese Fries Cheese Sauce Recipe Made EASY!
Author:
Prep time:
Cook time:
Total time:
Ingredients:
A plate size serving of fries, shoestring thin frozen fries – either bake or deep fry.
Mayonaise, salt and scallion/spring onion greens to garnish
2 yellow cheddar cheese slices – use your favorite brand that tastes good to you. OR you can use the same amount 3 ¼  Tbsp of Grated Yellow cheddar cheese
¾ Tbsp Butter
¾ tsp plain flour
¼ cup skim milk plus 1 tbsp skim milk
½ tsp

mild

chili powder
¼ tsp or one squirt of Tomato Ketchup




Method:
Start preparing your fries as desired while you set up your cheese sauce ingredients.
In a small non stick pan, heat the butter till  just melted.
On low-medium Heat : Add the flour and stir with a wooden spoon till you get a smooth consistency.
Add the milk in a steady stream, stirring the mixture till smooth without any chunks of flour.(This is the 'roux')
Once the sauce is thickened and smooth, add  the cheese slices and stir till the cheese melts.
Add the chili powder into your sauce and stir till you get a nice creamy sauce.
Add  the single squirt of ketchup and 1  tbsp milk or so to loosen the sauce up a bit.
Scoop the sauce into a squirt bottle or a food safe zipper bag. Cut a small hole at the corner with sharp scissors at an angle.
Squeeze desired amount of sauce over your plated, salted fries.
Repeat this with the mayonnaise.
Sprinkle over the sliced spring onion ringlets.
Serve hot! Enjoy![like action=like]
Cheese Fries Cheese Sauce Recipe Made EASY!
Did you enjoy our Cheese Fries Cheese Sauce Recipe Made EASY! ?
I usually only make just enough sauce for the required serving at a time as the sauce will thicken up after a while.
You can warm up the sauce with a tiny amount of butter and milk if you want it wetter in consistency.