15 June, 2015
Cheese and Bell Pepper Pizza – Moroccan Style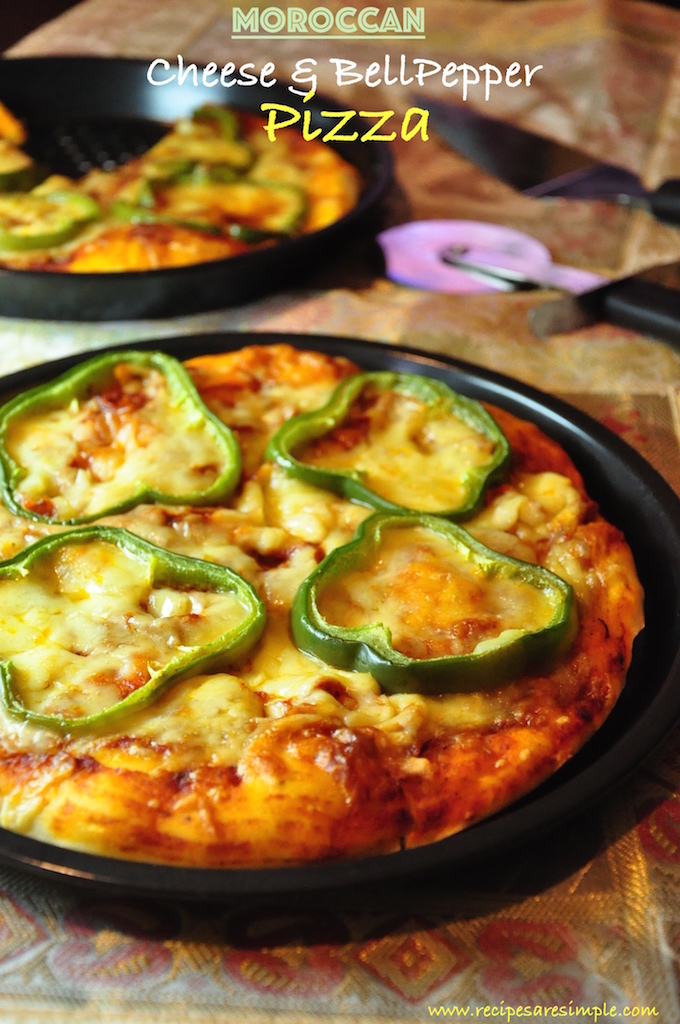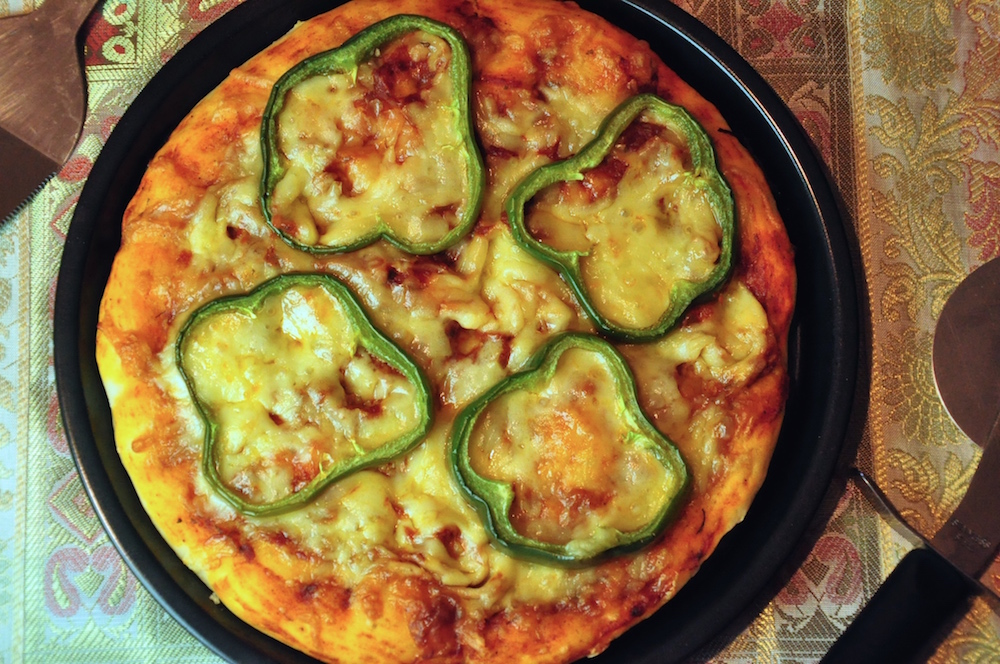 Cheese and Bell Pepper Pizza – Moroccan Style
This Delicious Cheese and Bell Pepper Pizza – Moroccan Style  has the perfect blend of Cheeses (Mozzarella, Cheddar, Colby and Parmesan) to make it perfectly  Cheeselicious!
The delicious home made Pizza Sauce comes with a difference, incorporating 'Moroccan and Middle Eastern' influenced spices and herbs. No heavy toppings are required. It's perfect with just sliced Green Bell Pepper. The perfect cheesiness, paired with scented and aromatic pizza sauce and the fragrance of the green bell peppers makes this PIZZA everyones favorite.
My kids love Pizza – but they are always taking off the toppings! So I make 2 batches :  Plain Cheese Pizza for them.
This just might be your new favorite Pizza too! The best part? It's so easy to make!
Mozzarella, is always the best bet when you want an ooey-gooey-strechy experience. It looks good too!

Mixing in some Cheddar Cheese provides a balanced flavor which goes extremely well with the Mozzerala

Adding a little bit of Colby Grated Cheese, you get a more even colored appearance. It is mild in flavor.

I like to add just a little bit of grated Parmesan for that kick and salty tone and  aroma.
You are here: Home > Baked Dishes / Savory  >  Cheese and Bell Pepper Pizza - Moroccan Style
 

Recipe Name:  Cheese and Bell Pepper Pizza – Moroccan Style

Recipe Type: PIZZA RECIPES

Author: Shana c/o Recipes 'R' Simple
Cheese and Bell Pepper Pizza – Moroccan Style
Ingredients:
For Pizza Base:
 3 cups all purpose flour
1 cup water
1 tsp  active dried yeast
½ tsp sugar
4 Tbsp oil
½ tsp salt
Pizza Sauce and Toppings:
1 medium onion, chopped finely
2 tbsp garlic, minced
5 deep red firm tomatoes (Boil briefly and peel. Blend without water to a puree 1 ½ cups)  Or use 1 ½ cups canned tomato puree
½ tsp dried oregano (fine)
A pinch each of the following dried herbs :

parsley, coriander, chives,

fenugreek

–

omit any that you don't have and add a pinch extra of the other
1/2 tsp sugar
1/4 tsp salt or to taste
at least 250 gms cheese : 

Use your favorite blend I suggest 150 gms grated mozzarella, 100 gms grated mild cheddar, 20 gms grated colby  & 10 gms grated parmesan
For the Moroccon Spice Powder:
Grind/pound the following together to a fine powder : 
1/8 tsp coriander seeds
1/8 tsp cayyene
1/8 tsp paprika
1/4 tsp smoked paprika
1/8 tsp pimento
1/8 tsp cinnamon
1/8 tsp cumin
2 cloves
1 cardamom pod
1/8 tsp dried ground ginger
2 black pepper corns
pinch white pepper
pinch turmeric
pinch nutmeg
pinch aniseed
Method:
For the Crust:
Add yeast and sugar into lukewarm water. Give it a stir.
Allow to sit for 10 minutes.

You should see some bubbling action and after 10 minutes the solution should look frothy. 

Sift the flour and salt into a large bowl.
Add the oil as well as the frothy yeast mixture and stir with a wooden spoon till the the dough begins to come together.
With slightly oiled hands, knead the dough softly for 5 minutes. Roll into a smooth elastic ball of dough. (Make sure you oil your hands or the dough might be too sticky to work with).
Cover the bowl tightly with cling/ plastic wrap and leave in a warm area for 30 minutes – 1 hour till the dough has doubled in volume.

(Meanwhile prepare the sauce – see below)

Use your fist to gently punch down the dough  and divide into 4 portions.
Slightly 4 greased pizza pans and place one portion on each.
Again,with oiled hands – take a portion of dough and press to flatten into the pizza pan.
Use your hands to stretch the dough evenly around the pan, using thumbs  and fingers to pull the gently onto the sides of the pan to create a rim. Set aside till sauce is ready.
The pizza crust will rise slightly in this time.
For Special Pizza Sauce:
Boil water in sauce pan. Add tomatoes and simmer for 5 minutes.
Drain and peel off the skin. Blend to a Puree without adding water. (You can also use canned peeled tomatoes, just blend to a puree without adding water)
Heat oil in a wide skillet/ non stick pan. Add chopped onion and allow to soften.
Add chopped garlic and sauté till soft and the sweetness is released. Do not allow the garlic to change color.
Add the Puree and stir well. Allow to come to a simmer.
Add the Spices and Herbs along with salt and sugar.
Taste and adjust seasoning.
Cook till the oil separates and appears on top. Cook briefly till the sauce is  no longer runny. It should thicken into a good spreadable consistency and not too thick that it makes it difficult to spread.
Assemble:
Once the sauce has cooled down and the prepeared base has rested  for a while ( It should have risen slightly), use a knife to cut sharp slits through out the crust without messing the structure.
Spread the sauce gently over  leaving a small space around the rim so that toppings don't burn on the edge. (Although sometimes I just slather the whole pizza because m kids waste dry crust).
Use the different cheeses to top the pizza evenly and liberally.
Place the sliced green peppers over the cheese.  Slice in desired shape. I prefer long thin slices
(I love this Pizza with just sauce, cheese and green bell pepper, and plain cheese for the kids. If you need some extra toppings, go ahead, but keep it light. The key to a good Pizza is not to overdo the toppings).
Bake : PREHEAT THE OVEN 220 c, 10 MINUTES BEFORE YOU PUT THE PIZZA IN. Use only heat from the bottom if possible. Use a pizza stone if you have it.
Place the pizza on the lower rack of your oven, Or on to 2 racks.

Slide on to a preheated pizza stone if you have it. Bake for 20 to 25 minutes only. If baking on 2 racks, I switch them hal f way through the baking, so that crust and cheese are evenly cooked.

Check the bottom of crust by lifting it with a flat spatula or knife, to see that is is light golden and set on the bottom. The cheese should be completely melted without burning.
Remove the Pizza from the oven and cut using a sharp Pizza wheel.
If you need to reheat, place in the MICROWAVE on high for 5-6 SECONDS.
Serve while hot, bubbly, stretchy,  and gooey!!!: ) Yum!
Cheese and Bell Pepper Pizza – Moroccan Style
If you do not see any  bubbling activity or very minimal frothing of the yeast mixture, it is possible that your yeast is not longer active. Use another batch of fresh yeast.
More on Moroccan Cuisine.
Key Ingredients: Flour, Tomato,  Bell Pepper, Spices, Herbs, Salt, Sugar, Cheese, Oil
Let me know if you tried  the –Cheese and Bell Pepper Pizza – Moroccan Style  . Comments from you provide motivation to keep up the driving force behind this blog, bringing you more delicious and perfected recipes regularly. Please do leave a comment. Love hearing from you.