30 December, 2013
Cheera Thoran – Spinach with Coconut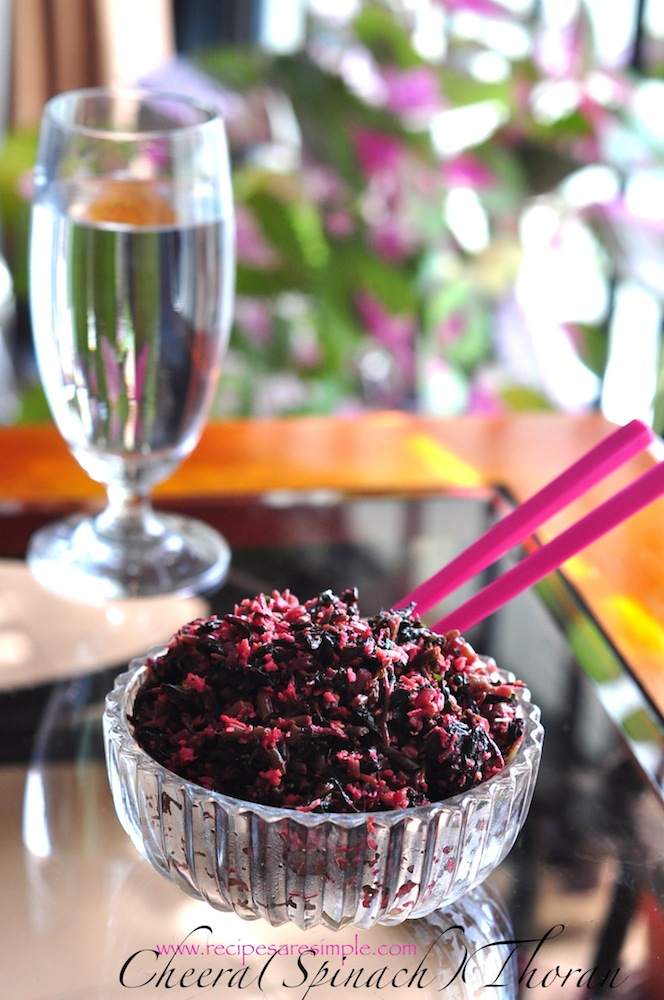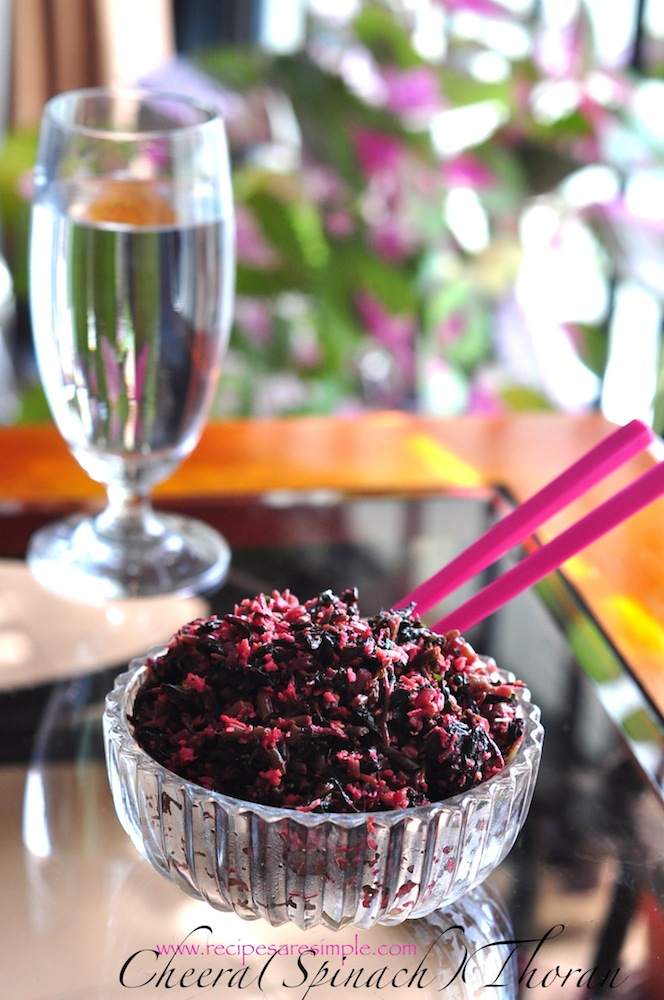 Cheera Thoran – Spinach with Coconut
Finely chopped spinach, cooked quickly and tossed with grated coconut. Great side dish to any meal. Authentic Kerala Style recipe.
Cheera Thoran – Spinach with Coconut
Ingredients:
3 cups chopped up spinach – green or red spinach.
½ tsp green chili , chopped
1 cup grated fresh coconut
2 small cloves garlic
1 shallot
½ tsp chili powder
For tempering:
2 tsp oil
2 shallots sliced
1- 2 dry chillies cut into pieces
½ tsp mustard seeds
1 tsp raw rice- optional
Method:
Hold the bunch of spinach on chopping board and cut off the root portions.
Wash the stem portions first pointed downwards in the sink. This removes the sand and dirt. once all visible dirt is removed from stem portions, wash the leaves well by shaking and separating the leaves under running water in a colander.  Wash thoroughly as spinach  tends to always have some sandy residue in it. Not good to bite into!!!
Drain for 10 minutes, then chop finely.
Crush the garlic , shallot using a pestle and mortar. Add he grated coconut and chili powder and crush all together gently.

We do NOT want a paste.

Add oil to a wok, heat and add mustard seeds and rice if using. Allow to splutter.
Next add the red dry chili and shallots. Saute. Add curry leaves.
When the shallots turn light golden, add all the chopped spinach leaves, some salt and a splash of water.
When steam escapes from the spinach, make a well in the centre and place the crushed coconut mixture and green chili in the centre.
Cover the coconut mixture completely with the spinach from the sides of the wok. Cover the wok and cook on low for 1-2 minutes till steam escapes.
Open and stir cook till the moisture evaporates and the spinach is somewhat dry.
Taste and adjust seasoning.
Cheera Thoran – Spinach with Coconut
Try and Let us know – Cheera Thoran – Spinach with Coconut