4 April, 2013
Cheat Whipped Cream – Whip Cream Substitute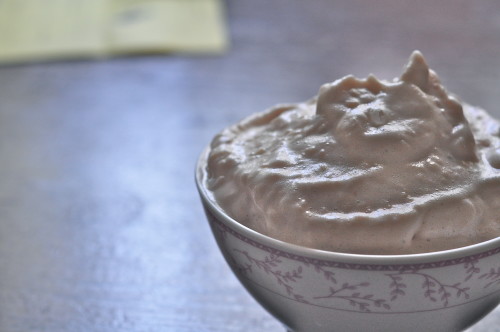 Cheat Whipped Cream – Whip Cream Substitute
Ever wonder if you could substitute those dollops of whipped cream on your desserts, pies etc.. with something a little more healthy? Look no further.




This easy whip cream substitute is made from 'APPLE' and can be used for your sweet desserts but must be made at serving time for optimum results. Try and say wow!
 Cheat Whipped Cream – Whip Cream Substitute
Ingredients:
1 apple, minced finely
2-3 tablespoons powdered sugar
1 tsp vanilla extract
1 egg white
A pinch of Cream of tartar




Method:
Add the minced apple, eggwhite and powdered sugar to your food processor or mixer with whisk attachment.
Whisk till nice and fluffy and soft peaks form.
Add vanilla extract and cream of tartar and whisk till  it looks similar  to a light textured whipped cream.
Cheat Whipped Cream – Whip Cream Substitute
Notes:
Once the apple is grated, you will want to work fast because it will loose color. This whipped apple should only be made just prior to serving.