4 June, 2016
Char Kway Teow | Flat Rice Noodles with Prawns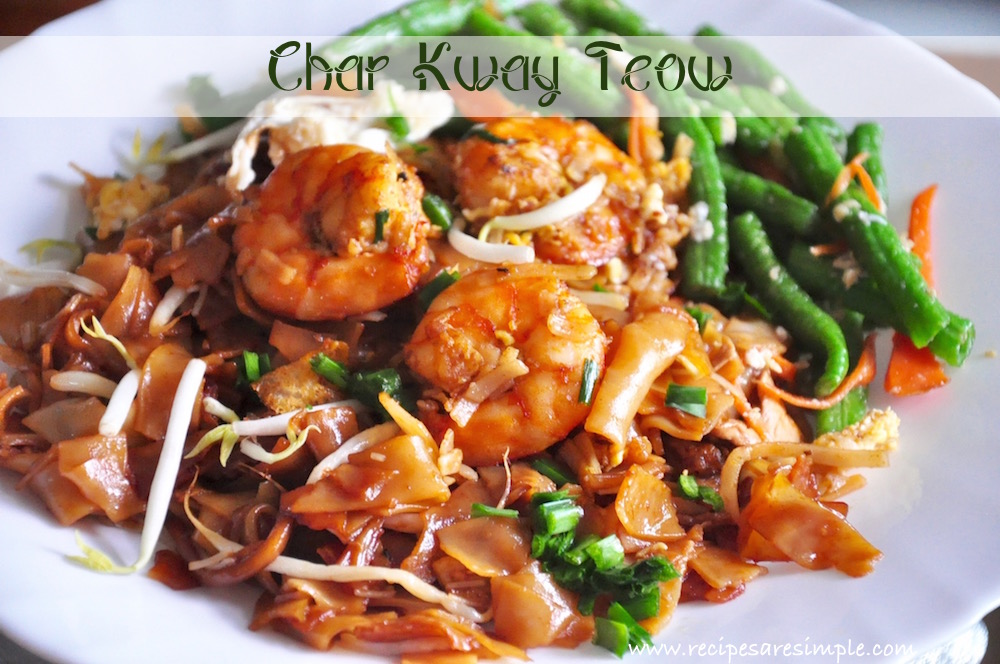 Char Kway Teow | Flat Rice Noodles with Prawns
Char Kway Teow is a extremely easy to make street food, that is common in Malaysia, Singapore and Indonesia. I have really liked the versions I have had in Indonesia and Malaysia. This version is a quickie Penang style Char Kway Teow with Prawns.
It is a stir fried noodle dish, using wide, flat and fresh Rice Noodles. I simply love it. The cooking is done in 2 minutes! Traditionally it was sold buy Farmers and Fisherman in the night markets  as a way for them to supplement their income. This version contains only prawns, but other meats are used commonly.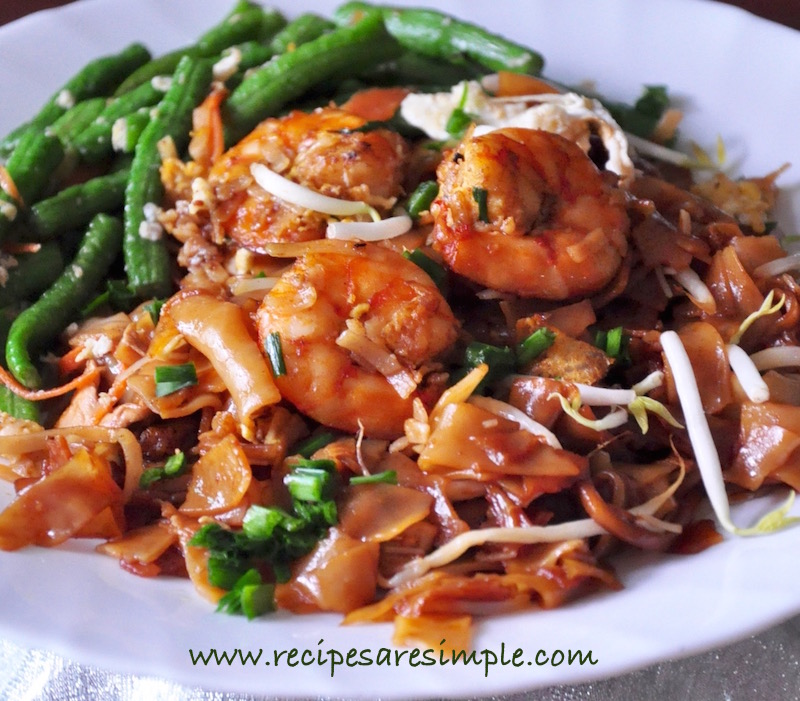 Char Kway Teow | Flat Rice Noodles with Prawns
You are here: Home > Pasta & Noodles > Char Kway Teow | Flat Rice Noodles with Prawns |
Char kway teow
 

Recipe Name: Char kway teow

Author: Shana c/o Recipes 'R' Simple
Ingredients:
4 1/2 cup fresh flat rice noodles /kway teow noodles

(or use dried – see notes)

16 prawns, peeled and de-veined
OPTIONAL to marinate the prawns (1 tsp sesame oil, 1 tsp green chili sauce or green tabasco, 1-2 Tbsp sliced yellow onion (vidalia) or shallots, Pinch turmeric and 1 tsp light soy sauce)
3 tbsp garlic finely chopped
3 eggs
½ cup bean sprout
¹/3 cup chopped chinese chives
2 tbsp dark soy
1 tbsp light soy
1 tsp chilli paste

(see note)

5 Tbsp oil
Method:
Optional : To add some extra depth to the flavor of the prawns, use the ingredients for marinating and set aside briefly.
Heat oil on medium heat in a wok.

Carbon Steel Woks are preferred.

Add and fry garlic briefly, add prawns and toss 2 minutes on high heat. Prawns should be tender and not overcooked.
Add beansprout. Toss briefly. Cook longer if you like them tender.
Add beaten egg, to one side of the wok. After setting for 30 seconds, scramble and fry.
Add fresh noodles (rinsed once gently and drained). Toss well on high quickly
Immediately add the sauces and paste.
Mix well, till sauces are evenly distributed and noodles are heated through. Toss the wok to get some flaming action for added flavor.
Add chopped chives and serve hot.
Char kway teow
Dried Kway Teow Noodles are available more easily, although they may be thinner than the fresh variety. If using dried, soak in cool water (not hot) for 1 hour. Drain well and use. Soaking in hot water will cause noodles to become mushy.
If you can not find chinese chives, sing onion green may be used.
Chilli paste is made from soaking dried red chillies in very hot water for 30 minutes and then grinding without water to a paste. Sambal Oelek may be used as well, which incorporated fresh red chillies, ginger and garlic. I usually use the simpler chill paste.
The staple hawkers/ street vendors make this with the prawns quite fresh but still bland in taste for some. I like to add the simple additional marinade to boost the flavor.
I love the flavor fresh and hot from the wok. I do not recommend reheating this dish.
The prawns are cooked tender quite quickly using a wok. Do not overcook , this will lead to rubbery prawns.
Charcoal cooking gives and authentic smoky flavor to this dish.
I like to serve with some flash fried Asian String Beans on the side.
Key Ingredients: Rice Noodle,Prawns, Soy Sauce, Bean sprouts, Chives, Eggs, Oil, Chilli.
Leave a comment if you tried – Char kway teow  .