25 March, 2017
Char Hor Fun | Rice Noodles in Soupy Egg Gravy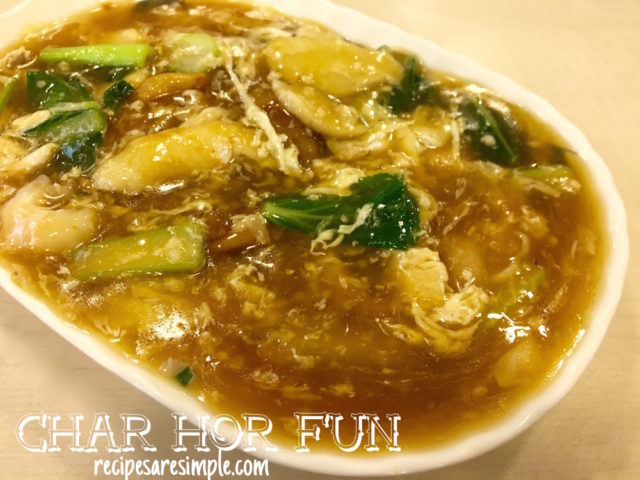 Char Hor Fun  is an absolutely delicious and comforting dish that personifies the essence of 'Wok Lei'.
What is Wok Lei? 'Wok Lei translated means 'wok heat' or 'breath of the wok'. It is the intensely gratifying aroma as well as taste, that can only be imparted by a fiery hot wok and some good tossing skills. This is the signature essence of most of your favorite Chinese dishes, that you feel you just can't replicate at home! While extreme heat is essential, it's about more than heating your wok till it's burning hot. It takes practice, but it is not impossible to achieve this irresistible smoky flavor at home.
My tips after years of practicing to get that smoky, flavor in my Chinese and Indo Chinese dishes.
It is important that the wok should be heated slowly. Put it on a low heat and give it some time to get piping hot. Don't rush it.
Don't add oil till the wok is smoky hot.
Once the wok is as hot as live coal, (all your protein and vegetables should be ready and chopped and good to go).
Add cool oil to the wok and add fresh ingredients without any delay. For example, garlic, onion, ginger. Ad these straight away, without waiting for the oil to smoke up as well. You dont want to give the oil any time to chemically decompose in the hot-hot wok.
Also  beware of adding too little or too much oil. The oil should completely coat the wok thinly and then just a Tbsp or two in the centre (according to the amount of fresh ingredients, going in). If oil is not sufficient, 'Wok Lei' can not be achieved. However, if there is too much oil the food will be fried and not tossed with hot oil.
The vegetables should be rinsed and retain a

very small amount of water

. It is these water droplets that react with the oil droplets in the wok and upon being tossed, react with oxygen in the surrounding air and cause the flames below and on the side of the wok to cause 'flare ups' inside the wok. This flame ignition is necessary for the proper 'wok Lei'.  So always tilt the wok as you cook to encourage the flames to enter the sides and react with the oil droplets.
Lastly, never cook too much food in the wok. There should be plenty of extra room in the wok for tossing and cooking smaller quantities always gives the best result. If you need to make more quantity, even cooking in batches is a good idea.
Char Hor Fun | Rice Noodles in Soupy Egg Gravy

I love the simplicity and the comfort factor, associated with this dish. The delicate rice noodles are so much tastier than yellow egg noodles in a soup like dish, such as Char Hor Fun.  You get soft noodles with just a hint of chewiness in a slurry delicious soup,  some chicken and prawn based broth and veggies too. It is so simple that it can even be whipped up for breakfast! The amount of water/stock to make the soup can be added according to preference. Just season accordingly. I like it with plenty of soup.
You are here: Quick Browse > Pasta & Noodles> Char Hor Fun | Rice Noodles in Soupy Egg Gravy (Introduction).
 

Recipe Name: Char Hor Fun | Rice Noodles in Soupy Egg Gravy

Author: Shana c/o Recipes 'R' Simple
The rice noodles used in this dish are flat, wide rice noodles. Look for fresh 'Hor Fun' noodles at your Asian Grocery. Rinse the noodles,  lightly in a bowl under running water to remove the greasy residue.  Add a little warm water and rinse again, to separate the strands without breaking.
You may use dried rice noodles as well. Follow package instructions to cook them. You can make the rice noodles at home as well, I will add a link here, once I add the recipe.
Key Ingredients: Wide Rice Noodles, Prawns, Eggs, Chicken, Water/Stock, Soy Sauce, Oyster Sauce, Pepper, Sesame Oil, Scallion, Ginger, Garlic, Oil.
Let us know if you tried –  Char Hor Fun | Rice Noodles in Soupy Egg Gravy.


Back to Quick Browse. Thanks for visiting www.recipesaresimple.com