23 March, 2013
Chapathi 3 ways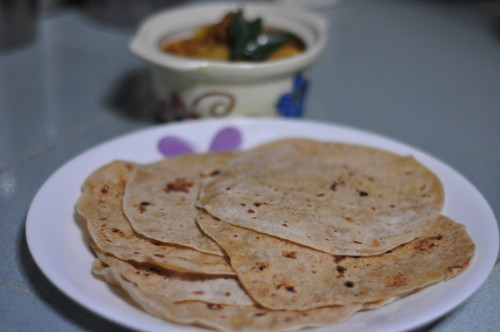 Chapathi 3 ways
This staple Indian Bread is a daily item in many Indian Households. Kneading the dough gently to begin with is the key to making a good chapathi. It can be made with butter/ghee or for the health conscious totally free of fat. I have given detailed methods for making 3 types of chapathi here.'Chapathi 3 ways'

The name "Chappathi" is derived from Kannada words "Chappate thatti" meaning "flattened round". Chapati is dated back to the 16th century as it is mentioned in  a  document from this time ," Ain-i-Akbari ", by Mughal Emperor, Akbar's  Vizier.

Chapathi 3 ways



Chapathi No1: Puffed Chapathi without any fat (Phulke )
Ingredients:
1 generous cup Wheat Flour (Aata),sifted
Little less than ¾ tsp salt
3 Tbsp Hot water + Extra Room temp Water as needed to knead
Method:
Pour the hot water into the flour with salt and mix with fork till evenly textured.
Add enough extra water to knead .
Gently knead for a good 5 minutes then knead like you mean it for 2 more minutes till you get a smoothe elastic dough.(Should not go sticky ; Add very little flour if you find it sticking to your hands)
Keep for 15 minutes ;cover the bowl with a damp cloth.

Lightly

flour  your surface for rolling.
Roll out with a rolling pin as thinly and evenly as possible.(there should be no tiny holes!)
Heat your  flat surfaced tawa/ pan/stone till you can feel its heat when you place your palm 5" above it
Place 1 chapathi to roast,making sure you lay it flat without folds on the pan.
Wait till you see some air bubbles appearing on the surface of the bread,at which point you flip it over and wait for those bubbles again.
Now with tongs gently lift the chapathi and flip again but straight onto the gas burner flame and not the pan(use you free hand to remove the pan from the stove)
Your 'Phulke will puff up nicely lift and remove. Repeat with all your chapathis.
I like to roll out my chapathis as I grill them ,if you are not so fast to roll out your chapathis

yet

, roll out a few at a time and then grill.
Cover them up with some clean kitchen towels so they remain soft and warm.
 Chapathi No2: (Square Flaky Buttery Chapathi)



Ingredients:
2 cups wheat flour
Enough water to knead to a smooth dough.
salt to taste
Melted Ghee or Butter (about 6 tsp)
Method:
To the flour,add salt to taste .Add enough water and knead to a smooth elastic dough.
Set aside for 45 minutes-1 hour.Cover the bowl with a damp towel.
Divide into 10-12 balls and roll out on a lightly floured surface. Roll only upwards and downwards, then side to side without turning the chapathi so that you get a squareish shape.
Lightly brush some ghee/butter all over.Fold inwards half way from the top then overlap from the bottom. Then fold in from one side  & overlap from the other side to get a folded square shape again. Fold up all your chapathis like so and keep 10 minutes.
Now roll them out again upwards,downwards and side to side to get a squarish shape once more.
Grill them on a heated pan till golden spots occur one one side .Then flip and repeat for the other side.
Cover up in a clean kitchen cloth and serve hot!
 Chapathi No3: (Save time,Easy to Make-Soft Chapathi ) 
Ingredients:
1 ¾ cup Wheat flour(Aata)
¾  cup Plain flour (Maida)
Boiled water as needed
salt to taste
A little oil(I use sunflower oil)
Method:
Make a well in the centre of the flour, pour in the hot water and salt  a little at a time and combine well.
Knead into a smooth elastic dough.→ Keep for 15 minutes covered with a damp cloth.
Make 16  even sized balls.Flour surface and roll them all out  all around the same size .
Smear some oil over 8 of the chapathis, then sprinkle some flour over each of them (without brushing) and then cover these chapathis with the other 8. Now roll out into larger rounds with ease.
Grill the chapathis on a heated pan flipping repeatedly till both sides are evenly golden and cooked. After they are all grilled. seperate each chapathi into 2 and serve hot.(one side will be plain-place them all golden side up)
Chapathi 3 ways
Did you enjoy our Chapathi 3 ways Recipe ?