27 August, 2013
Home Made Cottage Cheese and Potato Curry – Bengali Channar Dalna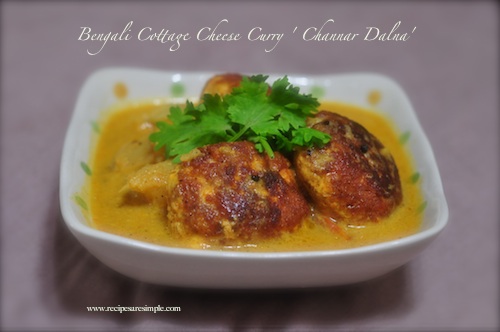 Bengali Channar Dalna
An easy, appetizing vegetarian dish from Bengal. The distinctive flavors of cumin and ginger enhance this lovely dish made with home made cottage cheese!
'Channar' refers to the home made cottage cheese and 'Dalna' means curry. Bengali Channar Dalna is a wonderful vegetarian curry, that may be eaten with rice or roti.
Bengali Channar Dalna



Ingredients:
For the Cottage cheese balls( channar)
1 litre/ 4¼ cups full cream milk
2 Tbsp vinegar or lemon juice to curdle the milk  (or enough to curdle milk)
1 tbsp All purpose flour or Chick pea flour
½ Tbsp Sugar  or to taste
Salt to taste
½ –  1 Tbsp cumin seeds
1 long green chilly
1 Tbsp Oil / Mustard oil
For the Curry 'Dalna'
2 medium size potato, cut into medium cubes
A pinch of cumin seed
1 bay leaf
½ dry chilly
2 tsp ginger paste
¼ tsp  Turmeric powder
1 tsp Kashmir chilly powder
1 medium tomato, chopped
¼ tsp garam masala powder ( ground spices consisting of cloves, cinnamon and cardamom )
Salt & sugar to taste
Others:
Chopped coriander leaves, 2 Tbsp thickened cream(optional)



Method:
For the cottage cheese balls  'Channar'
Heat the milk in a saucepan and when its start getting foamy ( before boiling), add the lemon juice or vinegar and stir twice.
The milk will immediately start to curdle. Do not over stir once the cheese is formed. Take off heat. Allow to sit for 5-7 minutes.
Strain using a cheese cloth  and hang this cloth for 30 minutes.

Do not allow the cheese to become overly dry

.
Dry roast the cumin seeds till golden and grind to a paste along with the green chilly
Add the prepared cottage cheese to a bowl. Also add the sugar, salt, all purpose flour, 1 tbsp of oil and the ground mixture and knead gently to mix all the ingredients.
Knead till the balls hold together and form into flattened lime sized balls.( Around 8 balls)
Heat oil in a frying pan and fry the balls to a golden brown on each side. Set aside.
For the curry 'Dalna'
To the same oil, add the potato cubes and fry till golden all over but not tender. Set aside.
Again to the remaining oil, add cumin seed, bay leaf , red chilli and allow to crackle.
Add the ginger paste, chilly powder and turmeric, and stir till fragrant, sprinkling water to ensure the mix does not burn. Add tomatoes, salt and sugar to taste  and stir till tomatoes are cooked down.
Return the fried potatoes and coat with this mix.
Add the Garam Masala and 1½ (approx) cups water and bring to simmer. Cook covered till the potatoes are tender.
Taste and Season as Required.
Add the fried cottage cheese balls and bring back to simmer. 5 minutes.
Add a pinch of cardomom seeds powder to finish.
Garnish with chopped coriander leaves. If desired you can add 2 Tbsp of thickened cream and stir in to give a creamier consistency.