4 September, 2014
Cauliflower Curry Kerala Style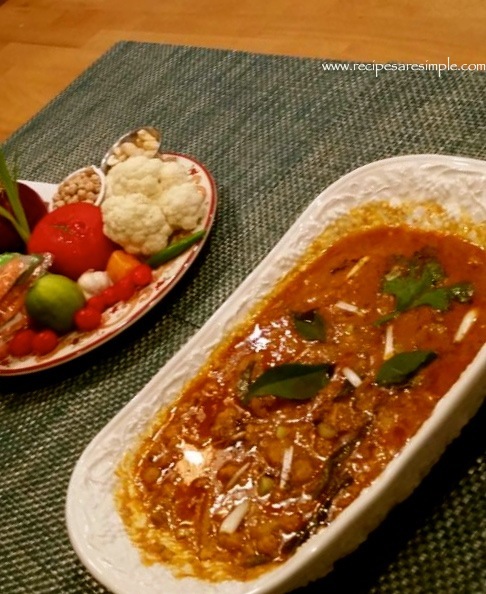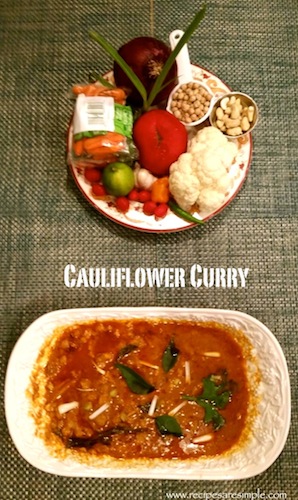 Cauliflower Curry Kerala Style
By Arifa K
   Simple and tasty vegetarian curry to  serve with  Chapathi, Parotta, Idiyappam etc … Cauliflower contains a high amount of Vitamin C, Folate Fiber  & Complex carbohydrates. It is also a cruciferous vegetable being studied for its role in reducing the risk of cancer.
Cauliflower Curry Kerala Style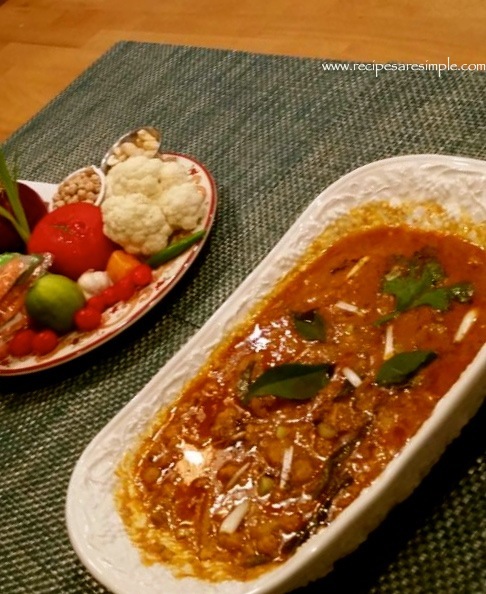 Recipe Type: Vegetarian / Curry

Author: Recipes 'R' Simple

Prep time: 20

Cook time: 20

Total time: 40 mins

Serves: 4
Ingredients:
1 medium sized cauliflower, cut into 4 cm florets
½ cup chick peas –

must be soaked overnight

3 Tbsp raw cashew nuts, soaked in warm water for 10 minutes and ground to a paste
1 large onion, chopped ( 1 cup)
1 large tomato, chopped (1 cup)
2 Tbsp garlic,finely chopped
1 Tbsp ginger, finely chopped
1 ½ Tbsp Kashmiri chilli powder (mild)
1 Tbsp coriander powder
1 tsp turmeric powder
1 tsp Aniseed powder
3 tsp salt
2 Tbsp coconut milk powder or ½ cup coconut milk
¼ cup vegetable oil
Method:
Soak the chick peas in room temperature water overnight before making this curry.
Place the scrubbed and rinsed cauliflower in a large bowl. Cover with hot water and leave for about 20 minutes. Drain.
Cook the soaked chick peas in lightly salted water till tender, but maintaining a bite.
Add the oil to a non stick pan and heat.
Add and

sauté

 the onions well till golden brown.
Add ginger and garlic and allow to soften.
Next add the spice powders and cook briefly, till the raw smell dissipates.
Add tomatoes, and allow to cook down to a soft pulpy paste.
Add the coconut milk powder / milk and stir for a few minutes till the oil separates.

(If using coconut milk powder, you may need to sprinkle a little water to prevent burning)

Now add the cooked chick peas, cashew nut paste and drained cauliflower.
Toss and fry the cauliflower in the masala briefly and then add about 2 cups of water and salt. Bring to a simmer.
Cook covered till  slightly thickened and cauliflower is tender.
Cauliflower Curry Kerala Style
Try it and let us know – Cauliflower Curry Kerala Style.
You may garnish with ginger julienned, chopped coriander leaves and green chilli if desired.

Add a squeeze of lemon if you like the tart flavor.
You can also sprinkle some black pepper powder over the curry after cooking.