2 April, 2015
Tomato Ketchup Recipe
Are you someone who likes a lot of ketchup with just about anything?

My daughter Loves Ketchup. She will ask for it with her Pasta, Fried Rice, Fries  and she likes a LOT if it. I wasn't sure about giving her the bottled stuff regularly so I made my own. And I must say – Its just like Real Ketchup. Try this Ketchup Recipe if you love the stuff, need to make LOTS of it or just have a Lot of Tomatoes or Puree laying around.




Tomato Ketchup Recipe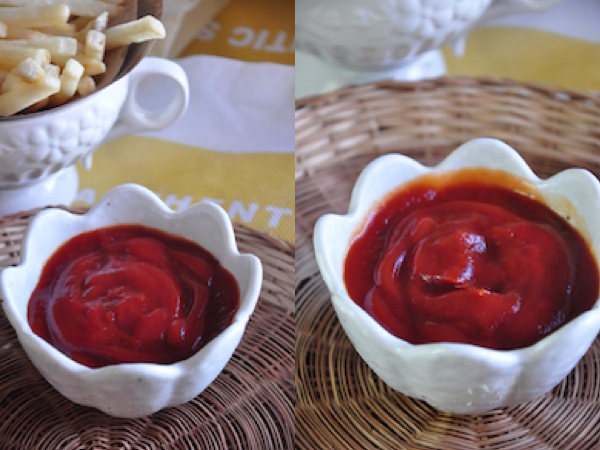 (for 5 cups of Ketchup )
2 kg Tomatoes – use only

Ripe & Firm Bright RED Tomatoes

1 cup sugar (adjustable)
½ cup of vinegar (adjustable)
1 tsp ginger paste
2 tsp garlic paste
½ tsp onion powder – optional
¼ tsp cinnamon powder – optional
1 tsp salt
2 tsp paprika powder or mild chilli powder – use a bright red chili powder that smells good.
Boil a large saucepan of water.
Add the washed tomatoes.
Boil for 10 minutes, no more. Drain.
Peel the tomatoes under running water.
Blend the tomatoes to a puree. Strain if possible.
Pour the Blended Puree into a heavy bottomed saucepan.
Add the ginger paste, garlic paste and heat.
Add sugar , a little at a time. Bring to a simmer.
Once the sugar is dissolved, add the salt and vinegar.
Simmer on VERY LOW heat for about 1 hour, stirring every now and then.
Half way through, add the paprika or chill powder. (It must not be too hot and it must have a good aroma and bright color, or it will effect the look and aroma of the ketchup)
Also add onion powder and cinnamon powder, if using.
When the ketchup is thick and smooth and coating the saucepan, remove from heat.
Allow to cool and stir in a large (sterilized) jar/ bottle.
Refrigerate for 1-2 weeks, using a sterile spoon to use each time. Or store in a squeezable bottle with nozzle.
If you would like to make a smaller batch of Tomato Ketchup, use 1 ½ cups of tomato puree, 1 large clove of garlic – crushed to paste, 1 pc of ginger – crushed to paste, 1 ½ or more Tbsp of Sugar, 1 Tbsp Vinegar and ¼ tsp salt. Method is the same, cooking time will be about 15 minutes. 
Tomato Ketchup Recipe
Did you enjoy our Home Made Tomato Ketchup Recipe  Let us know.
Notes:
You can make different types of ketchup, by adding some spices like bay leaves and chillies to make it spicier.
Instead of boiling the tomatoes first, you can blend fresh tomatoes to a puree, strain and then continue with the simmering. I can't decide yet which is better.
Serve with:
SITE UPGRADE IN PROGRESS
The site is currently undergoing some changes but all recipes are still available. To browse all recipes that have not been converted to the new format, please go the QUICK BROWSE PAGE from the main menu.
TELL ME IF YOU TRIED!
I appreciate if you could share your experiences and send in photos of recipes you have tried. Mail me at recipesaresimple@gmail.com
Follow on GPlus and Facebook