15 January, 2016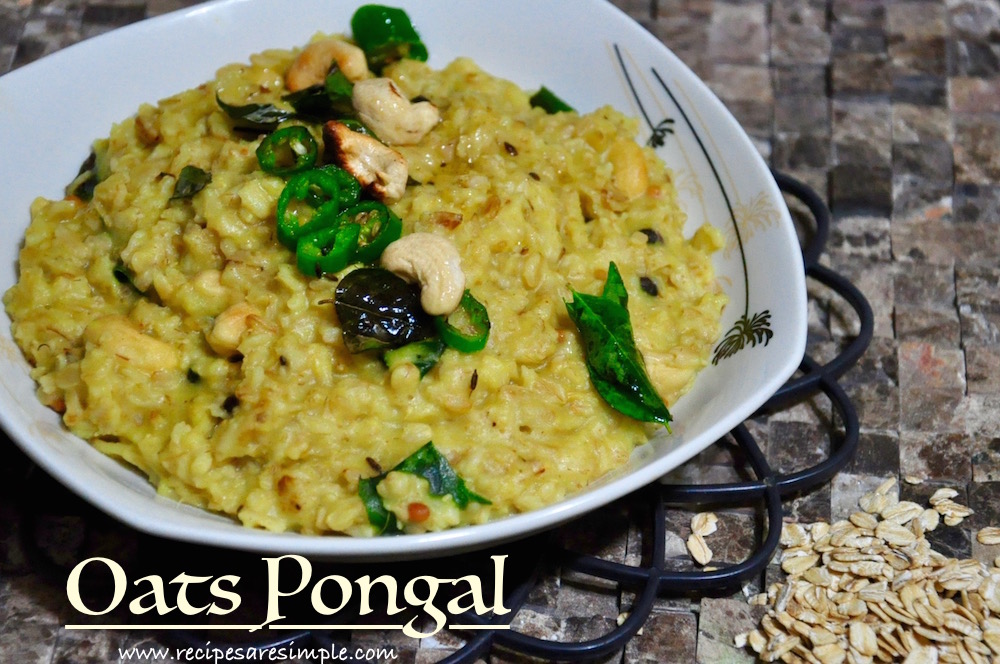 Oats Pongal |Indian Oats Recipes | Quick Breakfast
Oats Pongal is a super quick savory breakfast which is a healthier and simplified version of the Rice Pongal.
'Pongal' is a festival celebrated in Southern India to celebrate the Harvest Season.   'Pongal' is a derivation of the word  'Pong',  which means to 'boil over' or 'spill over'.
There are two dishes associated with this festival. One savory and one sweet. The savory version is called Ven Pongal (White Pongal) or Khara Pongal (Spicy Pongal). It is a very common breakfast item in parts of  the South. The sweet version is called Sakkara Pongal (Sweet Pongal).
If the dish is simply called  'Pongal' it is referring to the Savory Version. The savory version is a very satisfying and quick breakfast ( or anytime) dish. It is often served with Chutney , Sambar and 'Vadai' (lentil fritters).
In our home, the day starts very early. I need to make breakfast and pack lunches by 6:30 am. Anyone in the same shoes will know how important it is to have a few quick breakfast dishes that you can prepare even when you are half asleep. Trying to make healthier breakfast in the morning, I often use oats and quinoa.
This Oats Pongal Recipe is so simple to make and keeps you feeling fully loaded and ready to go! Perfect for those who like a quick, savory breakfast.