31 May, 2016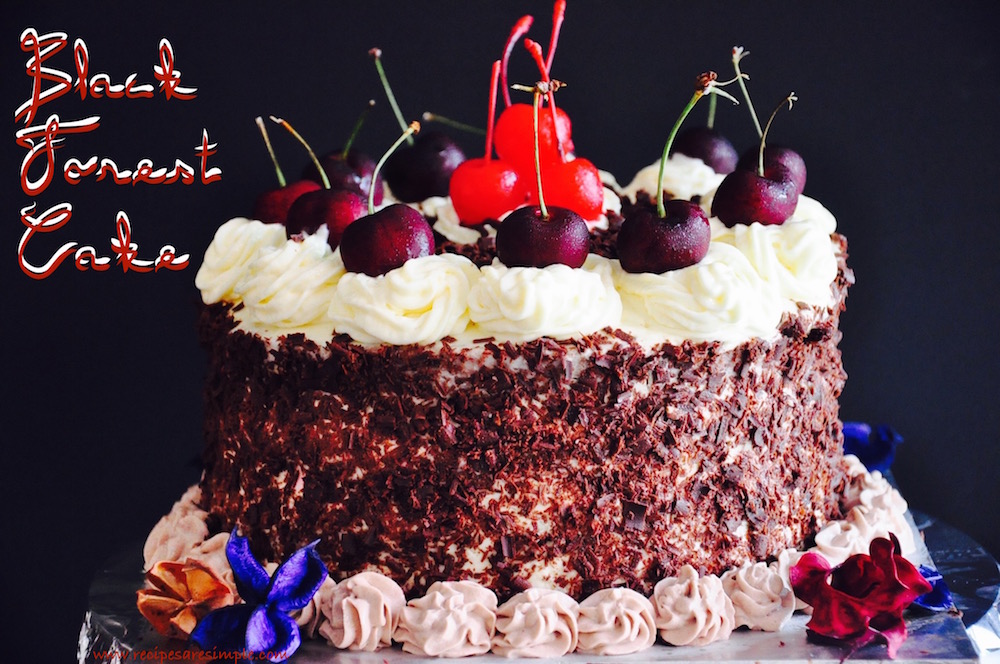 I love recipes with some added mystery and intrigue to them, don't you? Unravelling the secrets to how world famous dishes came into existence. Imagining how the original was and how it compares to the current standards.. I find it all so exciting!
The Black Forest Cake, one of the most celebrated cakes in the world, dates back to the 16th century. Known as Schwarzwälder Kirschtorte in Germany, its country of origin. Quite a tongue twister, eh? Schwarzwälder kirsch torte, translated means Black Forest Cherry Torte or Gateau in German.
The cake is presumed to be named after the Black Forest (Schwarzwald) mountain range in Southwestern Germany, perhaps because it evokes a mysterious dark fantasy, born from the 'fairy tale' like forest ranges. The name might also be connected to the specialty liquor known as Schwarzwälder Kirsch(wasser) which is indigenous to that mountainous region. Distilled from tart cherries, this unique ingredient, with its distinct 'cherry pit' flavor and alcoholic content gives the cake its rich flavour.
Although Kirsch is the traditional liquor used in this cake and is mandatory in Germany, in many countries like North America, India and the Middle East, it is made with rum or without alcohol. The main components are chocolate sponge cake, with layers of whipped cream and cherry ( canned, glaced, fresh OR maraschino).  The cake is also lavishly decorated with piped cream, cherries and chocolate shavings.
This is my version of the delectable Black Forest! I use a combination of vanilla and chocolate whipped cream, fresh and glaced cherries, dark chocolate shavings and the best, softest delicious chocolate sponge cake ever! It remains moist and you will not miss the missing alcohol or heavy fruity syrup. What I love about this cake, is that you don't even have to be a pro at decorating, the cake looks beautiful nonetheless. Follow my video tutorial to make this perfect, delicious Black Forest Cake! SCROLL DOWN to watch the VIDEO.