15 September, 2017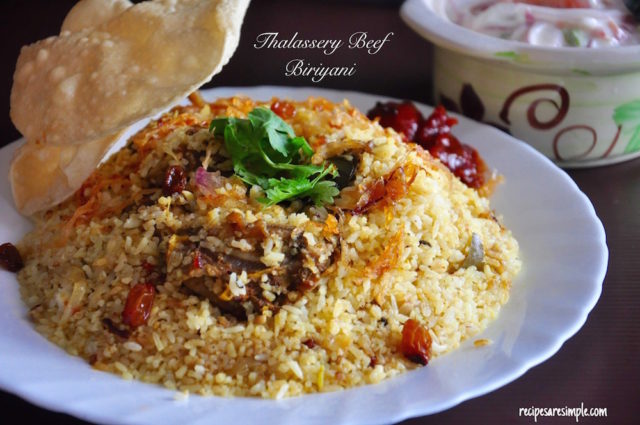 Thalassery Beef Biriyani has been a long requested recipe here on RAS. Those of you who frequently visit for my Malabar style recipes, I hope you will enjoy my recipe for a delicious Beef Biriyani.
Thalassery is truly a place represented by its hospitable locals, who are always happy to feed a hungry soul… The varieties of delicious Arab and Mughal influenced foods, as well as the vast array of sweet and savory snacks, makes any trip to this place undeniably 'Unforgettable'!
Although famous for its endless list of tea time snacks, the Thalassery Biriyani is, without doubt, the most famous dish from the region.
Thalassery Biriyani is a cultural embodiment and is reminiscent of foreign influences in Malabar. It is a by-product of the Mughal-Arab cultural influence in North Kerala due to the trade that lasted for centuries before the 1900s and the emigration to the Middle East of locals from the 1970s onwards.
So here is my special recipe for Thalassery Beef Biriyani. I hope you will make it and send me a pic! This post has taken forever with getting all the ingredient measures to perfection. If you follow my recipe, I guarantee you success.
Buffalo meat is often used in this recipe, and I believe it tastes so much better. In fact, many delicious curries and fries that one mistakes to be beef throughout Kerala is actually Buffalo meat.
Another key ingredient in Thalassery Biriyani is the variety of fragrant rice used. Although Basmati is famous in Biriyani, Thalassery prides itself in using the indispensable Wayanadan Kaima/ Jeerakasala rice to make this authentic Biriyani. It is a very short delicate grain with a lovely fragrance that permeates throughout the popular rice dish. Since good quality Kaima rice is not always available, you may use Basmati if you can not find it.
The cooked rice and meat is layered in a sealed pot, in the 'Dum' method of sealed cooking which prevents any steam from escaping and enforces the flavors to marry well with each other.  The aroma throughout the house when the Dum (pronounced 'DHuM') is cut open is quite captivating.