3 June, 2017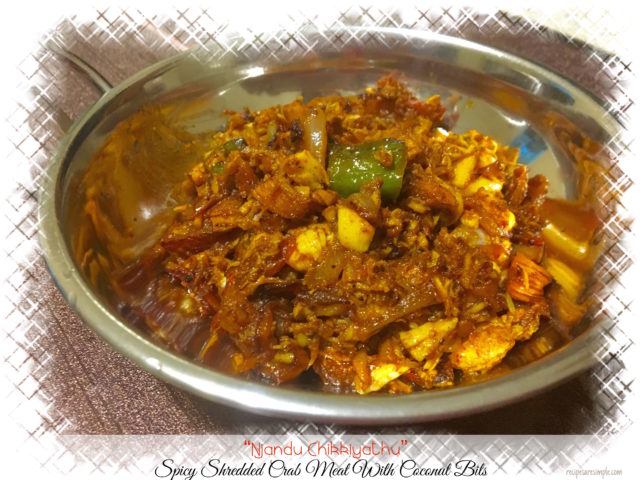 Njandu Chikkiyathu | Spicy Shredded Crab Meat with Coconut.
Vacations to India are often filled with road trips.  Long scenic road trips, either for liesure or to visit relatives who are spread all over the place. It's fun although the kids seem to spend more time playing games on their phones than looking out and experiencing the new sights. They don't know life outside of Singapore. India is so very vast in it's culture and traditions. Just looking out while driving, you can witness so much.
Last vacation we traveled through Bangalore, Mysore, Ooty and then headed to our state of Kerala. On the trips we like to stop at some great hotels but occasionally we also like to try those small off-the-road eateries. These are men and women who cook from their homes and turn part of their home into little tea shops or food shacks. We stopped at one place that looked pretty neat and the people were so friendly, with huge welcoming smiles. We washed up and asked what was on the menu. It was lunch time and they said the house special was their  'Njandu Chikkiyathu'. 'Njandu' is Crab and 'Chikkiyathu' means shredded or scrambled. Among some other staples and Rice, we ordered the Crab.
It was hot and spicy, but not too spicy and just awesomely tasty!  After the meal, my husband wandered off to take some pictures off a cliff nearby and I found it perfect opportunity to ask for the recipe. The lady was very kind, in that she not only shared this recipe in detail but also invited me into the kitchen while she was preparing another delicious looking shrimp curry. (Luck was on my side, as it was not a busy day for them, and we were the only customers) .
I wrote down the recipe in my travel book, as soon as we got back into the car. And I have made it a couple of times when I came back home. We cooked this once while camping out on the Beach and had many passers by attracted by the sweet roasting aromas. The addition of small bits of coconut flesh makes it extra tasty and adds a crunch! Cooked Crabmeat is added to a spicy tongue tickling masala and tossed to shreds, absorbing all the spicy and tangy  flavors. I find myself making this whenever I chance upon fresh live crabs at the market. Very easy recipe! I was holding it back till I go a better picture, but it being Ramadan and all, I dont think I will be making Crab this month.