8 February, 2018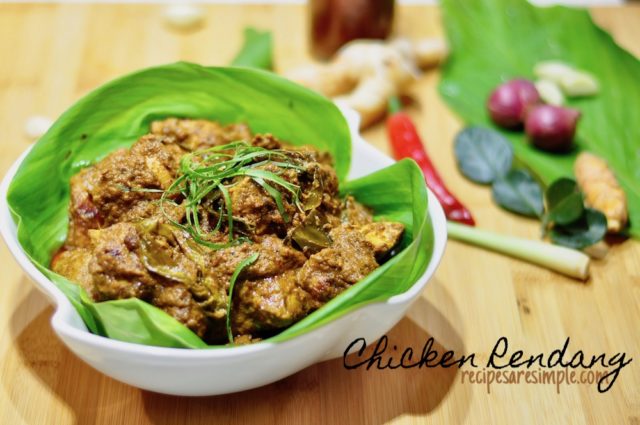 If you are in the mood for some exotic and rich flavors from South East Asia, do try my Chicken Rendang Recipe. 
Rendang is a reduced, thickened meat stew, cooked in coconut milk and spices. Popular in Malaysia, Indonesia and Singapore, you can find unique versions in the different territories.
The distinctness in flavors of each region is attributed to the unique rempah (spice paste) that is used. The different ingredients that go into the rempah, create varied flavors for this dish with a long history.
One thing is common.  The use of the freshest ingredients, which include fresh turmeric root, ginger, and galangal. Lemongrass, garlic, shallots, kaffir lime leaves and fresh along with dried chilies are used. Spice powders are absent or seldom used in this dish. Coconut milk and/or roasted coconut paste (kerisik) is also used.
The trademark thick and fiber-rich gravy coats the meat pieces, which are slow-cooked until very tender.  A wide wok or skillet is preferred to a deep pot or cooker. Constant stirring is required for a process that can be time-consuming.
A skillful hand is required to make a good rendang. You need to roast the coconut precisely, in order to create a good kerisik. And constant checking and stirring over low heat to ensure the gravy nor the meat is sticking to the pan. Even the slightest scorching os this spice paste can ruin the flavor. You also need some practice, to keep the thick coconut milk from curdling. Maintenance of low heat is of utmost importance.
As the gravy dries up and thickens and braises the meat in the process, the brilliantly tender meat is richly flavored with the rempah ingredients. Absolutely delicious, with steamed rice or Nasi Kunyit (Turmeric Rice), Ketupat (Steamed Pressed rice) or as an addition to Nasi Padang (Miniature banquet consisting of rice with many optional side dishes).
Rendang is believed to have originated in West Sumatra, Indonesia. It can be cooked with Buffalo meat, Beef or Chicken.