15 October, 2014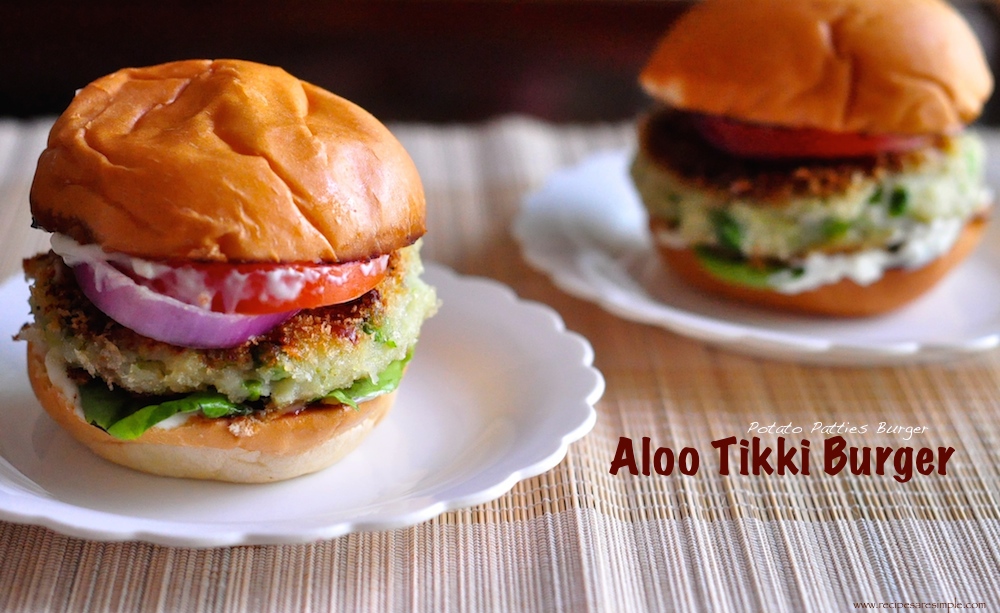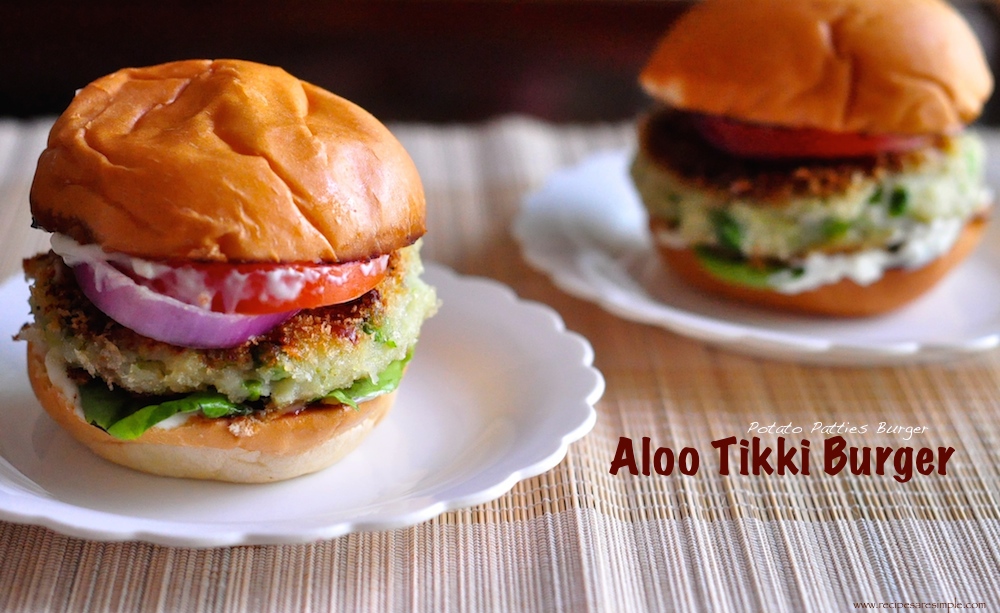 Aloo Tikki Burger – Potato Patties Burger Under 30 Minutes
Who said a Vegetarian Burger has to be a tasteless? This Aloo Tikki Burger – Potato Patties Burger Under 30 Minutes  is packed full of flavor. And it's so easy that it can be made any time! If you like McDonald's McAloo Tikki®, you'll love this RAS Aloo Tikki Burger.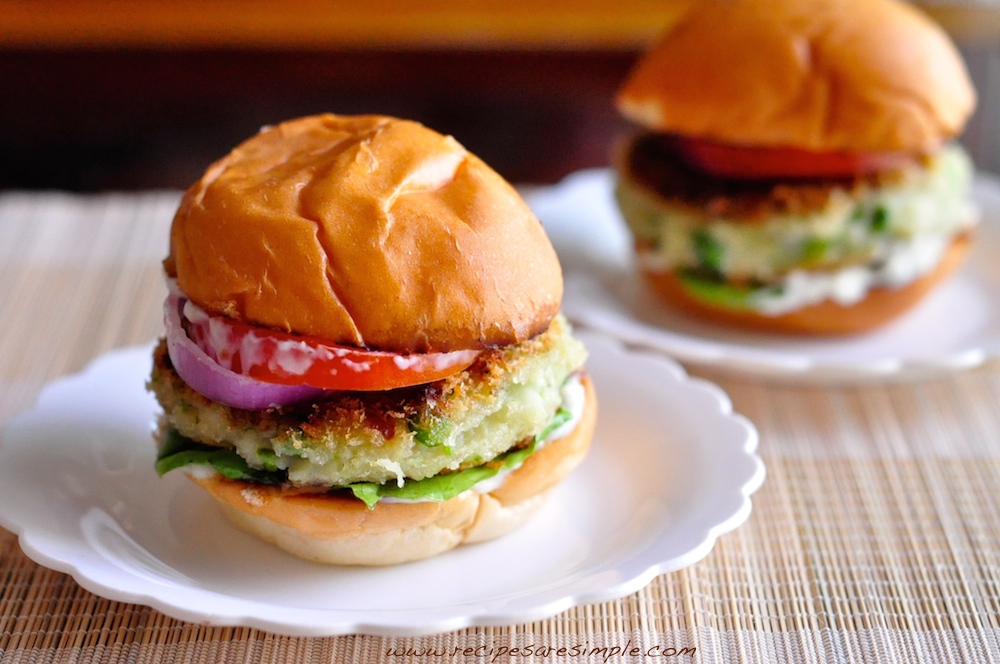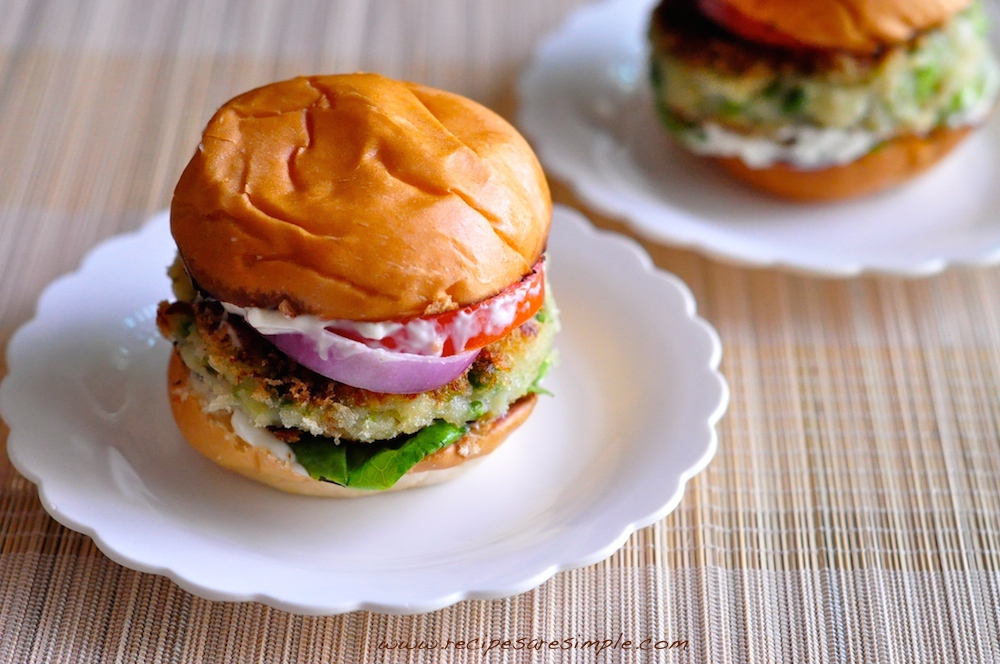 Aloo Tikki Burger – Potato Patties Burger Under 30 Minutes  
2 large Russet potatoes, peeled
¾ cup green peas (

I

used frozen peas, that are thawed and then boiled briefly)
2 shallots
2 large cloves garlic
1 slice of bread
½ medium onion minced – to  be sautéed
¹⁄3 tsp ginger, minced – to be sautéed
1 egg yolk OR use 1 tsp dijon mustard
1 tsp lime/lemon juice
1 ½ Tbsp finely chopped parsley OR coriander
 2 Tbsp grated cheese

(I used Mozzarella)

1 tsp butter softened
salt to taste
½ tsp black pepper or to taste
3 Tbsp cornflour plus water to make a paste
1- 1½ fresh breadcrumbs or Panko breadcrumbs (preferred)
4 Tbsp oil for grilling/frying the patties
1 Tbsp butter for toasting buns
4 large 8 mini Burger Buns,
For Garnish:
2 Tomatoes
4 or 8 leaves of Lettuce, the same size as the buns
Onions, thinly sliced rings
Hellmans Mayonnaise, 1 – 2 Tbsp per burger
First heat 1 Tbsp of the oil in a non stick pan. Add the minced ginger and onion. Saute till softened and light golden. Drain from the oil and set aside.
Place the bread slice in water to soak. Squeeze out the water from this bread completely.
Peel the potatoes and chop into large chunks. Add to a small pressure cooker or pot, with just enough water and cook till tender . ( If using pressure cooker, cook on medium heat for 4  steam whistles and allow the cooker to cool on its own).

Drain the potatoes  and keep aside.

Add the shallots and garlic to a mortar ( preferred) and crush to a paste).
Add the potato, one chunk at a time along with some salt and pepper and mash it along with the garlic and shallots.
Mash to get a nice fluffy mashed potato. Move to a bowl.
Boil the peas till soft and drain thoroughly.
Add to the mortar and crush as well, its okay to have a little chunky texture as long as softened.
Add the mashed peas to the mashed potatoes and mix well with hands. Add salt as needed.
Now add the sautéed ingredients ( ginger and onion), the soaked  bread, lime juice, parsley, egg yolk OR dijon mustard, softened butter, grated cheese, salt and pepper.
Mix thoroughly with hands, squeezing the mixture through the hands so that ALL the ingredients are well blended throughout the mashed potato mixture and combine.
Form into 6 – 8 balls depending on size of your burger buns. Then press and mold into smooth patties.
Mix the corn flour with a few spoons of water to make a thick paste.
Either dip the patties lightly  or brush the patties with this solution, to coat both sides.
Don't over-soak in the solution or they will break apart. A very light coating is good.
Now place in the bread crumbs with a dry hand and coat both sides well.
Set aside all the patties. Heat 3- 4 Tbsp of oil in a non stick pan or grill pan (preferred)
When the oil is hot enough, ( test with some bread crumbs – it should sizzle immediately)

place a few patties at a time- uncrowded in the pan.

Do not disturb the patties. Cook on a medium heat with a constant sizzle.
ONLY when you can see the bottom has become golden, use a plastic spatula to gently lift the patty without tearing the crust.  With the help of another spatula, flip over gently and allow the other side to become golden as well. Do not over fry.
Drain the patties on kitchen paper towels.
Slice the burger buns in half. Butter a non stick pan and heat on medium.
Place the buns on the pan to slightly toast the inside part.
Assemble the Aloo Tikki Burger, by spreading some mayonnaise on the bottom bun, cover with lettuce. Place the patty on top.

Now place onion rings, tomato slices on top. LightYl brush the top bun with mayonnaise as well. Gently press over the burger and serve with fries or salad.

Serve while the patties are still hot.

Aloo Tikki Burger – Potato Patties Burger Under 30 Minutes  
Did you enjoy our Home made Aloo Tikki Burger – Potato Patties Burger Under 30 Minutes  Let us know.
Notes:
The thorough

 mixing

of all the ingredients into the mashed potato mixture is key to having a nice flavorful patty.
Make sure the water is drained from the potatoes and peas before mashing. Water content will make it difficult to mould the patties.
If your burger has to be reheated, remove  the buns with the veggies. Heat the patties in a pan or in the microwave and reassemble.
Do not reheat the veggies.
If you do not like raw onion it may be omitted but adds kick and crunch.
Picky eaters: Substitue the veggies for cheese slice and broil over the patty till melted and serve.
If  your patties are difficult to lift to the pan, it is likely that there is too much moisture. You could work around this by placing in the freezer for 10 minutes till set and then grilling.
If you like your patties spicy, add finely mixed green chillies to the mashed potato.
Note that you can skip the egg yolk and replace with Dijon Mustard. You can also replace mayonnaise and make a coriander chutney to use as dressing.
You May Also Like: