29 July, 2016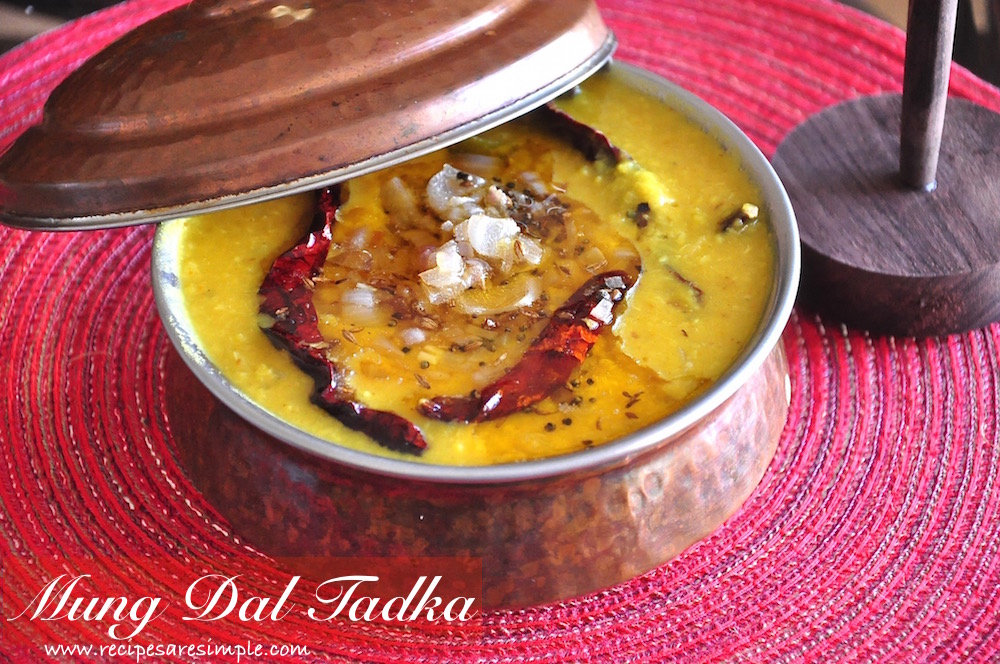 Mung Dal Tadka – Perfectly Cooked and Seasoned Lentils
What is it about the humble dal, that  makes it a comfort food that transcends cultures? Simple, healthy and just plain delicious.  Let's take a look at the different elements to consider if you want to make that perfect Dal!
First and foremost, if you are new to preparing dal, here's some things that might help. Dal is defined as being a split pulse, but generally the term is  used for any dried bean or peas. Tur Dal, Chana Dal, Maash Dal, Masoor Dal… there are around 5 dozen varieties…
The term Dal is also used for the dish prepared using these lentils. It might be on the drier side and it might be more curry like. Some dals require a long soaking period. Some dals require dry roasting to release the flavors, prior to cooking. In this recipe, we are using husked green bean, which is called Mung Dal. It can be cooked without soaking, although some may argue this point. It is often the first dal given to a toddler, since it is easily digested and can be very smooth. It is also very nutritious.
Next, is our mode of cooking. These days many will resort to pressure cookers to cook the dal quickly. I am a fan of pressure cooking. I find that many Indian Meat dishes particularly, are actually enhanced by using a pressure cooker. However, in the case of the humble dal, I would recommend taking that extra time to slow cook it, for the ultra smooth and luscious consistency. All the flavors get time to 'get to know' each other during the cooking process. Quick cooking can cause the flavors to turn frigid.. they just need time to 'melt' into the mix. Remember – Slow and Low. I also love cooking in heavy based pots or earthen ware, to prevent the dal from sticking to the bottom.
We also take into account the different additional ingredients. Dal is often mixed with other vegetables like cauliflower or various squash varieties. It is sometimes cooked with a ground coconut paste. Onions, Garlic, Ginger, Green Chillies and tomatoes… all of these are often used.
Salt is essential in the perfect dal, but too little or too much can make a drastic impact on the end result. I have found, the old wives tale of not adding salt at the beginning to be helpful. Salt is best added after the dal has softened. Always add a little at first, if unsure.
Then theres the 'Tarka' – the Tempering of the dal, with oil or ghee and spice.  Although ghee (clarified butter) makes a dal all the more delicious, groundnut oil, coconut oil or bran oil are other good options. The oil is heated and spices like cumin, black cumin, mustard seeds, dried chillies , curry leaves, and other whole spices are sometimes added. The spluttering mixture is poured over the cooked dal. After allowing the dal to rest briefly,  it can be served.
Okay, enough of that, let me tell you how a make a simple, humble and delicious dal.