29 October, 2014
M & M Caramel Apples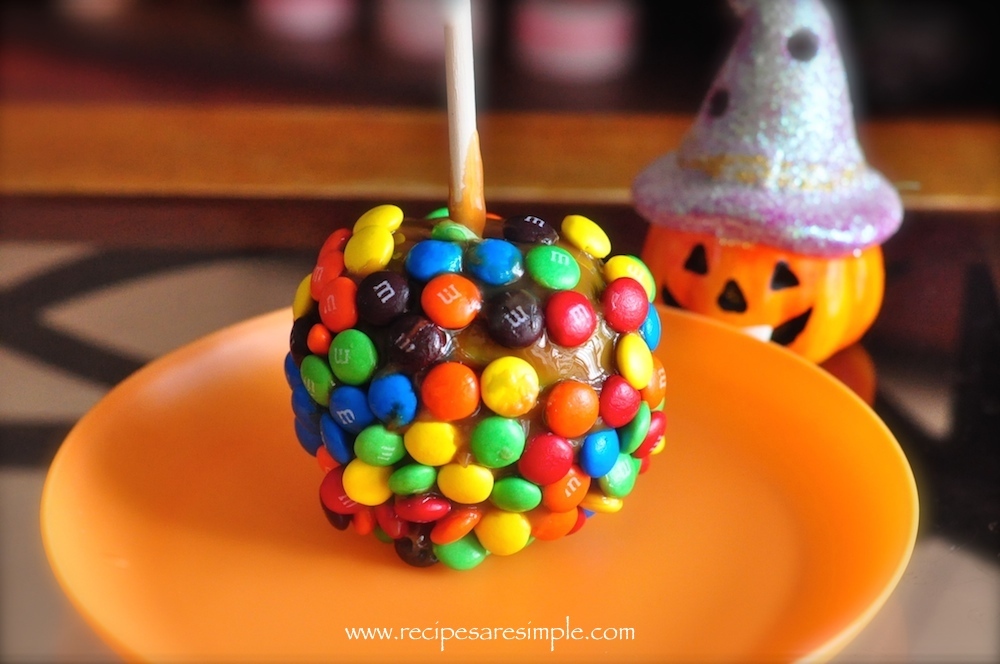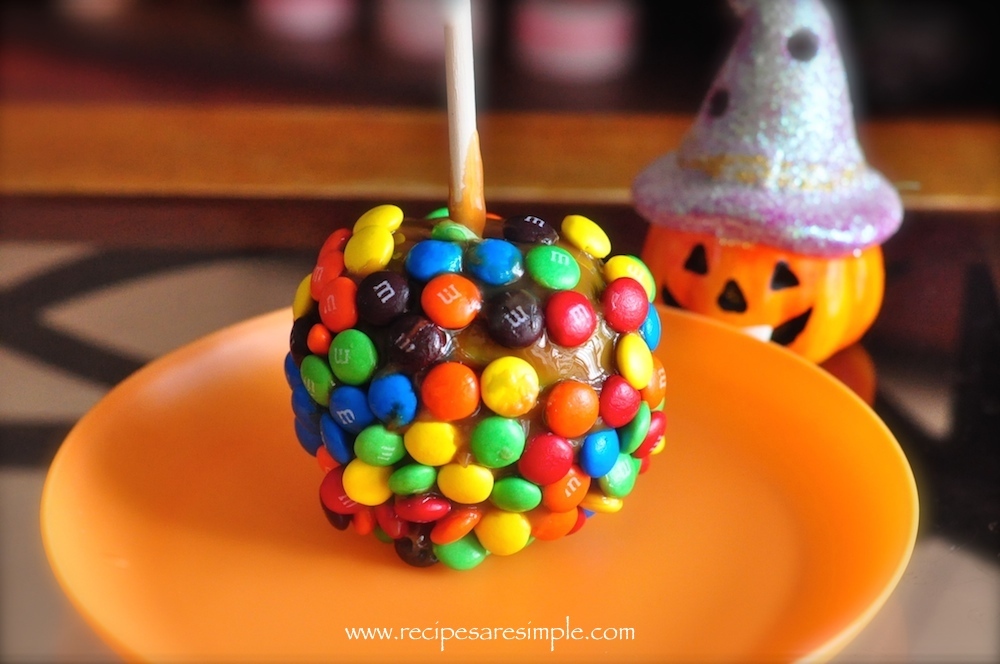 M & M Caramel Apples
Caramel Apples and Candy Apples are popular during the Autumn Season, Haloween : after Apples are harvested. Quick and easy. Kids Love them. Here's how to make M & M Caramel Apples.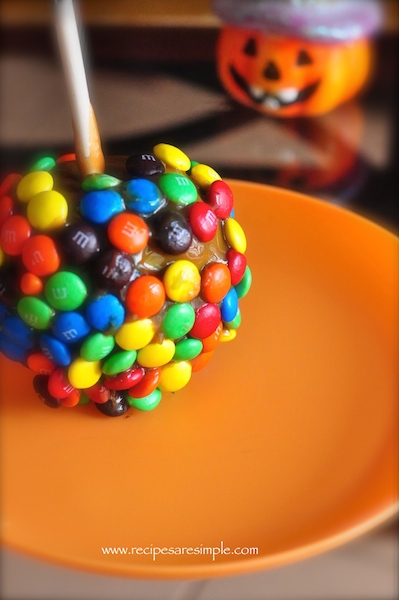 M & M Caramel Apples
Recipe Type: Dessert / Treats

Author: Recipes 'R' Simple

Prep time: 3

Cook time: 3

Total time: 6

Serves: 1
Ingredients:
1 apple (granny smith)
¹/3 cup M&M's
12 caramels
thick lollipop stick or disposable chopstick
1 tsp water
Method:
Soak the apple 30 minutes. Scrub well. Caramel will not stick if there is any wax on the apple. Wipe dry.
Unwrap the caramels. Add to a microwave safe bowl

(large enough to dip the apple)

.
Put the M&M's in another bowl.
Add the water and microwave for 30 seconds.
Stir and microwave for another 15 seconds. Repeat till the mixture is smooth. Keep a careful watch on this.
Insert lolli stick into the centre of apple securely. (2″ into the apple).
Dip the apple into the melted caramel. Use a small knife or spatula to get the caramel all over the apple.
Dip and roll in the bowl with the M&M's. Carefully fill any gaps, using fingers.
Gently press the M&M's into the Caramel.
Place on baking sheet on a tray. Leave to set.
If you are making a batch of these, place each one on a large cupcake liner.
M & M Caramel Apples
Try it and let us know – M & M Caramel Apples  .
 Generally, Granny Smith Apples are used for Caramel Apples to lend a balance of tartness. I like Fuji Apples too.
Instead of M&M's, you could use chopped nuts as well.
Read about the halloween tradition of trick-or-treating here.
Making their own 

M & M Caramel Apples can be a fun activity for children's autumn parties. Give each child an apple, lolli stick, place a big bowl of  M&M's and another bowl of prepared melted Caramel in the centre. Adult supervision required.

Use strong lolli sticks. if you can't find them use strong disposable chopsticks and smaller apples.
Usually we make dozes of Carmel Apples for special occasion. This recipe is for just one, so you can try it out at home. Home made caramel sauce can be made as well.