6 September, 2014
Capsicum Chicken Kadai – Shimla Mirch Chicken Kadhai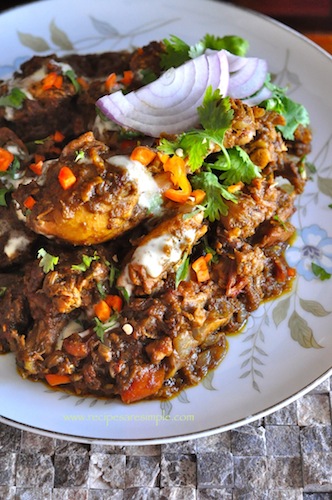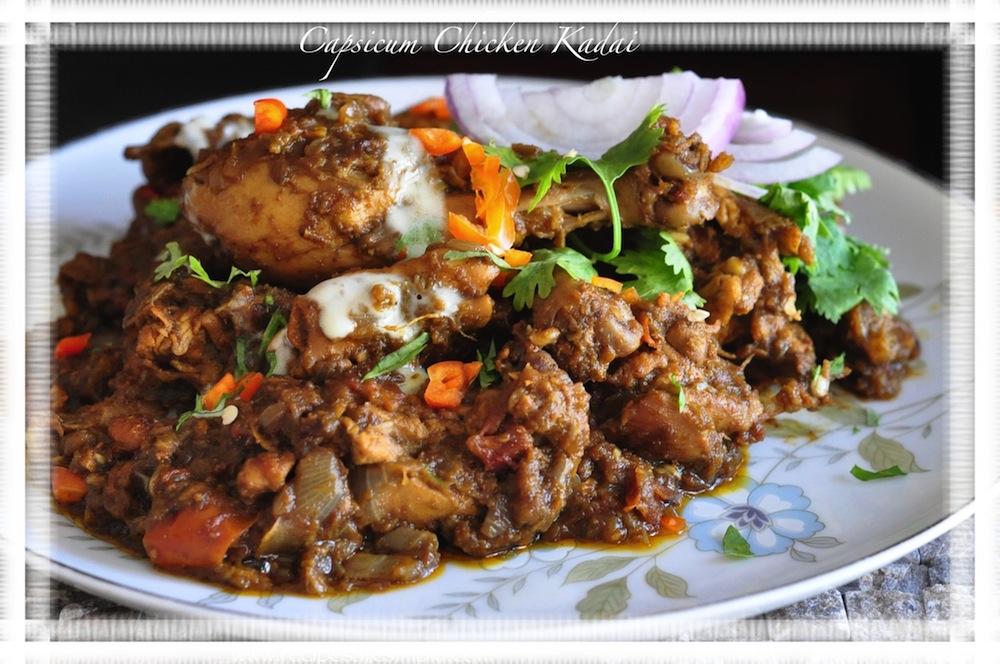 Capsicum Chicken Kadai – Shimla Mirch Chicken Kadhai
  I always love a good Kadai (Wok) cooked dish. My mouth watering Creamy Kadai Chicken, Red Kadai Chicken and Mango Kadai Chicken  are all a testament to this.
Yet another Kadai Chicken Recipe that incorporates a ground green chutney comprised of green capsicum ( bell pepper), coriander leaves ( cilantro) & green chillies.
A finger licking gravy that's delicious. Use mild or hot green chillies according to preference.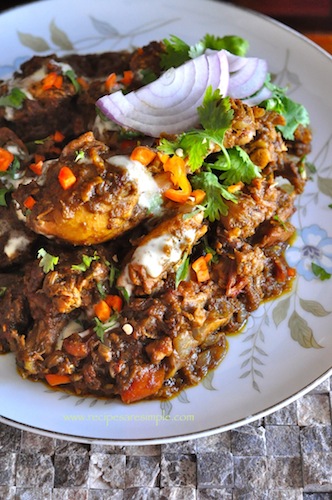 Capsicum Chicken Kadai – Shimla Mirch Chicken Kadhai
Recipe Type: Chicken

Author: Recipes 'R' Simple

Prep time: 20

Cook time: 20

Total time: 40

Serves: 4
Ingredients:  You will need a  wide mouthed kadai ( wok) with a tight fitting lid
500 gms chicken, medium sized pieces
 For Marinating: 1 tsp garlic paste, 1 tsp ginger paste and 1 tsp salt.
For Masala:
¼ cup ghee / clarified butter
2 medium onions, chopped into small dice
2 medium tomatoes, chopped
2 tsp crushed ginger/ paste
2 tsp crushed garlic / paste
2 tsp coriander powder
2 tsp garam masala ( my garam masala recipe )
1 tsp kashmiri chili powder
1 tsp cumin powder
¼ tsp turmeric powder
1 – 2 tsp freshly squeezed lemon juice
3 Tbsp fresh cream
salt to taste
For the ground chutney paste:
1 large green capsicum / shimla mirch / bell pepper
a handful of fresh coriander leaves
2 -3 Tbsp chopped green chillies of choice
For garnishing:
Finley chopped red chillies, onions and coriander
Method:
Wash, clean and drain the chicken.
Grind the ginger and garlic for marination to a smooth paste without water.
Marinate the chicken with this paste and 1 tsp salt for about 20 minutes, while you prepare the remaining ingredients.
Heat ghee in a large wok with a tight fitting lid.
Add the diced onion. Allow to sweat a little – Do not brown.
Add the ginger and garlic paste. Continue to sauté till light golden.
Add the marinated chicken to the wok and toss well. Toss till the chicken is evenly colored – white.
Tip in the tomatoes and cook till the tomatoes are reduced and softened.
While the tomatoes are cooking down. add the ingredients for the chutney paste

( capsicum, coriander, chillies)

to a small mixer with just a  little water and grind to a smooth paste

(we dont want to do this ahead of time as the flavors may change and turn bitter)

Add the paste to the masala and bring to a simmer.
Add salt to taste.

( remember the chicken marinade already contains some salt)

Cover the wok for 5 – 10 minutes on low- medium heat, till the liquids are released from the chicken.
Do not add water.
Open and add the lime juice. Cover the wok again and time it for about 10 more minutes.

 (Adjust the heat so that the chicken does not stick to your wok)

The gravy should be thick and no longer runny.
Stir in the cream. Garnish as desired.
Capsicum Chicken Kadai – Shimla Mirch Chicken Kadhai
Try it and let us know – Capsicum Chicken Kadai – Shimla Mirch Chicken Kadhai .