23 March, 2016
Butter Chicken Pizza – Fusion Recipe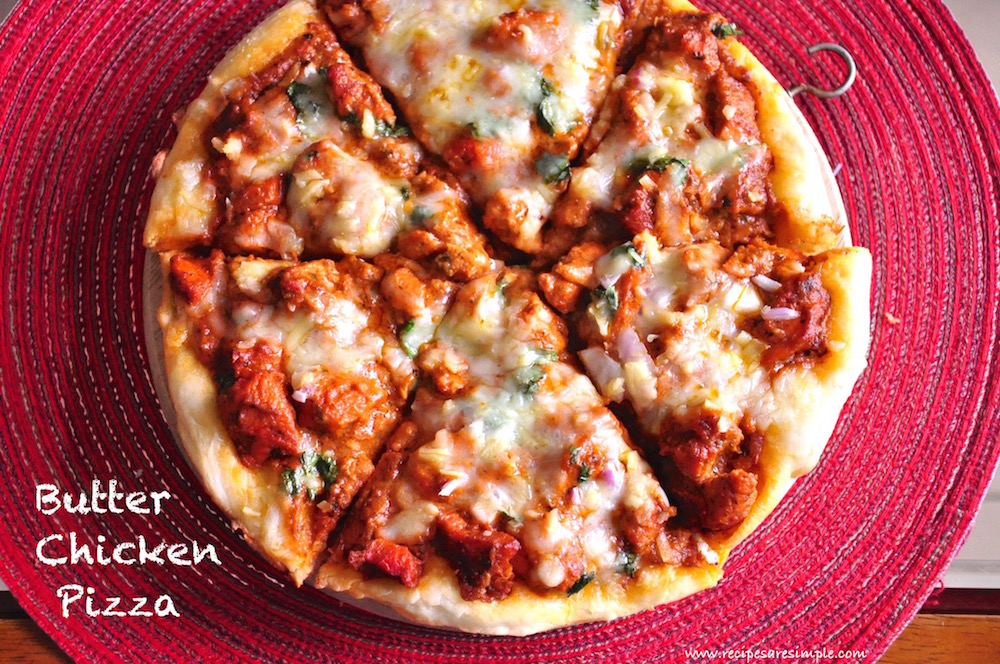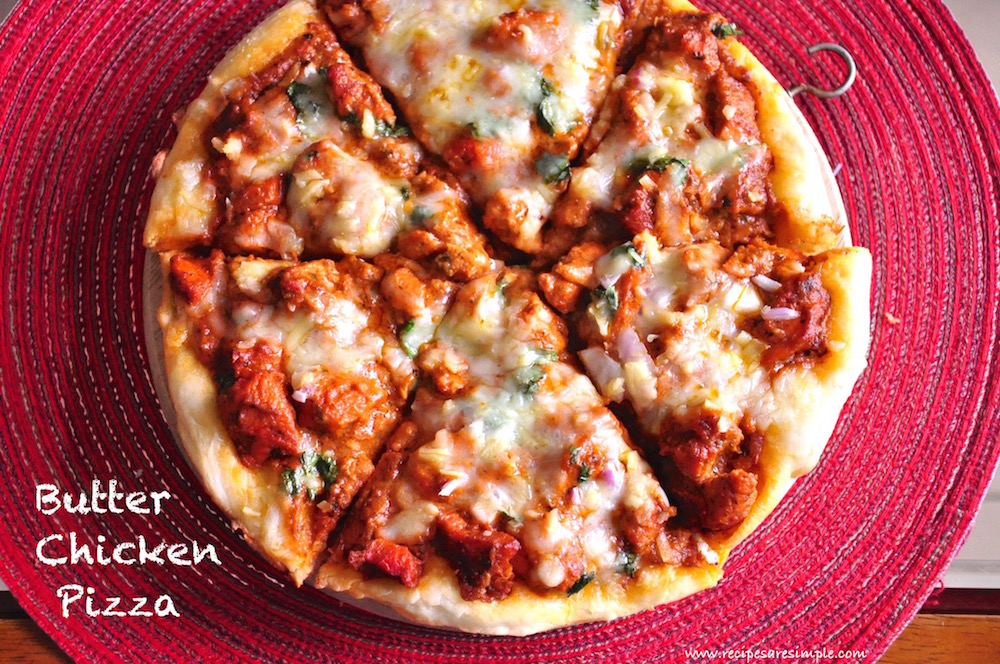 Butter Chicken Pizza  – Fusion Recipe
Wanna mix it up a little at dinner time? How about a fusion recipe? A super yummy Butter Chicken PIZZA ! Oh my Yum! Buttery Cheesy – just what the Hunger Patrol ordered! Now this is one heavy Pizza, so keep your slices small or plan 2 slices per person max.. This happens to be my children latest favorite, so I thought I would share the recipe with y'all.
I recommend thin to medium crust for this awesomely topped pizza! Scroll down for the video.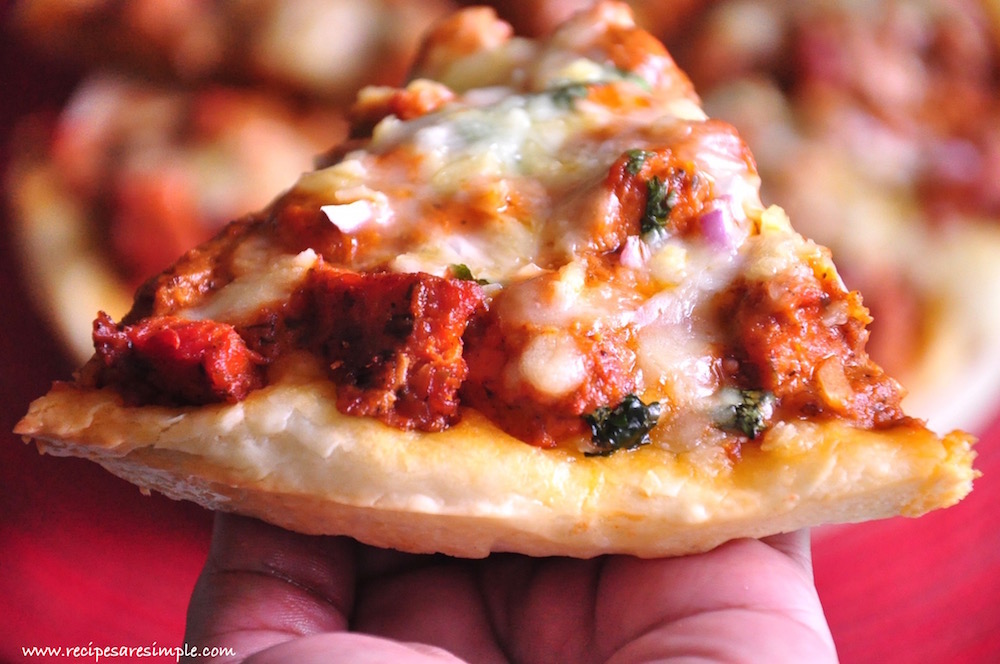 Butter Chicken Pizza  – Fusion Recipe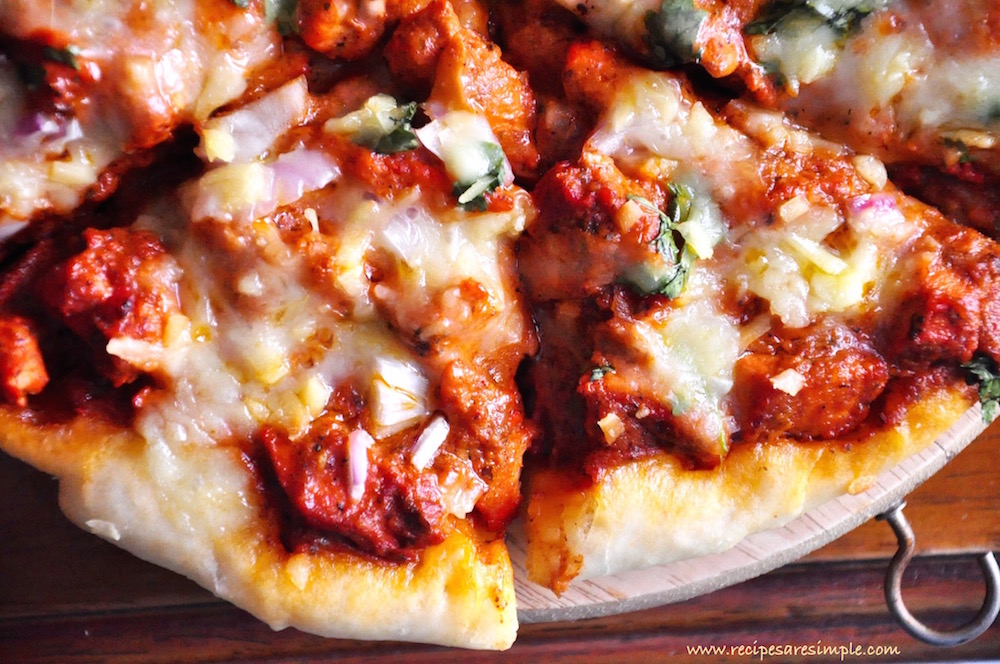 You are here: Home > Baked > Butter Chicken Pizza
 

Recipe Name: Butter Chicken Pizza  – Fusion Recipe

Author: Shana c/o Recipes 'R' Simple

Raising:      30 min
Ingredients:
1 recipe – Delhi Style Murgh Makhani – Get this delicious Butter Chicken Recipe
1 ½ cups grated cheese – a combination of mozzarella and cheddar
butter for brushing
olive oil for greasing
flour and semolina for dusting
1 large onion, diced finely
coriander leaves: a handful, chopped finely
Pizza base:
2 cups Bread Flour
¹/4 +¹/8 tsp salt
¾ tsp yeast
¾ tsp sugar
¾ cup luke warm water
2 ¼ Tbsp olive oil




Method:
Prepare the Butter Chicken ahead of time. Here is the Recipe for Murgh Makhani  that is the star of this pizza.
Add the yeast and sugar to the water in a cup or bowl.
Give it a stir. Allow to sit for 15 minutes.
You should see good bubbling action and the  yeast solution should turn frothy. If not throw it out and start over.
Add the flour and salt to a large bowl.
Add the 'proved' yeast solution to this along with olive oil and stir with a wooden spoon.
Stir till it holds together.
Now knead with hands to a smooth and elastic DOUGH. Rub the surface with a little olive oil.
Seal the bowl with cling wrap and place in a warm or sunny area.
After 30 minutes, the dough should have doubled in size.
Preheat oven to 200° c / 392 ° F.
Punch down and divide into 2 portions.
Grease 2 medium sized pizza pans with olive oil.
Sprinkle with flour and semolina
Place a ball of dough on each.
Spread with hands to stretch and fit into the pizza pans.
Allow to rest for 10-15 minutes again.
Make sharp cuts over the surface with knife or fork.
 Brush LIGHTLY with melted butter.
Add the Butter Chicken topping .

(You might have  a very small quantity of the butter chicken left. Serve that with roti, later).

Sprinkle over some chopped onion and coriander leaves.
Top with grated cheese.
Place into preheated oven and bake for 15- 20 minutes.
Crust should be golden, cheese should be melted.

As oven temperatures and sizes vary, adjust accordingly. If baking on 2 racks, you should switch the pans after half way baked.

Serve with some extra chopped onions – Truly Delhi Style!
Butter Chicken Pizza  – Fusion Recipe
The water must be lukewarm for the yeast to be activated and not too hot.
Key Ingredients: Butter Chicken Masala, Flour, Yeast, Salt, Sugar, Olive Oil, Onions ,Cheese.
Leave a comment if you tried – Butter Chicken Pizza  – Fusion Recipe. Comments from you provides motivation to keep up the driving force behind this blog, bringing you more delicious and perfected recipes regularly.  Help us to Keep On Keepin' On (: !